14 Best 3D Rendering Software for Windows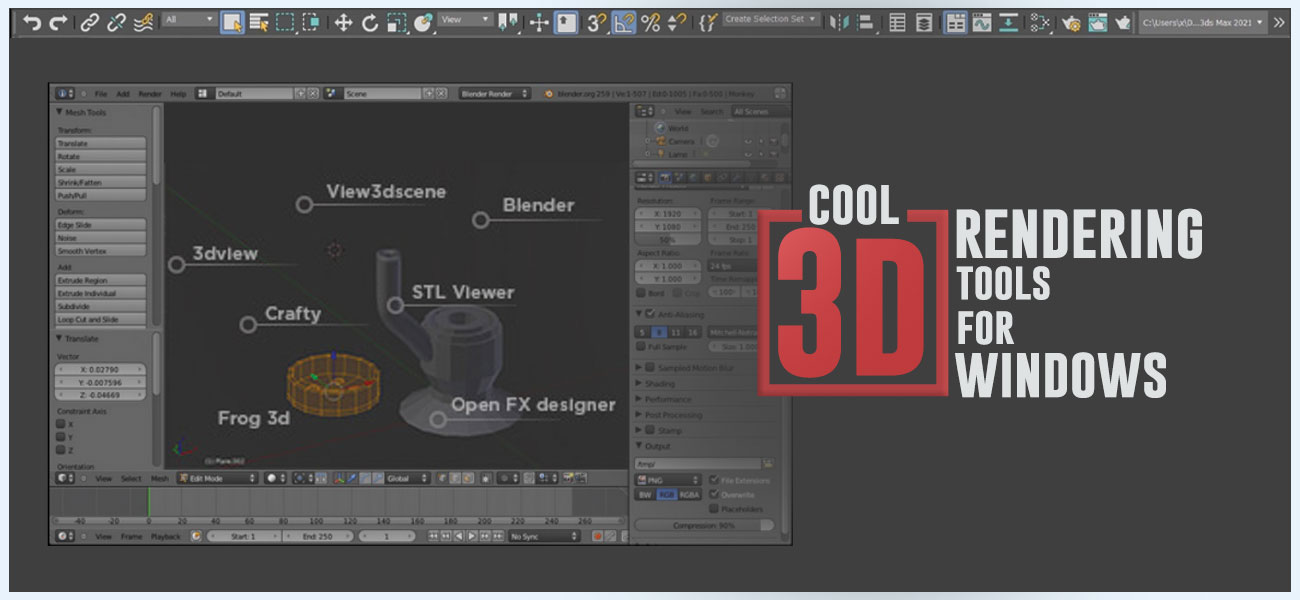 Some of the best 3D rendering software programs in the business do come with a price tag but offer extended functionality and features. However, the price tag is often too demanding for amateur designers. Below is a list of three-dimensional renderers which are free to use:
View3Dscene

Feature-rich, intuitive and free- this is what the software offers for its users. It is one of the best software that is out in the market for this purpose. Also, it can easily import wrl, obj, dae, and other file formats thus making it an excellent software for amateurs.

3dview

You can work on virtually any three-dimensional model file format using this. The software supports most of the popular formats and can also deal with solid and wireframe shapes. It also helps to rotate the image which is an added advantage.

Crafty

Crafty is an intuitive tool that is free and provides rendering details of the object it worked on. The installer is too light that you can use it as a portable version.

Blender

One cannot opt-out of Blender when it comes to rendering of models. Blender is an all-in-one tool for animating, modeling and rendering purposes. The Blender is so popular that most professional designers depend on its power for creating fine models.

Open FX designer

Open FX bundle provides many gimmicks among which the designer is the highlight. It features an easy interface and cool effects for professionals also. Its code is open source and allows multi-outputs. Open FX Designer is widely used by companies that provide 3D architectural rendering services.

STL Viewer

Many designers find it hard to work with RSM and STL files just because tools for the same are not easily available. STL Viewer is a one-stop tool for all your conversion requirements. It features an excellent 1mb installation and lets you customize its appearance.

Frog 3D

The only limitation of this tool is that it can be used in the case of three-dimensional files only. Solid and wireframe shapes go easily with the software. It takes nearly 2 MB of disk space and is available in Linux also. It is one of the best free 3d rendering software for Windows.

DVision

It lets image rendering of several 2D or 3D file formats that include BVH, 3DS, MD2, PIC, STL. Some of the shapes that it can render are Solid, Bounding boxes, Shaded Wireframe. The users can view the interface in a full-screen mode too.

Art of Illusion

It is a Java-based 3D modeling and rendering software. The users can render in OBJ file and then save it in file formats like HDR, JPG, BMP, TIFF, PNG. Art of Illusion is an open-source and cross-platform program. One has to install Java in their system before running this free rendering software.

Corona

It is a popular and easy-to-use photorealistic 3D renderer that follows the principle of less is more. Corona has an interactive rendering feature that hastens up the work process. You can create materials that flex to the artistic vision. So, a material can have different colors when they reflect or refract.

Enscape

This rendering software finds extensive application in architectural visualization. The most notable feature of Enscape is its ability to export project files from ArchiCAD, Rhino, Revit, SketchUp as standalone programs to offer shareable walkthroughs with colleagues or clients. The stylized modes of Enscape bring a fresh look for Virtual Reality presentations, which helps Architects to impress investors.

Felix

The cloud-based 3D rendering software provides professionals with an interface that allows for easy uploading of scene files. This program has widespread application in the field of marketing and architectural visualization. The users have to pay in the form of credits every month to download the render. You can share the created assets, materials, and scenes on social media.

Lumion

This rendering software has numerous LiveSync plugins for architectural CAD programs, so uploads and work synchronization is a breezy process. It has an extensive library of materials and objects that can be dragged and dropped into your scene that occupies your asset landscape.

Solidworks Visualize

Solidworks Visualize helps create stunning visual effects in product images for engineering projects that impress prospects and investors. It is a native rendering solution for numerous products and parts designed in Solidworks CAD software. Also, it is an unbiased 3D rendering software that supports CAD files from SketchUp, Rhino, and others.

Smart tips to choose appropriate 3D rendering tools

You should ask yourself the following questions while trying to understand what type of 3D rendering software would best suit your needs:

What kind of visualization am I looking to create?

The type of software that you need would vary from one project to the other. For example, you need different programs for game development, product marketing, and architectural 3D visualization. There are specialized programs that are designed to generate specific outcomes for specific industries.

What process should I adopt?

The process to produce and finetune your computer generated imagery (CGI) is perhaps the most crucial aspect of the entire workflow. You can use Lumion 3D, for example, to see changes in real time as you revise the rendered outcomes.

What is my initial idea about rendering software?

What's your initial exposure to 3D rendering programs? Some programs are typically complex than the other programs. For example, if you are a beginner, you may find it immensely difficult to use complex programs such as VRAY. As a beginner, you should choose software that best suits your current skill level.

Those who are adept in animating and modeling figures will find it easy to handle these nifty tools. However, if you find it hard to get desired results using free tools, you can always ask for help from professional 3D rendering services companies.