14 Best 3D sculpting software that 3D artist must master
There is no doubt about the fact that the expertise of artists determines the excellence of 3D sculpting services, but we also need to admit that the apps used by them play a significant role in determining outcome quality. There are certain apps that are being largely used by the best 3D sculpting companies in India. While outsourcing these requirements to a service provider, inquire about the apps that your chosen service provider is using. Some of the top apps that every 3D artist must be aware of are mentioned in this article.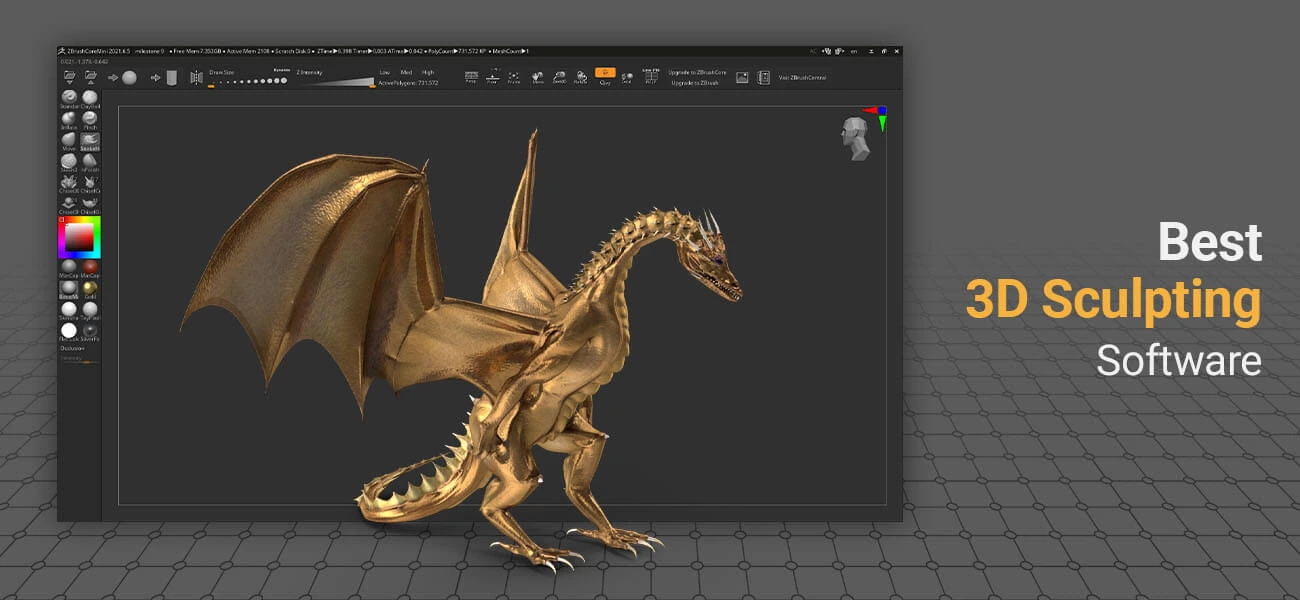 An overview of the article contents
We have discussed about the following 3D sculpting software in this article:
ZBrush traces its origin back to 1999; it was launched as a tool with minimum functionalities and over these years, it evolved as a great app. Using this tool, an artist can start his/her 3D sculpting work from the scratch, and if needed, fine details can be added to the meshes created in other programs with ease. The tool is really powerful but the unconventional interface, as well as workflow, makes the learning curve steep.

Pros

It best suits heavy sculpting.
Zbrush is ideal for detailed and high-poly work.
Customizable brushes provide 3D artists with more room for creativity.
The software has exclusive re-topographizing tools.
Large user community

Cons

Messy UI
Steep learning curve
Not suitable for renders
Zbrush does not support low-poly modeling, rigging, and animation
Expensive software that costs more than $795 for a single-user license

The finished product was released in 2007 and follows a certain level of a traditional approach. It looks and works like just any other three-dimensional application with familiar palettes, layer systems, and menus. It has a fully- featured painting system and multi-resolution sculpting. The latest version released has great interoperability with Maya, multitile UV mapping, and P-tex texturing technology.

Pros

Easier to learn than ZBrush
It has a perfect workflow with Autodesk products like Maya
Flawless UVs and unwrap features
Tons of beginner-friendly online tutorials and resources to learn
Large user community

Cons

Difficult-to-use user-interface
Retopology tools are not precise
Limited options of brushes
Ineffective rigging tools
More expensive than other programs in the marketplace

The 2012 release of this tool caught attention because of the software's novel sculpting module. It featured multi-resolution sculpting and had advanced options for symmetry. To add fine details, it offered a wide range of different brushes, stamps, and stencils. The software also supports mirroring as well as mesh projection.

Pros

Cinema4D is quite easy to use.
It offers the best renders.
3D artists can effectively work with procedural and polygonal modeling, rigging, animation, and texturing
Software is super stable with zero crash issues.
It is a well-resourced program that has streamlined functions for each variant.

Cons

The modeling workflow needs a few updates.
UV painting and Bodypainting require a few tweaks.
The user license costs around $3,700.
Redshift integration is not seamless.
The weight-mapping feature is dreadful.

When released in 2007, MODO 301 had a great sculpting tool-set. By this, it was possible to sculpt the meshes using a blend of mesh vertices management followed by vector displacement (image-based) maps for creating fine details.

Over the subsequent releases of this tool for 3d sculpting services, refinement of the system continued. MODO 501 features multi-resolution sculpting capability.

Pros

Customizable UI and tools
Supports scripting languages such as Python, Perl, Lua
Hard-surface and organic modeling is a strong point of Modo
Efficient shortcut keys and workflow options
An efficient native renderer
Enormous library of video tutorials

Cons

Texturing process has troublesome issues
Lack of tools for fluids and liquid simulation
Not beginner-friendly software
Software crashes frequently
Exorbitant subscription fees

Contrary to other apps used by outsourcing Indian companies, 3D COAT is associated with three-dimensional pixels or voxels. The users don't have to be concerned about the underlying topology.

The user simply draws a volume and can add geometry as he likes; the program will add voxels based on the need. Then the sculpted image gets converted into a surface just like other apps. As the objects are built using triangles, the final model should be re-topologised for creating a mesh that can be workable; the app has a really effective manual and automatic tools. Besides, there is also an all-inclusive tool-set for UV mapping and another toolset to perform painting.

Pros

Easy-to-use poly modeling features
Powerful and intuitive voxel sculpting tool
Conventional and user-friendly UI
Best retopology tool
Easy swaps between UV space and 3D space makes surface texturing a breezy process

Cons

Limited smart materials and does not support imports from other packages
Lack of online learning resources
Brush precision is a concern
The 3D Coat does not read Adjustment layers
The software does not support scripting.

With the launch of the version 2.43, BLENDER got equipped with sculpting tools. Here also, the multi-resolution system works almost like Mudbox and the ZBrush. Dynamic topology was added in version 2.66.

The system allows the user to add or remove geometry as per his/her wish. But the output generated will be a thickly triangulated mesh. You may thus have to spend time retopologising it. The 3D sculpting tool is highly advanced and user-friendly.

Pros

The open-source software is highly responsive to any user ideas.
It has quality features like fluid simulation, smoke simulation, particle simulation, skinning, rigging, and much more
Best raster graphics editing tool
Provides for smooth video editing and composition
In-built keyboard shortcuts save time
Skin modifiers help to draw base mesh quickly
Add-ons are a big bonus

Cons

Deep learning curve
Cluttered menus and toolbars
Requires hours of practice and dedication to master the software
Extrusion tool creates new edge and vertex
The right-click-only selection system is a bit troublesome

Sculptris

This digital sculpting software was developed by a popular 3D tool development company named Pixologic and it supports 3D printing as well. You can use this tool to generate elaborate meshes. This software comes for free and so you can use it to upskill yourself by using its various easy-to-use features. You can also import 3D meshes in .obj formats for adding more detailing and modifying the sculpts. This free tool does not have comprehensive features that you can find in ZBrush and so it is limited in terms of functionalities.

Pros

Easy to learn and use software
It offers more sculpting tools in comparison to regular modeling software
Highly compatible with ZBrush
Professional texture patterns
Export STL files directly to a 3D printer

Cons

Limited file format and tool support in the free version
Slow rendering
Software is not customizable
Lacks some advanced sculpting features
Hard surface modeling tools require some improvement.

Meshmixer

This is an advanced sculpting program that supports the easy handling of triangle meshes. This software was developed by Autodesk. This is one of the most popular software for generating 3D meshes. This software supports functions such as 3D scanning, 3D printing, sculpting, and object designing. When you use this software, you can ensure that all the objects are represented in proper geometry. Its latest version is 3.3 and some of its features are drag-and-drop, surface stamping, functionalities for creating lattices and patterns, measurements, mesh smoothing, mirroring, surface alignment, etc. This is a free program and so you can experiment with all its features and make your learning more effective.

Pros

Fast and effective auto-repair functions cover all problem areas.
Easy to use UI
Complete set of tools to optimize STL files for 3D printing
Support file imports from Fusion 360
Remeshing algorithms help create efficient meshes

Cons

File formats not compatible with others in the market
Lacks diverse add-ons
Contributes to the creation of complex meshes that crash often
Limited views of the models
The tool struggles to open and process large-sized STL files

This is not exactly a program, but it is a free, browser-based application that you can use for free. This JavaScript and WebGL-based program does not need you to sign up in order to be able to use it for your project. This software can be used easily by beginners to master their digital sculpting skills. It has some really useful sculpting tools including standard tools such as twist, brush, drag, inflate, etc. PBR vertex painting tools support the functionalities for roughness and color, etc. It supports multi-resolution sculpting and features a surface-net meshing algorithm that supports voxel remeshing and uniform remeshing. It features a triangle-only topology and its files can be operated on in real-time. It supports the import and export of files in OBJ, PLY, and STL formats. It comes with the Redo/ Undo functionality.

Pros

The mesh shaders feature helps enhance designs without affecting the main sculpt.
The upload background feature allows importing customized images from outside.
It provides options for painting 3D formats.
It supports several file formats such as PLY, STL, and OBJ.
It is compatible with Wacom tablets.

Cons

Absence of cut-option to create holes in the models
Does not have features to create hollow models
Lacks measurement accuracy
Not suitable for designing mechanical parts such as wheels and joints
Not the best-fit for high-poly sculpting

Rocket3F

Rocket F is a really useful 3D sculpting software for beginners. Designers and concept artists use this software to create polygonal models. Developed by Samardac & IStonia Partnership Ltd, this software gives users a feel of the drawing. This is a very simple program that motivates beginners to try their hands on digital sculpting.

This software is a comparatively new program in the market, but it is noted for its versatility. It comes with a lot of features that support 3D printing. It comes equipped with tools that support 3D sketching, sculpting, mesh modeling, and model slicing and repair. You do not need to download it to your computer because it is a browser-based application. However, you need a reliable internet connection to use this application efficiently. It has both paid and free versions. The free version comes equipped with major modeling features, however; you need to pay $ 15 per month in order to get access to certain features such as 2D to 3D image conversion, direct exportation, etc. This is a great option for beginners as well as users in the intermediate level. This application works well on all major browsers.

Pros

The free version has several modeling features.
Browser-based program
Offers many features for 3D printing
Has traditional 3D sketching and sculpting tools
Supports several file formats (only paid version)

Cons

Users have to pay to unlock the direct export and the image-to-3D model conversion features.

ZBrushCoreMini and ZBrushCore

You cannot find a list of top sculpting software without ZBrushCoreMini and ZBrushCore. These two free versions of ZBrush best suit those who want to experiment with 3D sculpting without any sound ZBrush options. So, if you want all the basic features of ZBrush at reduced prices then ZBrushCore and ZBrushCoreMiniare for you.

Pros

Supports mesh detailing, texturing, painting and rendering
Suitable for professionals who are more focused on 3D modeling
Compatible with Windows and macOS
Subscription fee for ZBrushCoreMini is approximately $10/month and approximately $180 for ZBrushCore

Cons

One cannot import/export FBX files.
A limited number of brushes than ZBrush
Not suitable for hard surface modeling
Absence of mesh projection and UV mapping tool

3DC Printing

If you are into creating 3D printable models, then 3DC printing offered by the developers of 3DCoat is a good choice. When your focus is on 3D printing applications, then 3DC printing is the best option even though it has only basic features.

Pros

The software is suitable for Voxel sculpting
It has advanced texturing tools
Supports UV mapping
Compatible with all popular browsers
The subscription fee is approximately $50

Cons

The professional version is a bit on the pricier side, costing around $379

Autodesk Maya

Maya is a well-known 3D animation and modeling program in the history of CG. This software has been an Autodesk product since 2005 after Autodesk acquired it from Canadian corporation Alias.

It offers users powerful sculpting, animation, and rendering workflow. The software has adaptive retopology and remeshing features.

If Autodesk can be compared with Adobe, then Maya is equally famous as Photoshop.

Pros

The program has exceptional motion-capture handling capabilities
The Paint effects help the users to draw free-hand 3D shapes
Seamless integration with AutoDesk Mudbox
Works well on graphics tablets with touch controls
Users can use clay and other modeling materials to sculpt

Cons

A steep learning curve indicating hours of dedication and practice
Node editor and scene hierarchy are complex to work with
Compatibility issues with other Autodesk products exist
An expensive price tag of $1,620/year
So, this was our list of the top 3D sculpting software for 3D sculptors. If you think that you can add a few more names to this list, we would appreciate your inputs. Do let us know if you have used any of these programs; we would be happy to hear from you. Stay in touch with us to get more updates on 3D services.