Real Estate Photo Editing Services
The success of real estate businesses is highly dependent on the use of high-quality images that would showcase property features in the best possible way. When you use our professional real estate photo editing services, our expert photo editors who are adept at the use of different image enhancement techniques would their best to deliver exceptional outcomes.
With professional real estate photos that can create long-lasting impacts on the prospective customers, real estate businesses can now create stronger marketing campaigns. From removing camera flash to eliminating unwanted objects to adjusting brightness or color, our experts can perform advanced image editing activities by using advanced real estate photography editing software.
Our all-inclusive real estate photo post-processing services
Our professional photo editors are adept in manipulating the pictures to serve the best purpose for the clients. There is nothing infeasible or impractical for us as we have dealt with the most complex projects in the stiffest of deadlines. So, get quality results by requesting assistance from our Photoshop real estate photo editing services. Here are our key service highlights: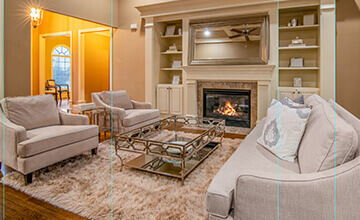 Our team uses perspective correction techniques to eliminate camera lens distortions for offering the most accurate property pictures.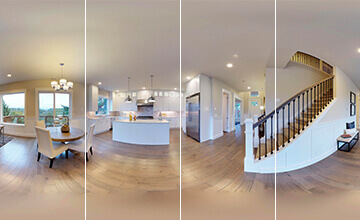 We use advanced panorama photo stitching techniques to create 360-degree views for the real estate property photographs.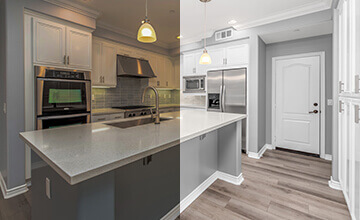 Our expert team applies varied methods to eliminate or tone down color casts from the images to make it realistic and appealing.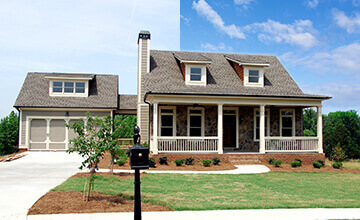 We implement various image editing techniques to create enthralling property images by incorporating the appropriate sky color blends.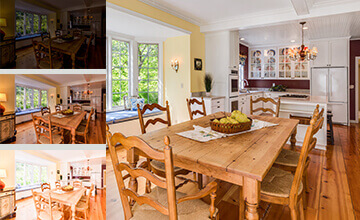 We are proficient in blending multiple photographs with varying intensity levels to create HDR images for the architectural properties.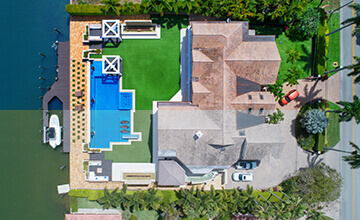 Our photo editors remove unwanted objects, correct lighting, and add other necessary features to improve the look of the property images.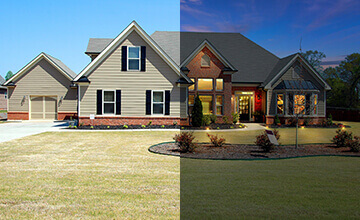 We make the desired changes to convert the daytime architectural photos to dusk and increase its appeal for captivating viewer's attention.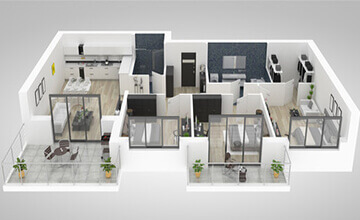 We convert 2D sketches into visually attractive 3D floor plans to showcase the layout of the architectural property in the best manner.
Our real estate photo retouching techniques include
Adjustments of contrast and brightness

Sometime the image may appear too colorful which can spoil its look. In this case, you can seek assistance from our photo retouching experts for making necessary adjustments in the brightness and contrast to bring back its appeal. We ensure that it will appear naturally vibrant to the viewers.

Elimination camera flashes

In some cases, a photo appears spoilt due to an increased level of brightness of the camera flash. This impacts image clarity and quality. In such cases, our experts can perform advanced editing to generate amazing versions of architectural photographs by accurately eliminating camera flashes.

Removing unwanted objects

With the help of our real estate photo enhancement services, we can remove any object that causes distraction. For instance, our experts can remove various undesirable elements like cars, trees, and other objects to increase image clarity

Rotation and cropping

We can do the necessary cropping of photos to fit it them a particular frame or to get them in the desired size. If required, we can also rotate them and facilitate the desired positioning of the image.

Resizing images for websites

We use photo retouching services to make necessary adjustments in the image size before uploading it on the client's website. While resizing, we also make sure to avoid pixelation for producing high-clarity pictures.

Removing minor reflections

With the appropriate use of Photoshop techniques, our experts remove minor reflections from the photo by eliminating the glares caused due to the presence of object or glass in the image.

Removal of timestamp

If requested, we can help clients get rid of timestamps from property images so as to give them a more professional look.
Software we use for image editing
Our image editing professionals have the expertise to work with the latest photo editing tools to generate outstanding photographs. Below are some of the software that we utilize to edit real-estate photos:
Adobe Photoshop,
Lightroom,
PTGUI, etc.
Benefits of choosing our high-quality real estate photography editing services
Our photo retouching professionals guarantee shortest turnaround time.
We train our employees regularly to keep them updated.
We accept and deliver outcomes in multiple formats such as JPG, TIFF, PSD, etc.
We keep our communication channels open 24/7.
We practise immense care to work on clients' feedback.
We provide premium property video editing services.
We conduct stringent quality checks.
We guarantee data secure ,and reasonable rates.
We have served different types of clients who approached us with diverse image editing requirements. When you hire our real estate photo editing experts, we would assure you world-class outsourcing experience and extraordinary outcomes.