Key benefits of using 3D animation in construction industry
With more and more innovative technologies emerging with each passing day, the limits for customer expectations are virtually vanishing. This holds good for the application of 3D animation in the construction industry as well.
For those in the construction industry, this fact is very much realized due to the increasing complexities of projects. 3D animation for construction can allow businesses to have a competitive edge over others. Leveraging the services of the best 3D designing company in India is one way to utilize the potential benefits of 3D animation in construction.
By outsourcing 3D animation for architecture design, you can get the following key benefits: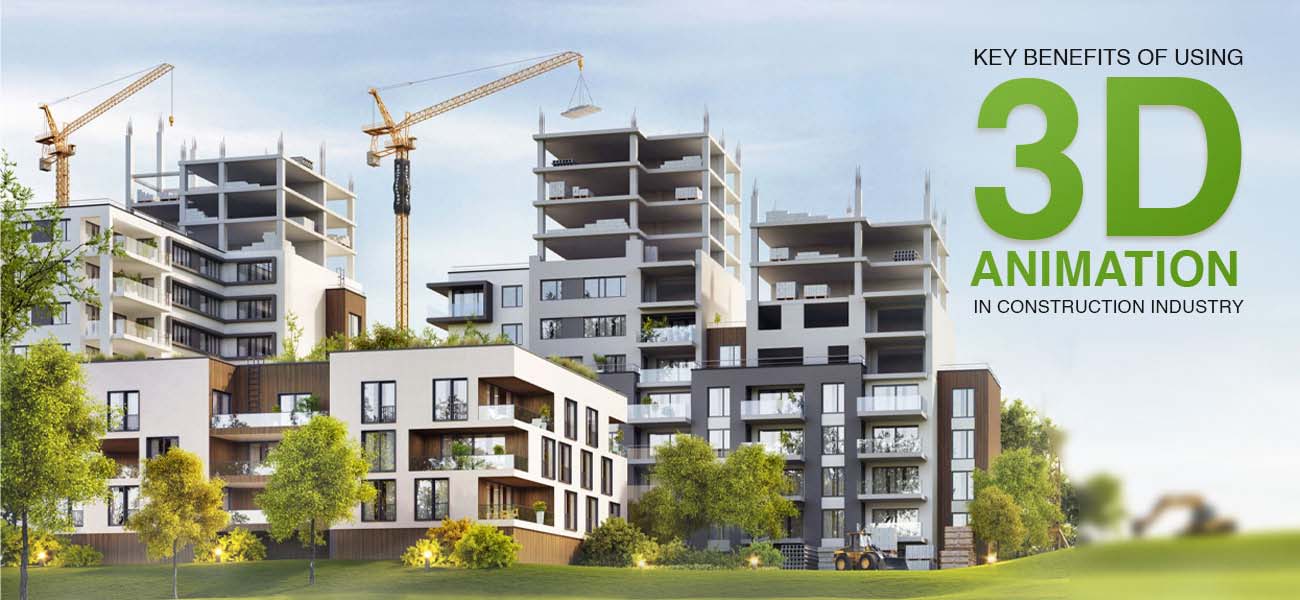 Better perception

With 3D animation services, you get a complete replication of the actual project and, as the process is done in the designing phase, things proceed with ease and precision. Each floor, critical area, elevations, landscapes, and textures can be easily understood which facilitates smoother execution of the project.

Improved marketing

3D animation services by the best 3D designing company in India serves as a potent marketing tool. You can easily explain the project details to the prospects and others concerned. Moreover, the compelling and explanatory three-dimensional views which can be highlighted on diverse media like television or websites can attract more buyers

Assures cost-effectiveness

Though cost incurred for a project depends on numerous factors, operational efficiency matters a lot. Through the use of creative animation service you can recognize and alleviate the flaws in designing before implementing the project; it's quite obvious that fixing faults after construction is unwise and very expensive. Having a realistic visualization through 3D architectural design animation promotes cost-effective and prompt construction.

Easier approval from authorities

Most of the countries have stringent rules that mandate approval by the local government for carrying out construction projects. In case of any uncertainty factor, your project may be rejected. But with a realistic animated version, gaining confidence to win approval from the concerned authorities is never a hard nut to crack.

Lesser mistakes

With 3D visualization, it is possible to identify mistakes at every project stage and to rectify them earlier to avoid costs and hazards. With 3D animation, you can afford to make lesser mistakes with regard to.Therefore, you can worry less about scaling, creating accurate building plans, and getting the interior design just right.

Keeping clients updated

Clients do not want surprises because they invest heavy amounts and want to remain informed about project stages. Using 3D visualizations, real estate businesses can let their clients know about the status of the project-in-progress.

Enhanced online communication

With the use of 3D technologies, online communication becomes easier. Architects and real estate businesses can easily share 3D designs and animated presentations online with their clients through Skype, video conferencing, or Whatsapp. This makes communication better with international stakeholders and clients.

Final outcome clarity

3D visualizations created by 3D animation service providers allow project stakeholders to have clarity about the final project outcome. 3D presentations allow stakeholders to get a clear understanding of the design of all areas and detailing.

Realistic visualization

3D animation can create a separate world that lies between the world of imagination and the real life, thereby allowing people to discover a beautiful virtual world that resembles real life scenarios. With 3D animation, it is possible to keep all project stakeholders on the same page, which in turn alleviates confusion and helps clients to get a better idea about the project plan. 3D visualization and animation help to promote efficiency of the construction process by allowing architects to demonstrate how an intended project would look like in real life. With a realistic walkthrough animation, clients can enjoy a virtual tour of properties and can realize if a particular property would suit their lifestyle. This calls for informed decision-making and sensible investments. Clients can even ask for improvements in textures, elevations, critical sections, and landscape designs , any critical areas, landscapes, textures, floors plan design, elevations and more.

Maximum coordination

With self-explanatory 3D designs, architects do not need to give further instructions to the construction team. 3D designs provide maximum details and clarity, allowing construction teams to get a clear view of the overall plan from the 3D visuals and graphics. This level of clarity helps in better project explanation, thereby allowing architects to coordinate with the construction team with better clarity and efficiency.
Looking for 3D designing services from professional companies? We, at MAPSystems, have a team of experienced and highly-qualified designers and animation experts who can develop awe-inspiring and detailed 3D animated walkthroughs for your latest construction project. We make it a point to collaborate closely with our clients to understand their requirements so as to be able to deliver desired outcomes within the expected time and while adhering to the project budget. If you have a requirement, get in touch with us and we would be happy to be your partner.