Tips for Creating Realistic Sculptures in ZBrush
ZBrush is an authentic 3D organic sculpting tool which finds application in so many ways. While some of the amateurs use it for texturing purpose some of the creative professionals depend on ZBrush for UVing and extracting maps for illustrative purposes.
We will discuss about 10 graceful tips which will help 3D designing services to revolutionize the sculpting industry.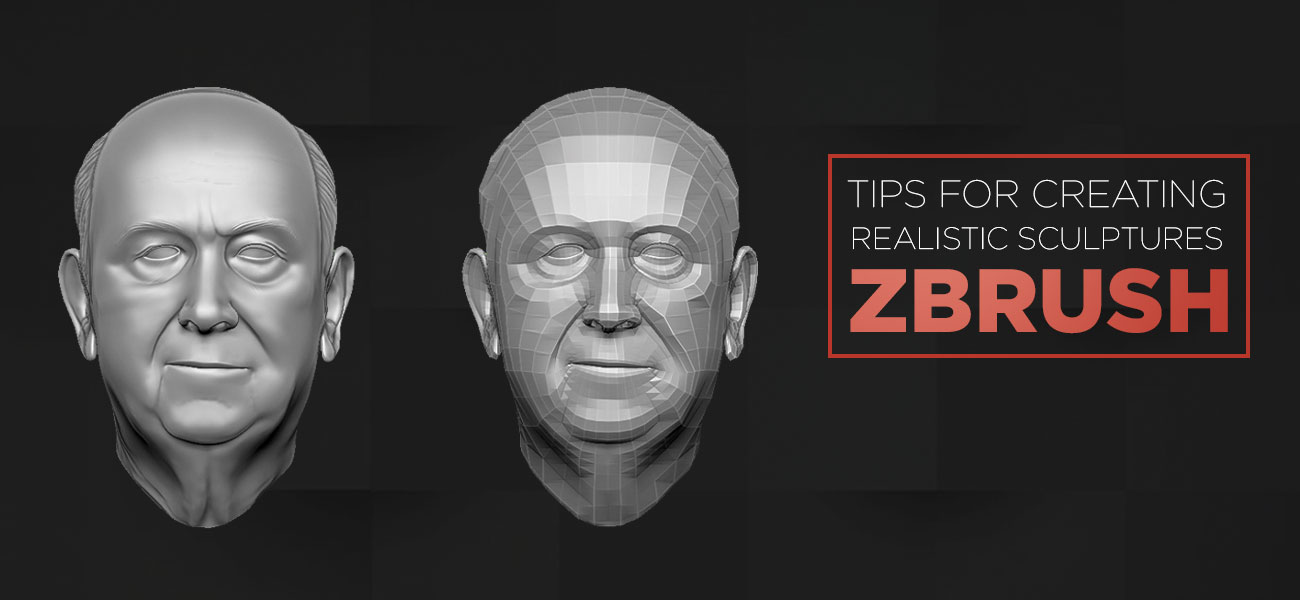 Adequate use of reference

Real life references are the difference between good and excellent sculptures. What 3D artists search more often are real life references which help to smoothly outline a character or item. Sculpting from organic sources is the best option, be it muscles, bones or nails.

Idea of Anatomy

Whatever is the sculpted figure it must make sense to the public. There are a few rules and regulations based on which every living thing in this world moves, breathes and eats. If you have succeded in crafting the specimen's interior then you have succeded the rest. Realistic creations demand better anatomy of the object to be moulded.

Skeletal system and muscles

Anatomy study can be extended as step further to focus on muscles and the skeletal system which is also the backbone of the sculpture. Creating core skeletons with ZSphere is an acceptable form of practicing. If your creature has an extra bone, don't mind adding it. Continue till the original result is achieved.

ZSpheres

ZBrush has evolved in such a way that it cannot exclude ZSpheres from its bundle. The duo has helped creating animations a thing of the past. Quick anatomy builds and the ability to repose it as soon as required makes ZSpheres an excellent addition.

Real-world entities like mass and physics

Organic modelers must note that it is very important to keep the volume, weight and mass of the body in equilibrium. Overall, the sculpted figure must be strong without any hiccups. Thin areas or projected ones need to be settled before moving on. Gravity plays an important role in controlling the hair and fur of the sculpted body.

Transpose poses

Symmetrical models not only save time but help to reduce complexity by copying a half into the other part. Before sending the model out for rigging, be sure to use the Transpose tool to pose your creation in a suitable way. Just like using the transpose tool one can demolish unwanted and asymmetrical parts of the sculpture.

Brushes

Brush palette is the most adorable tool of a designer. Organic masterpieces can easily be created if the right tools are available. The brush palette is a must learn for all those who are planning to move into the entertainment industry. Also, read more about the importance of 3D sculpting in different industries. A set of small core tools will surely be an eyesight for amateurish ones.

DynaMesh

DynaMesh helps to convert polygon distribution into the normal level. Stretches can be contained but after a particular point of stretching the rendered image may look dull. In order to overcome that Dyna Mesh can be turned on. It is a swift discovery which has helped numerous artists all over the world.

Insert Mesh

Insert mesh allows stretchable polygons to be added to any ZTool which can be remodeled with DynaMesh. Familiarizing the tools and Insert mesh is important for moving further as advanced insert brush can be used to store any modeled parts for future reference.

Clay Buildup

Clay brushes are an all-time favorite due to their simplicity and robustness. Retouching of muscle groups and volume is done by stroking along the model. Most of the 3D sculpting services & 3D design services require efficient clay service. 3d sculpting tips often depend upon clay buildup and some of the brushes.
In the end note, we can only say that there are various tips and techniques to master ZBrush and create ultra-realistic 3D sculptures for multiple uses. Though it might seem daunting initially, the digital sculpting tool becomes fairly easy with constant practice. It is a highly powerful tool, and when its full potential is utilized, it can create wonders.
Sculpting a human face is undoubtedly challenging; moreover, if it is for a 3D animated role-play game with the characters wearing quirky outfits and headgear, it becomes much more demanding. With the tips mentioned above, polish your 3D sculpting skills on ZBrush and make a successful career in ultra-detailed 3D character sculpting.
In case you are a professional 3D artist running low on time and resources, you may collaborate with a third-party agency for better quality and a faster turnaround. Let us know what tips did we miss and what other suggestions you have for the novices. We would love to hear! Happy sculpting!