Why Every Publisher Should Hire a Copy Editor?
Expression through words is not a skill everyone masters. Even if you are good at playing with words, there are still chances that errors can creep into your work. You can deal with this issue by seeking help from experts offering professional copyediting services.
A lot of large publishers have a team of in-house copy editors for various copyediting tasks. But, if there is a workload increase, they outsource these tasks to professionals.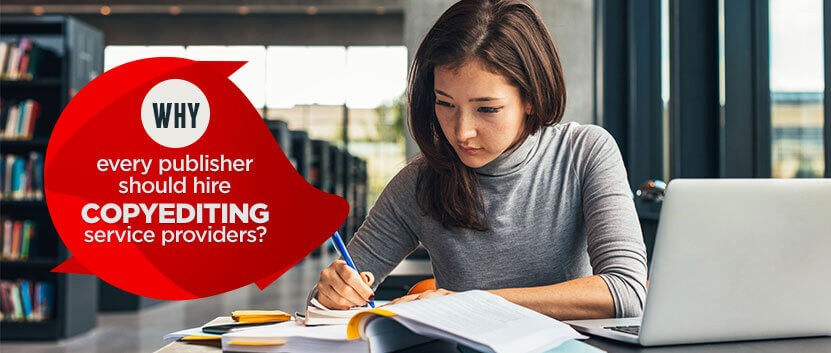 Big publishing houses aren't the only ones who outsource pre-publishing work. Even small publishing houses and self-publishers outsource to copy editors. It helps them save time and money.
Why hiring a copy editor is important for publishers
No matter what industry you work in, you can always hire copy editors to proofread or edit your content. However, copyediting is a crucial task in the publishing industry.
Grammatical errors may seem like a small matter, but they can compromise the way readers perceive your work. If your manuscript contains many errors, there is a high chance that it might get rejected. Furthermore, if you have been self-publishing books with many flaws, your repute as an author will suffer. It will affect your future sales.
Incorrect punctuation in the wrong place can affect the overarching theme of the content. This will make it harder for your reader to relate to your ideas. This is the main importance of copyediting. A proficient editor can help maintain tonal consistency, correct errors and ensure flow of thought in the manuscript. These are some factors that help improve reader experience and a writer's reputation.
Hiring a copy editor can save operational costs
Familiarity with ones work makes it difficult for writers to stay objective when reviewing their drafts. It makes them miss errors and typos easily. This issue remains the same even now, when many books get published online. This is where the need arises to outsource copyediting tasks.
In storytelling, the book style, formatting, punctuation etc. are very important. An issue with any of these elements can ruin a reader's experience. Bad reading experiences spiral into bad reviews, leading to a dip in sales and profits for the publisher or writer.
An in-house team of copy editors doesn't always work out for small publishers. So, they outsource digital prepress services to ensure that the content is flawless. The external copy editors can help clean up the text and remove errors to ensure the readability is intact.
Role of a copy editor in improving your self-publishing documents
A copy editor's job goes beyond correcting grammatical and spelling mistakes. They also work to ensure that the text is consistent and adheres to the style guidelines.
A copy editor has a strong grasp of their chosen language. Thus, they are responsible for revising the content to ensure clarity and accuracy. Through their skill, they can turn a piece of work riddled with grammatical, spelling, and style errors, into a print-ready finished work.
They will also work with the author to transform the draft into a piece of work that is ready for publishing.
List of tasks performed by copyeditor
Copy editors carefully go through each sentence of your manuscript. They revise the text according to your needs. Some of the major tasks undertaken by copy editors include:
Checking punctuation to ensure that the concept is properly presented
Ensuring proper flow of ideas by eliminating abrupt points
Checking the accuracy and clarity of the text
Ensuring the consistency of the concept
Correcting grammatical, language, spelling and style errors
Ensuring the proper use of the language
Ensuring a smooth transition from paragraph to paragraph
Correcting sentence structures
Ensuring the apt tone throughout the manuscript
Reshaping and trimming rough work to make the content print-ready
Importance of copyediting in other industry verticals
The benefits of copyediting are not exclusive to the publishing industry alone. Other verticals also need copyediting services.
Not all companies' core business involves content. However, they still need it to communicate with their stakeholders. Copy editors can help maintain clarity and consistency across brand collaterals.
Powerful advertisements have fallen flat due to inherent slip ups or spelling errors. And it continues to happen to this day. Such goof ups lead to a failure in delivering the intended message to prospects. When a company uses the services of a copy editor, it delights the customers. This is because it shows that the business cares about its image and is attentive to minute details.
Even the education industry uses copy editors. Accuracy is vital when publishing research papers or conclusions in a specific field. This is true for the research itself and the grammar. So, copyediting services help ensure the validity of the content.
Conclusion
All prominent authors know the importance of reading and revising their drafts. Even so, some mistakes may escape their attention.
This can be because the author reads it from their own perspective and fails to notice errors. A copy editor objectively analyzes the content to weed out errors that may break the flow of the text. They also ensure that the tone of the content is consistent and adheres to style guidelines.
MAPSystems offers you the benefits of hiring a copy editor at cost competitive rates. Our editors will read each word, line and paragraph to ensure print-ready content. They will correct errors, flaws, goof-ups and other issues that may have escaped your attention. We guarantee that the text will flow naturally in its own unique style.