5 Amazing Techniques For Using Colour in Your Art
Illustration is a key element of graphic design. The methods for colouring illustrations determine the quality of services rendered. The finished piece can be made to reflect apex level of professionalism if optimal colouring techniques are used. Let us have a peek on different methods that professional service providers follow.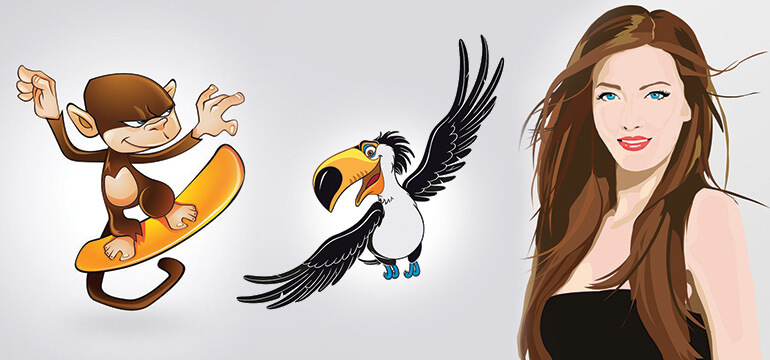 Digital

Here the illustration done using pen and ink is simply scanned and then colouring is done digitally using any of the image editing programs. In case if you want, white background can be removed and contrast can be adjusted on the drawing to get crisp and strong lines. This easily avails the facility of trial and error methods.

Colour pencil

Drawing using coloured pencils is almost the same as colouring a picture in a book. But in case of illustrations, you must be more careful. Techniques like mottling, cross hatching or multiple layering are used by expert service providers for making the dimensional tones. It is advisable to choose lightly textured or smooth paper for this purpose.

Liquid ink

You may use liquid ink with varying stresses on the strokes. After the work is done, assure that the paper is dry before proceeding to the scanning process. These should be made more vivid as the scanner may not always pick the delicate ones used. Using this method helps in adding painterly excellence to the pieces. Also mixing can be done with more ease.

Marker

Colouring can be done simply in between lines. Adding varieties and dimensions is facilitated. Smooth paper should be used with thickness enough to prevent any chances of bleeding. Before starting, test the markers on a rough papers so as to make sure that the ink stay within your markings. Using markers provide popping, bright and bold shades. Also, it reproduces perfectly and easily.

Pen and ink

You can create a wide variety of pen strokes to shade your illustrations with different tones. For this, white, black or coloured pencils can be used. In this case, minimal supplies are needed. Also, the finished work will look great.
Other common method is using acrylic paints. Else you may also use mixed media. When you use different media together, various aspects can be combined for attaining unique outputs that reflect exactly what you need.
Before we end this article, let's take a look at the reasons why illustrations are so important for modern-day businesses and institutions:
Storytelling becomes perfect.

Illustrations have a great storytelling potential. You can exercise total control over the characters and scenes that you demonstrate through illustrations, which, in turn, supports the creation of the right visuals and help you tell your brand's story in the best possible way.

Relate to your audience

Using different illustration styles and scenes, you are able to promote your products and brands among your target audience in the right manner. The use of the right illustrations would boost your campaign's or your brand's appeal when you make sure to understand the preferences of your target customers. For example, if your customers have interest in technology and science subjects, you may consider using concise geometric abstract illustrations to impress them.

Transform illustrations into animated graphics.

You can easily get your illustrations converted into animations or GIFs, which can improve customer engagement in your social media platforms and make your campaigns livelier.

Illustrations can be customized as per your branding

You can use unique illustrations to create a specific style that would complement your brand's style and persona. For example, vector-based illustrations are ideal for creating modern and sharp logos. On the other hand, if you embrace softness in your brand values, you may go for hand-drawn designs.

Your illustrations deliver a message.

Stock photos are used by several businesses and so they cannot represent your brand in a unique way. Use of unique illustrations can make your messages appear more relevant and meaningful and help you stand out from the competition.

Grab maximum attention

Illustrations can be used to design unique user interfaces. Illustrations create visual hierarchy and they can be strategically used to draw visitors' attention to the most interesting portions of the screen. Designers have an incredible ability to divert a user's focus to a particular section of text or action, only by incorporating the right illustration at the right portion of the screen.
A lot of professional graphic design companies are there offering illustration services that are specialized to deliver extraordinary fashion illustration, accurate scientific illustration, creative storyboard illustration, and thoughtful children's book illustration. You may seek their help in case if you are not that confident. However, take proper care to make sure that you select the best people to offer you the concerned service.