Top 11 Reasons to Convert Old Photos to Digital Copies
If you are a millennial, there's no doubt you have a few boxes of old photos sitting in the basement, damaged with age, faded, and taking up a lot of space. You cannot discard them owing to their immense sentimental value. So, what to do? Switch to digitizing the old photos and preserve them for eternity!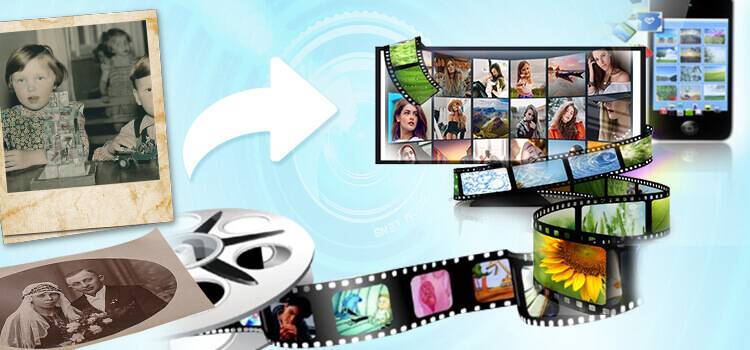 With digitalization, you can store as many photos as you want on a computer, an external device, or the cloud. Digitizing your old photos not only preserves their quality but also keeps them safe, with easy archiving. Read this blog and discover the 11 reasons for converting old photos to digital copies.
Why should you get your photos digitized?
You may digitize old photos for a number of reasons.
Preserving old memories

When you scan and save images digitally, you can name each individual file with the names of those who appear in the photos. This would help in saving old memories, and you can pass on vital information to the next generation.

Safeguard from quality deterioration

If you snap a photo today, tuck it inside an album and take a look at the same some 30 years later, you would be amazed to find that the basic appearance of the photo has changed. This is due to the irreversible process of color shifting. Even the best archival methods cannot prevent this damage. To maintain integrity, it is advisable to scan photos to digital mode.

Prevention from damage induced by water and fire

It is possible that in the long run, your photo album can get wet or succumb to fire. You cannot predict all untoward incidents of life. Insurance coverage won't be able to make good the loss. If you convert old photos to digital copies, you need no longer worry about uncertainties.

Backups can be kept efficiently

Digitized images can help you keep the backups efficient. This will also help you get rid from the worry of the safety of your physical photos from scratches, damages bends, molds, etc.

Protection from spills

There are chances that you may accidentally spill a liquid over photos. These actions can cause irreversible damage to photos. When you digitize pictures, you no longer are bothered about such accidents.

Affordable image scanning services

Another compelling reason to scan pictures to digital mode is its affordability. Your images can be professionally scanned and retouched at unbelievably low cost within a short turnaround. All digitized images are returned in USB or hard drive or on DVDs.

Image distribution becomes easier

If you have rare photos that you don't want to part with, you can still share the same with others in digitized mode. You can upload digital images on social media. The original prints would always stay with you. You can duplicate the digital copies as many times as you want.

Image sorting becomes convenient

You can sort digitized images in any way you prefer. You can sort them by date of shooting, by event, or by tagging people who are present in the images. You may also use keywords like 'birthday' or 'anniversary' to sort relevant images on a later date.

Organizing original photos becomes easier

Your original photos' edges may have been curled. Exposure to sunlight or mold may have deteriorated them. When you bring them out for handing over to photo scanning services, you can preserve them in a better manner once the digitization has been done.

Photo books can be created

Photo books can be created using several digitized images, you can now create your own digital photo album within which you can flip through your treasured memories at no extra cost. Photoshop Elements from Adobe, iPhoto by Apple and other programs allow the creation of captivating albums from digitized images.

Image quality is significantly improved

You can get the original quality of the old photographs digitally restored after digitization. You may keep the enhanced images in digital mode or can take printouts.
Photo digitization is here to stay!
The uses of image digitization are many as highlighted above. You can get your damaged photos restored and can share your old memories with friends or over social media. You can also hand over a rich legacy of your family interactions and outings to the next generation with digitized images. The digitized images can be preserved in a location where everyone can access them. The safety of the images will also no longer be an issue.