3D Sculpting: Tips To Speed Up Your 3D Model
Regardless of the application used, there are numerous techniques that can help you in carrying out the sculpting process swiftly and assuring enhanced quality output. Being a renowned name in the domain of 3D modeling, sculpting and in fact comprehensive 3D services, we keep on educating our readers with different tips, techniques and trends in the related scenario.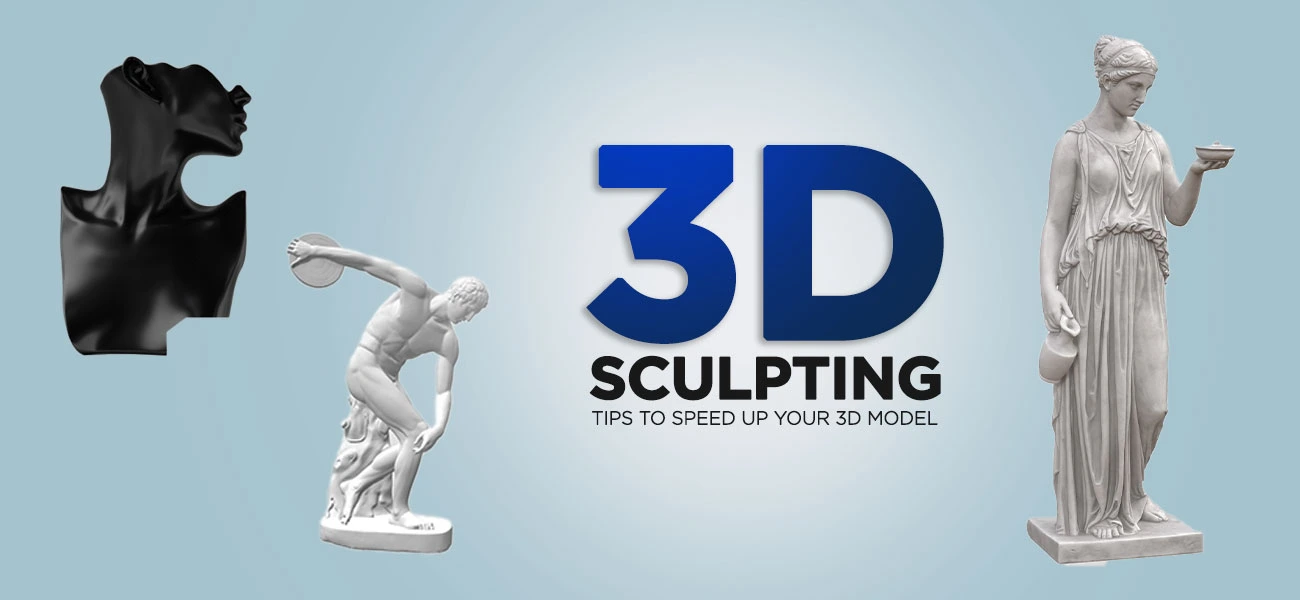 Here we are shedding light on some of the most supportive tips that can be of great help for any 3D modeling professional.
Get a complete knowledge about your tools

First of all, it is necessary to acquire a detailed knowledge of the tools you are going to use. Have a look at the digital sculpting techniques to get a detailed view of the art. While working in the VFX industry, a 3D modeling artist should be familiar with 3d speed sculpting. You should be familiar with ZBrush and other software that brings you an extensive range of editing features. When you try out something different in the sculpting process, you can choose a new technique or a new brush. You can enhance the quality of the image using these techniques.

Creating the Silhouette

While creating a model, you need not always start with finest specifics. Starting with basic shapes is advisable and you should progress from there. This is how sculpting should also be done. Most relevant details such as proportions, forms and silhouettes should be taken care of firstly. Then move on to the finer details carefully. Rough base mesh enables in making significant changes without having to be concerned about the model. When it comes to defining forms, using bigger size brushes with a considerably lesser intensity will do well.

Using proper reference

Finding an apt reference image for the model you have in mind is the basic step you should perform so as to assure that sculpting is done successfully. By having a reference image, you can understand the anatomy of a character in more detail. Using images assists you in coming up with better texture ideas for fine wrinkles and scales. Most companies indulged in 3D modeling services use reference images.

Focus specifically

Unprofessional service providers while 3D sculpting shuns away from focusing one area at a time; they simply jump around the model. This is a bad idea, especially when you are adding finer details. Sculpting a portion till you find it perfect and then moving on to the next section will assure great quality and originality in your works.

Symmetry mode helps

For any service provider offering 3D sculpting services, symmetry feature is a real boon. The work done on one side gets replicated on the other side also. Besides assuring speediness, this, in addition, sees to it that symmetry is maintained faultlessly. However, while working on finer details such as skin textures and wrinkles, avoid using symmetry mode.

Working with the layers

It is necessary for a designer to be familiar with working with different layers, as it ensures that the work remains organized. These 3d sculpting tips will help you in creating the required details in the layers, without destroying the other details. If you want to incorporate quick edits in the later stages of the sculpting process, the layers can turn out to be helpful. These layers can hold masking, sculpting and poly painting details. However, make sure that you do not use too many layers unnecessarily. This can make your file size larger. The fine details of texture, including scales, wrinkles, and folds can be created in separate layers. When you get familiar with the 3d sculpting software, you can easily create these layers. You can also create different layers for specific parts of an object or a character. These layers also enable the designers to show or hide individual areas of the character or object. Get the best 3d sculpting app, that will help you to incorporate the desired features. Well, you can create a distinct pose layer to try out all the possible poses. This will keep your model intact, without disturbing the layers you have already created.
Those were a few essential tips to speed up a 3D sculpting workflow and make it a successful project. 3D sculpting is undoubtedly the most challenging part of the entire 3D design procedure and requires a great eye for detail and aesthetic sense. Given that sculpting is all about twisting and pinching the 3D clay made of the polygon mesh, 3D sculptors often lose track of time.
This slows down the process and hampers the productivity of a 3D artist. The tips mentioned above can significantly enhance creativity, as well as make the work more interesting. A golden thumb rule to improve your overall models is to master the anatomy of any living being. Having a sound knowledge of anatomy is the key to perfecting your 3D sculpting technique.