Benefits of White Background Product Photography in eCommerce
Photos are the first thing eCommerce buyers notice while scrolling through an online shopping store or an eCommerce platform. They are the initial level of contact between the seller and the customer. Hence, product photography needs to be top-notch. Customers always prefer a clean and crisp photo of a product that will help them to understand the product better and focus on its features. What is better than product photography in white background!
These days, when it comes to product listings, white is the most preferred background for any eCommerce marketer. Not only do white backgrounds accentuate a product's main features, but they also give an overall aesthetical appearance to the product photo shoot devoid of any visual noise. This helps to advertise the product better.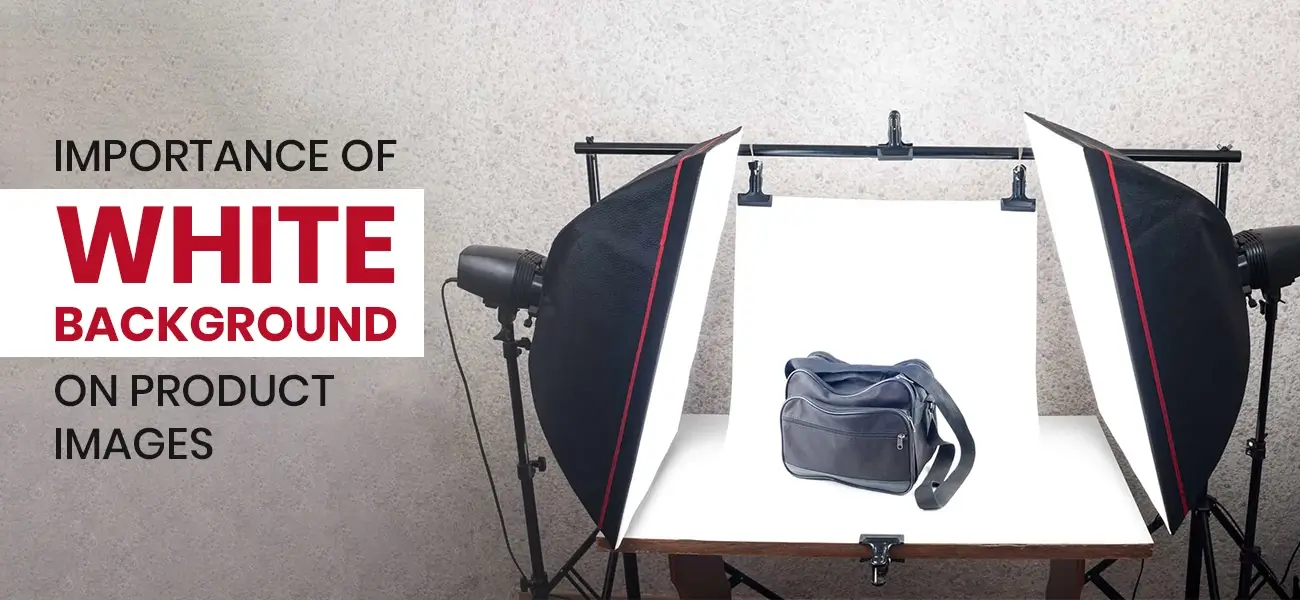 Apart from eCommerce stores, there are PPC channels like Facebook Marketplace, Instagram, Google Ads, social media product ads, YouTube Ads, and many more. For all these platforms, it is of paramount importance to have a white background for images.
Let's dig deeper into some other fascinating benefits of white background product photography!
A white background makes your product stand out

White can emphasize your product like no other color can. A product photo on a completely white background will draw the customers' attention to the product, preventing them from getting distracted. With a lot of things going on at the back and too many other shades of color, you will dilute the much-needed emphasis on your product.

And that's why most product photographers prefer not to have a background for any lifestyle product photo shoots.

Images with white backgrounds look good on any website

It is universally known that white goes with most website designs. With product photography in white background, you can rest assured the images will look best in any website design you have. And regardless of which eCommerce platform you choose to display your products on, with a white background, you can never go wrong.

White background makes your marketing efforts more versatile

If you are running on a shoestring budget, you would want to get your products showcased with minimal expense. Online shopping channels may accept only white or grey-colored backgrounds. If you have opted for multi-channel marketplaces but your photos are shot against colored backgrounds, there will be an added expense of re-shooting them again with a white background. Since a neutral background goes with every eCommerce channel, you can shoot only once with a white background and reuse the images on all platforms.

Using the help of a reputed product photo editing services company, this problem can be sorted. They will provide professional support for image background removal ,image masking photo color change services,and clipping path, everything under one roof.

White backdrops make you look consistent and professional

White background product lifestyle images possess consistency, which is absolutely necessary when you are selling your products online. Because this factor makes you look like a consistent seller, by adding professionalism to the images, and instilling trust and confidence amongst the prospects when shopping.

With the same backdrop, lighting, and angles for a series of products, it is also easy for the potential buyer to remember which products they have shortlisted. This easy organizing aspect is a major boost to conversion.

White backgrounds add excellent reflection to the product

Reflection is a great way to add a pop to your product images. However, getting the right reflections back from the photographed object is tricky. As you don't want to have a reflection of the photographer or the camera either. For this, an absolutely white background is apt, as it offers excellent reflective properties.

Here, you don't have to spend much on setting up different lighting from multiple angles.

White backdrop images are easy to edit

They are easy and convenient to edit, which makes them a handy technique for product photos where bulk images need to be edited. White backgrounds make it easier for the editor to remove any unwanted shadows, or clip only the product from the entire background without any hassle.

That said, even beginners can create and edit awesome product photos and execute an easy post-production process.

White or neutral background prevents any color mismatch

It goes without saying that online buyers want to be extra sure about the products they want to buy or add to their cart. One key aspect of this is the color of the product.

It is all the more necessary for products that have darker shades and vary as per the light source. Usually, in product lifestyle photo shoots, any brightly colored visual element just beside the actual product will visually affect its colors adding unwanted undertones.

Similarly, for lighting, products can look different depending upon the light source, whether it is warm or cold. Hence, to avoid all these hassles, it is a great idea to choose a neutral backdrop that shows the customers the actual product, just how it is.
Conclusion
These are the prime importance of white background in ecommerce images. If this makes you curious about how to edit product photos like a pro, visit the article.
You also need to attract potential buyers through them, sell your products and turn those leads into paying customers. So a lot of things are at stake with getting your product photos right. Be consistent, keep experimenting, try new ideas, maintain the size specs - and you can stay to slay the eCommerce market.