4 Tips to Reduce Noise in Photoshop [Beginner's Guide]
Noise reduction is an essential process that every photographer needs to pay attention to. This is because a grainy image is a disaster to deal with when coupled with other distracting elements.
As a beginner photographer, chances are that you are no stranger to removing noise from images. The "reduce noise in Photoshop" feature allows you to fine tune your photography.
Let's dive in to learn more about noise reduction Photoshop that helps in reducing digital noise very easily!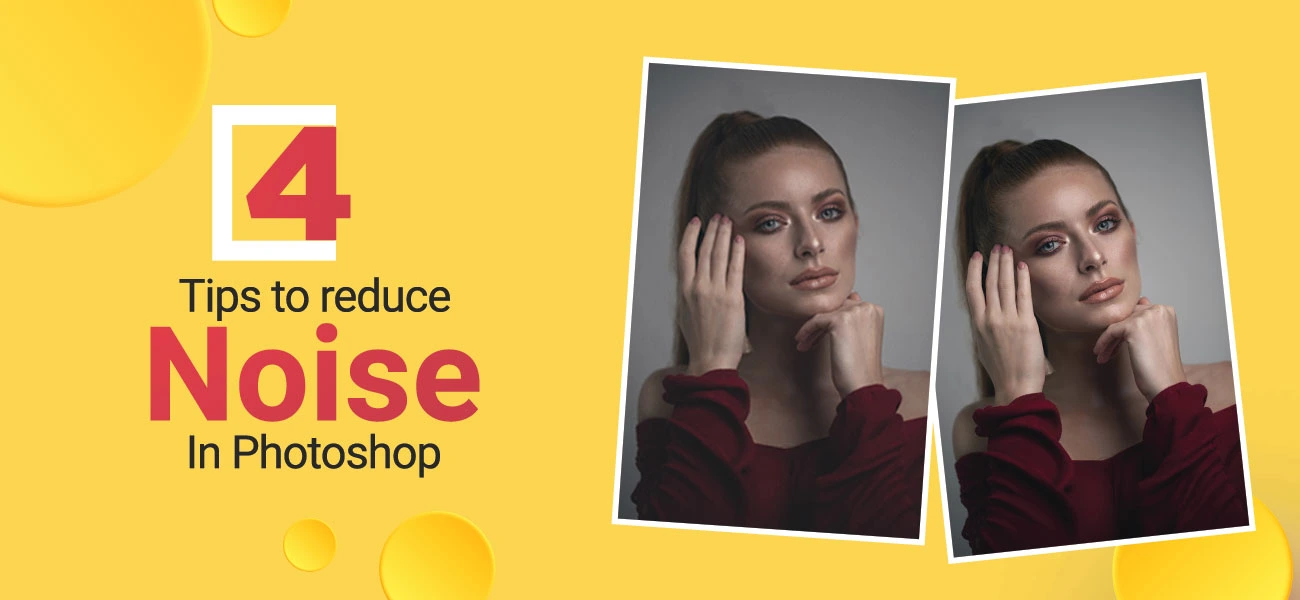 What is digital noise?
Digital noise is the grainy, pixelated-looking effect that appears in your photos when you have not taken enough time to adjust the settings in your camera. Often, people unfamiliar with cameras will shoot randomly without really thinking how their decisions will affect the way their photo looks, which means that they're going to end up with a shot that's over-exposed and full of noise.
Some symptoms of noise in photography are low-light conditions, a slow shutter speed, and a high sensitivity mode.
Here are two types of digital noise:
Color Noise: Where the color becomes distorted
Luminance Noise: This shows up as grains on your images with color variations.
An easy beginner tip is to take more time to read through your camera manual and try different settings until you find something that works for you. Other options are shooting at lower resolutions (JPG formats have low resolutions) instead of RAW or using layers in Photoshop (once uploaded).
Tips to reduce noise in Photoshop
When it comes to using appropriate photoshop tools to reduce noise Photoshop, follow these tips:
Use Photoshop noise reduction filter

The Photoshop noise reduction filter, aims to reduce unwanted, low-frequency color noise from a clip. This activity can be performed on video, stills, or animations.

How to do it?

Filter → Reduce Noise→ luminance→select the preview, so it covers the complete frame of your video. Then go to 'increase luminance settings'.

You can also be a bit more selective with noise reduction on the RGB Channels. This is an advanced module that controls the noise specifically. You can easily adjust the intensity and preserve details for greater effect.

Luminance noise reduction in Adobe camera raw

Luminance noise occurs as a result of over-exposing an image to light. The extra light causes electrons in microchips and processing devices to leak out prematurely, which results in higher levels of black or darkened pixels and lower levels of white or clear pixels.

For luminance noise reduction to work best, the photo should be shot with optimal autofocus settings while avoiding harsh lighting conditions such as direct sunlight or flash photography.

After taking the photo, open Adobe Camera Raw (which you can access in Photoshop) and change the amount of luminance by using the noise reduction Photoshop option that you can see on your preview window at the right-hand side, until it looks right for your preference.

Through image stacking

Image stacking noise reduction is a technique for minimizing the residuals of dark frames. It consists of taking multiple recordings of the same image with different exposures. Each recording captures only part of the frame while providing enough flux to record all the signals.

Then, these images are stacked on top of one another and recombined into a coherent picture. With these adjustments, you can easily remove noise in Photoshop.

Use plugins and extensions to reduce noise in Photoshop

You'll be surprised to know that there are third-party extensions available to tackle the problems of digital noise. For example, you can use Noise Ninja or Luminar as plugins to effectively reduce noise in Photoshop.
Other techniques to reduce noise in Photoshop
If you find these tips a bit difficult, you can always contact a prominent photo editing services company that offers amazing photo retouching services. But before diving deeper, here are some minor changes that you can do to improve your picture with Photoshop reduce noise feature:
Use the bracketing noise reduction option in Photoshop to remove the entry-level camera- effects.
Create luminosity masks to reduce the noise in particular areas.
Apply external reduction plugin through masks.
Find the smoothness option and blur the light areas to remove the noise.
You can also avoid highlighting the noise by choosing "Edge Brightness" and set a low value for it.
The noise reduction Photoshop process
If you decide to contact a professional Photoshop services provider, here is how the process works:
The provider first requests your cooperation in collecting the required information on what needs to be done. This will improve the chances of addressing your photo editing services requirements correctly
Later, you need to send the image for review, and the editors will get back to you with feedback on whether it is workable or damaged.
Once the picture is approved, the next step is using noise reduction photoshop to work on the image and create a new layer.
The experienced editors will start working on the image with a "Lightness Channel" and add desired effects to make the image appear smoother and to eliminate the noise successfully.
As the final step, your image will be delivered through a secure channel after reviewing its consistency.
Why should you outsource noise reduction Photoshop to us?
Outsourcing photo editing services to a reliable company can give you impressive results. Apart from implementing the noise reduction techniques, we will also include a host of other effects to make the images stand out from the crowd.
So these are the best techniques to reduce noise in Photoshop in case you want to edit images on your own. It is important to reduce noise at the beginning of the workflow rather than working on it at a later stage.
Moreover, you get the advantage of applying the filters selectively in Photoshop while in Lightroom, this is not the case.
Contact us if you want to generate quality versions of your images and to preserve their minute details. Experts delivering photo editing services are always ready to support your unique needs.