5 Reasons for Using Image Background Removal in Business
It's no secret that eCommerce has taken over the world. In fact, it accounts for nearly 12% of total retail sales in the U.S. and shows no sign of slowing down anytime soon. With this much money being spent online, marketers are constantly looking for new ways to get their products seen by potential customers.
One way you can do this is by using product photos to showcase in website backgrounds. The problem with this technique is that many images have distracting elements in them, like signs or people passing by in the background – which can take away from what your product is actually about.
Luckily, there's a solution: image background removal services makes it easy to find a clean photo without any distractions so you can focus on selling your product instead of worrying about the distractions. So let's dive in to see why image background removal services are important for business.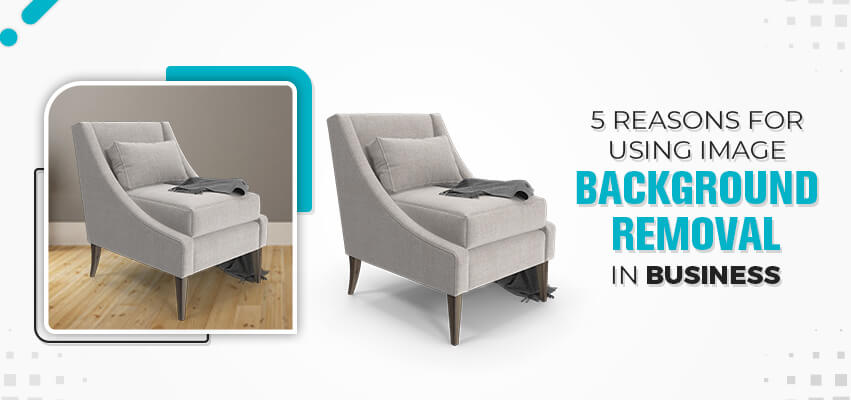 Why is there a need for background removal in product images?
Usually, eCommerce sales can be increased through eCommerce photo editing works employed on the product images. The industry is dependent on powerful photography and editing more than you think. One such service that stands out among the rest is background removal which has made a huge difference.
It can be difficult for shoppers to judge the size and style of clothing in a clustered environment. In addition, backgrounds can often detract from an item's aesthetic, making it difficult for customers to see what the store offers. With some professional retouching services from skilled companies that employ people who know how to remove these backgrounds, products and stores have a better chance of appealing to their audience by showcasing content without distractions.
Bottom line- having a polished image will only make you more successful in your business pursuits. So there's no reason not to get started with some professional eCommerce photo retouching services.
For example: If items are hanging up behind the product you're trying to upload, separating the backdrop will allow for more focus on your intended subject (the potential customer). There are many different ways to remove backgrounds depending on what software you're using- but generally speaking, they all involve some form of erasing segments of images that correspond with areas.
Benefits of removing image backgrounds
Background removal is an important part of eCommerce photo retouching services. Sitting against a dark background in a clothing store can make items look stylish and expensive but removing the irrelevant stuff from the background matters more.
With effective background removal, customers browsing online may have the first impression that the product they are looking at appears to be high-end or made from quality materials. A blurry, low-resolution picture with no contrast between foreground subjects concerning background objects becomes difficult to see unless it's zoomed in on.
Background removal ensures your product looks even more enticing than before by highlighting its main features either through shadows or highlighting its individuality. Here are a few reasons why you need to invest in product image editing services.
Better visual presentation

The importance of visual presentation is often overlooked in e-commerce businesses. And that's a problem because consumers are more likely to engage with websites and brands if they're visually interesting than those who aren't. The best way for you to take advantage of this fact is by including lots of pictures on your website or social media channels that highlight the product's focal point.

A good visual presentation plays an important role when running an online business as many customers prefer engaging with graphics over reading content; however, the majority do not realize their need for visuals due to all the text that usually surrounds them from product descriptions. This means having images present at every turn will help pique customer interest while also providing vital information which could otherwise be useful. With photo retouching services, you can offer interesting products and free your audience from looking at a cluttered image.

Enrich user experience

If you want to make your user interfaces more engaging and rich, then graphics must be utilized to create a lasting impression on the person viewing. This is why product photos should be high quality and well-lit.

Try to take them in natural light, with a clean background such as the sky or an empty wall if possible which can be done with our photoshop services package. Photos of your product can convey how it will fit and look when worn by customers but only use this photo style sparingly because they may not always represent what you are trying to sell accurately (for example, if someone is wearing something that was custom made).

As a business owner, it's your job to provide the best shopping experience for potential customers. This means ensuring that every detail of your website or store has been optimized and runs smoothly so you can focus on providing excellent customer service.

Higher opportunity for sales

The "Better the Images, More Sales." Images are important to marketing and sales. So if you're looking for new tactics to market your products or services in a more effective way than what others have tried, then use our different photoshop services.

From the first moment that a potential customer walks through your doors, images help make an impression. You can also say it is part of what sets you apart from other retailers in town. For many stores, this means considering how they are lit and arranged on shelves, so not only do customers find them, but these items stand out in the website too.

A study by Redbook shows that 73% of shoppers said better product photos would influence their purchase decisions to at least some degree, while 66% agreed that high-quality pictures positively impact brand loyalty.

Removes distractions and builds trust

With background removal services, you can get rid of any clutter that diminishes your product's value. The right image editing services help customers to focus on the product instead of a shadow behind it.

Nowadays, photo requirements for products on leading online marketplaces typically call for a white or transparent background. This ultimately encourages and builds trust between sellers and potential customers as the image is pure of imperfections.

Low-quality photo don't get good impression

Photos sell your products. In an ecommerce business, you want to present your items with a fresh, clean, and effective feel. But sometimes, using high-quality images is too expensive or time-wasting for some sellers.

But the low-quality photos raise less conversion rates and may have the opposite effect of what you want, like attracting consumers away from buying on your site due to unfavourable appearance.

Suppose bad photos are lowering the appeal of what you're selling. In that case, it's time to take matters into hand by hiring professional eCommerce photo editing experts if you cannot do this yourself.

This type of editing can be done in Photoshop by professionals skilled in photography and retouching services, such as our skilled artists in MAPSystems.
How is the background removal service undertaken?
Simply put, a professional background removal service is not just one formula; rather, it includes plenty of intricate steps to bring great results. The different product image editing services included along with it are:
Clipping path

A clipping path is a mask-like area on an image that you are using to cut out and isolate a specific subject from its background. This is usually done with Adobe Photoshop or any other advanced photo editing program to produce high-quality results.

As we offer eCommerce photo retouching services, we would love to help you further mold your idea into reality, so please contact us at and let's discuss who the target audience for the subject of your project might be while we begin.

Masking

Once the selection of the clipping path is done, image masking is the next step to remove the unwanted background. Image masking is one of the image background removal services offered by many number of companies worldwide. Image masking is the process of hiding areas of an image that a user doesn't want to be visible while also highlighting certain parts of an image.

Background manipulation

Once you have altered the background of the image, the next step is to alter it according to the brand's needs. With this process, you can add any background you want, like colors.
Conclusion
Product images help generate revenue and boost sales by attracting customers. Outsource your image editing services to MAPSystems. We offer the best image background removal services in the world.
With so many companies opting to sell their products online, we offer 100% flawless product editing – that's exactly why we pride ourselves on our professional editing skills and optimization techniques. In addition, our competitive pricing packages will leave you feeling like you're getting more than what you pay for! With over 2 decades of experience we are the learning brand to outsource your requirements. Contact us now to know more about how we can help you!