What is an eBook? A Complete Beginners Guide for Publishing
We are in a certain digital era where digitization has reached its peak. We have everything smart now: smartphones, smart TVs, smart cars, electronic gift cards, eGifts, eBanking, eCommerce, eCigarettes, and so on. Hence, it's not a big surprise when we talk about the massive rise in eBooks.
Curious to know how man's best friend, books, has turned electronic? Keep scrolling. This article will give all the details about eBooks, their various types and formats, their advantages over traditional paperbacks and hardcover physical books, and much more.
By the end of the blog, you will have enough resources to create and publish your own electronic or digital book. Let's begin!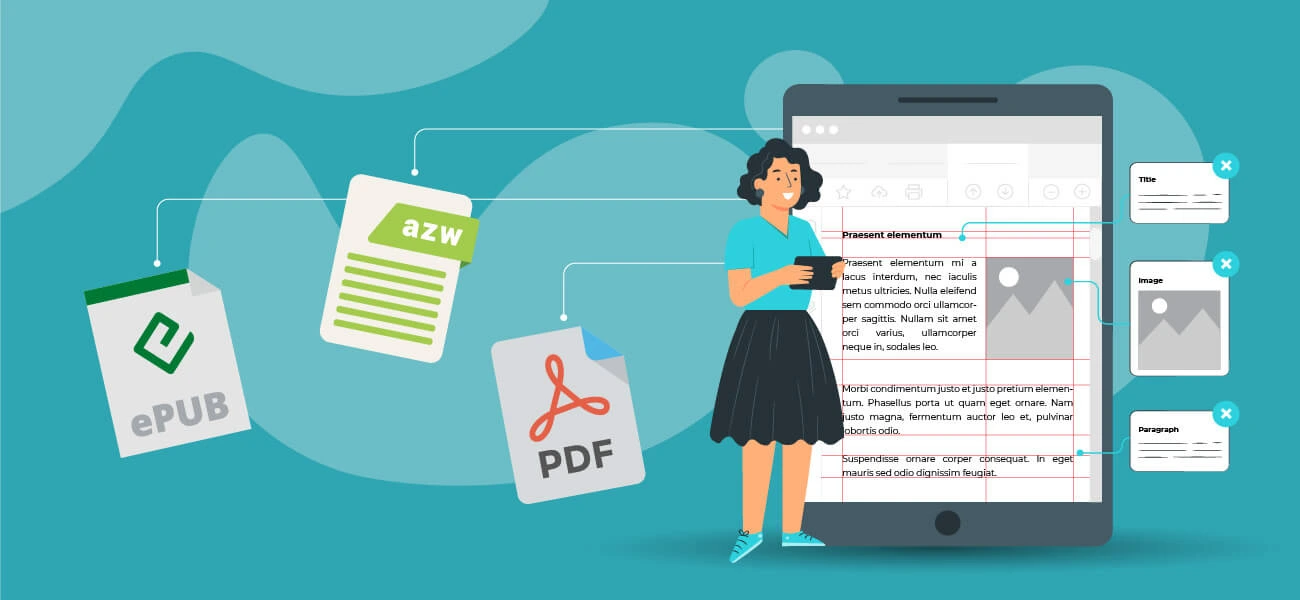 What is an eBook, and how does it work?
An eBook, an abbreviation of 'electronic book,' is a non-editable, reflowable, or non-reflowable digital version of a printed physical hardcover book developed in HTML or XHTML and intended for electronic viewing only.
This digital content can be displayed or read on devices like PCs, tablets, smartphones, or eReaders. eBooks can be anything, from marketing and lead-gen material, and corporate training resources to academic content, graphic novels, fiction, non-fiction, etc. These can be text-only or contain engaging multimedia elements, clickable and interactive features, etc.
However, not all eBooks are digital replicas of a published book; often, electronic books are created with the sole purpose of distributing them online instead of going through the trouble of traditional printing. Aspiring and independent authors are more into concepts such as self-publishing, wherein they can exert creative control over their content through DRM.
Some popular eBook formats
There are dozens of different types of eBooks and file formats in which they are saved, but the most commonly used is ePUB.
The key differences between the widely used formats are their ability to handle reflowable and fixed-layout eBooks, support multimedia content, include built-in DRM protection, etc. Each of them are described in detail below.
ePUB

ePUBs are the most widely used eBook format supported by the leading platforms and best eReaders, and multiple other electronic devices such as smartphones (Android, iOS), PCs, tablets, etc.

Documents converted to ePUB can be viewed on smaller screens, i.e., responsive and reflowable. Usually, textbooks with interactive features and kids' storybooks are made in ePUB.

The best part is that this widely used eBook format can effortlessly support non-Latin languages like Arabic and Chinese.

PDF

Although this cannot be technically deemed an eBook file format, PDF is still the quintessential format in which digital content is distributed and read. Besides, notable eReaders like Nook and Amazon Kindle support PDFs, thus many eBooks are converted into this format.

But the downside is that the font size and other styles cannot be changed in a PDF document, making it a fixed layout and not ideal for reading on electronic readers or smart devices.

MOBI

Originally founded by Mobipocket for its eBook reader software suite, MOBI was adopted by Amazon when the eCommerce giant bought the former software company in 2005. Since then, MOBI has been the default format for Kindle eBooks.

The beauty of this file format is that it is compatible with most electronic devices (though not with Sony and Nooks) and supports Digital Rights Management (DRM). However, Amazon has recently stopped its support for MOBI, which is replaced by the AZW (discussed below), which may be due to MOBI's inability to support video or audio files.

AZW

As mentioned above, AZW is currently the default format designed for the Amazon Kindle, along with its latest upgraded versions, AZW3 and AZW8. This format is ideal for storing complex text elements like bookmarks, highlights, annotations, page layouts, formatting attributes, and the like.

Though a patent of Amazon, the AZW format can also be opened and viewed on desktops, smartphones, tablets, etc., and includes a built-in DRM feature.

ODF

An abbreviation of OpenDocument Format, the ODF is an open-source file format based on XML. It is ideal for saving documents in Excel files, charts, presentations, etc.

This is a relatively lesser-used eBook format; the files saved in ODF are called "OpenDocuments" and have easy-to-recognize file extensions, like .doc or .xls.

IBA

The proprietary format for eBooks, developed by Apple Inc. for the Apple iBooks Author app. IBA supports multimedia elements like audio, video, graphics, and other clickable functionalities. Still its drawback is that it only supports books written in iBooks, thus, making it incompatible with other e-readers.

TXT

Like PDF (discussed above), the TXT format is also one of the most widely used formats for eBook conversion. However, the format doesn't have much to offer to the new-age online readers and authors.

With no support for interactive features, DRM protection, or multimedia elements, the TXT file is a simple and straightforward option for eBooks with a lot of numeric or alphabets; ideal for research papers, theses, reports, etc.
What are the benefits of eBooks over physical books?
Using eBooks over physical textbooks has several upsides. Let's check out what they are.
Ease of carrying: Portability or ease of carrying is probably one of the most significant benefits of eBooks. No matter how much content you want to read on the go, just download them, and you are done; read them anywhere, anytime, at your convenience. No need to carry bulky hardcover books here and there.
Eco-friendliness: The more papers, the fewer trees. With electronic content, the need for paper reduces significantly, causing less damage to our already damaged ecosystem. With eBooks, more and more people can read without causing harm to the environment.
Longevity: Once the content is uploaded to the Internet, it remains there for eternity. There's no wear and tear or damage done with old age, molds, etc. Even rare and ancient scriptures on the verge of severe damage can be converted into digitized soft copies with OCR technology and into ever-lasting eBook versions.
Unlimited accessibility: Unlike physically printed books, eBooks do not have the hurdle of being out of print or out of stock. One can download them multiple times from the digital shelves and easily read them.
Immersive interactivity: This is one of the vital aspects of eBooks and why they are gradually replacing conventional books. Usually, children's books contain colorful pictures and texts that try to hold their attention. But imagine a video being played on, a text popping up upon click, or an audio file playing the sound of an animal, how engrossing would a child feel!
And not just children or elementary students, but high school students, college sophomores, and university scholars can also enjoy the interactivity of an eBook and search for additional information, thus improving and enhancing the pedagogic system.
eBooks are searchable and tag-able: Readers can take notes and bookmark them, get extra information by clicking on anchor texts, search a specific chapter or topic with tags or keywords, make annotations, highlight a particular section, and more. This "searchability" factor within the layout of eBooks makes them a highly potent marketing and branding tool for the online business sector.
Diversity and inclusivity: Not only do eBooks support diverse global languages, but they also help users with vision disabilities. Since eReaders are electronic devices, font sizes can be adjusted, the eye-protection mode can be turned on, and text-to-speech mode can be applied, which aids them to a great extent.
Who are the market leaders in the eBook market?
The eBook industry is a multi-billion dollar industry valued at $19.95 billion in 2022 and has several big players involved. The widespread application of digital books has made most of these major catalysts invest even more in creating quality eBooksthan they did a few years back.
Furthermore, as an added source of revenue, they have opened vast opportunities for authors to publish on their platforms, where from these platforms receive their commissions.
Some of these notable market leaders are:
com, Inc.
Rakuten Kobo Inc.
Apple Inc.
Kensington Publishing Corp.
Barnes & Noble, Inc.
Macmillan Publishers
Smashwords Inc.
HarperCollins
McGraw-Hill,
Wiley
Simon & Schuster
Hachette
Cengage Learning
Penguin Random House
Apart from numerous publishers, self-authors, and indie writers publishing their content on these platforms, most of these websites produce their own eBooks on a regular basis, escalating their stature in the industry.
Applications of eBooks across multiple industries
As of now, there are plenty of mainstream industries that have gladly accepted the influence and impact of eBooks and have been reaping the fascinating benefits of using them. Right from education, manufacturing, and advertisement, to scientific research, healthcare, media and entertainment, and the corporate sector, eBooks are everywhere.
Also, eBooks and digital content formats have gradually dominated the writers' and publishers' domains. From fiction to non-fiction, sci-fi genre to horror, romantic to action, and crime thriller - all these genres are increasingly converting to eBooks.
Amongst the industries mentioned, the education industry has been the fastest adopter, accelerated further by the pandemic and the demand for eLearning tools and platforms. Ever since the lockdown period, students have been more comfortable scrolling through web pages and getting information upon clicking.
For the corporate sector, eBooks have proven to be highly potent marketing tools, ideal for educating the target audience as well as enhancing branding activities. For scientific research and development, e-journals and online medical resources are growing fast, providing convenience and free access to research materials over the Internet.
Electronic content is also great for imparting corporate training, internal and external discussions, inductions and onboarding, and much more.
Parting thoughts!
The global eBook market is estimated to reach $32.19 billion by 2032, with sales rising at a CAGR of 4.9% from 2022. Most of the truth behind this whopping figure lies in the breakthrough technological advancements, free access to the Internet, demand for a better and seamless user experience by online consumers, as well as the low-cost and environmentally friendly aspects of online content.
With more and more consumers developing a knack for eBooks, the production of these digital books is spiking higher and higher. Considering their enormous impact on modern society, it is fine to say that there will be plenty of more opportunities for eBooks; the sooner online marketers, authors, and publishers understand this, the better.
Nonetheless, though we are aware of the widespread availability of numerous eBook-generating and ePUB conversion tools online, it is always recommended to seek professional help. An experienced digital conversion agency can deliver best-in-class eBook conversion services at a reasonable rate with a fast turnaround.
Get yourself an outsourcing partner today and ride the eBook bandwagon to success! Good luck!