A complete Guide to select the Best eBook Reader

As you know e-readers or electronic book readers are used for reading electronic files stored as books. There are a lot of eBook reading devices including Amazon Kindle, Sony eReader, Barnes & Noble Nook, and Kobo eReader. So, it is quite reasonable to encounter dilemmas when it comes to selecting an e-reader. Through this post, we shed light on some factors to be considered before finalizing the eBook reader for you.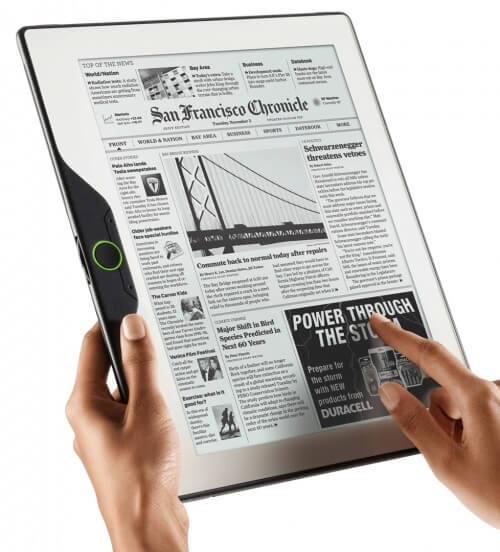 Battery life
How long an e-reader retains its battery-power is vital, especially if you are a person who travels a lot. A device that stays functional for long durations keeps you comfortable even in areas with lesser electricity supply. Also, you can enjoy a smooth reading experience always, without any interruption.
Waterproof eReader
There are a plenty of waterproof eReaders and a few of them are the latest Kindle Paperwhite, Amazon Kindle Oasis, Kobo Forma, and Libra H2O.
Connectivity
Being able to share the contents from a device to another easily is what most of the customers look for. As an eBook conversion company, we are aware of the ways how this transfer can be done. There are various means including Wi-Fi, USB, 3G internet connectivity and Memory Sticks etc. It is obvious that more connectivity means better share-ability.
Size and type of content
Content comes in diverse formats including text formats, graphics and picture formats, audio and video formats, and web pages. Sizes also vary a lot for different content types. An ideal device, in general, must support maximum formats and the storage capacity should be higher.
Display features
The way content is displayed on a device directly impacts the reading experience. Different types of displays are CRT, LCD, TFT and e-Ink etc. If your eBook is meant to display videos and heavy graphics, LCD is preferred. Else if only the text needs to be displayed, e-Ink would serve the purpose.
The industry standard for the ideal display size for e-ink readers is 6-inches; it applies to Amazon Kindle but has some exceptions. The Kobo Elipsa is 10.3 inches and Forma is 8 inches while Onyx has varied tablet sizes for reading.
As far as screen resolution is concerned, small eBook readers use e-Ink Carta screens with 300 ppi. But larger eBook readers are less dense. The latest readers have high-quality e-ink displays that help in quicker page refreshes.
Any professional company offering eBook conversion services can surely guide you in selecting the device.
Memory space
Many popular eBook reading devices offer in-built memory of up to 8GB along with an option to expand it further up to 32GB by using a removable memory card. High eBook reader storage space is now an inevitable feature; users prefer digital content over the hardcopy and hence need an eReader that can store hundreds of e-books and audiobooks which can be accessed without much effort. Carefully check the e-book storage capacity before you buy one.
Control mechanism
Nowadays, eBook reader devices which are button-controlled, touchscreen- enabled, and a combination of these two features are available. Less power requirement and enhanced accuracy rate are stated as the advantages of button-controlled devices but the difficulty to use make them less user-friendly and the touchscreen versions are more preferred. However, they use more battery power and have increased vulnerability to smudge. For ink-based displays, one with a touch screen interface is regarded as the most compatible e-book reader. Certain versions present in today's market have both button and touchscreen compatibility.
Ease of access
Direct access to the e-book stores is one of the attractive eBook reader features, but it varies according to the type of the device used. The best example is Kindle, Amazon's digital bookstore. It provides more convenience in selecting documents and enables a user to get updated and read the most recent bestsellers. Check with the eReaders reviews for the different options to know more about their accessibility feature.
Even if your device is not supporting this feature, you can still view e-books on the device but it needs to be downloaded on a PC first. Free sources such as Project Gutenberg can be relied upon as a good platform.
When you opt for lending from a public library, open-source eBook reader lets you browse through the library site to choose the book for your device. The Kobo eReader permits you to install the Overdrive library app from their store. The Onyx has its library app for this purpose.
Colorful reads
Do you want to read colorful comic books and magazines on tablets? Then low-cost color screen tablet like the Fire 7 can help you with video-streaming from the web, Netflix, or other sources. Experts recommend a basic iPad when you want to read a full page filled with rich and colorful content.
Audio narration supportive eBook readers
Do you love to listen to audio content rather than reading eBooks or do you love doing both? When you need an Immersion Reading, you have to use an Onyx eBook reader. The Onyx reader has the best in-built speakers to support several audiobook apps. This eReader delivers the best sync of text and audio during the narration.
Cost of purchasing
When one intends to buy an eReader, he compares the cost with its similar variants. Earlier, it was priced far more than what a tablet costs now. But currently, it has become cheaper and many industry researchers and analysts opine that a widely accepted price tag is $99. Almost all popular readers cost closer to this. However, there may be a slight fluctuation in eBook reader prices in India.
Downloading ease and pace
These days the web is the source for any type of content. eBook conversion is getting preference also because of its ability to communicate and synchronize with other devices. In fact, the majority of the content is derived from the web. So, the device regardless of the manufacturing company is expected to assure downloads with higher speed and greater bandwidths.
Several other factors need consideration, such as hardware components used, screen effectiveness, weight, portability, and the level of comfort offered.