As you know e-readers or electronic book readers are used for reading electronic files stored as books. There are a lot of eBook reading devices including Amazon Kindle, Sony eReader, Barnes & Noble Nook, and Kobo eReader. So, it is quite reasonable to encounter dilemmas when it comes to selecting an e-reader. Through this post, we shed light on some factors to be considered before finalizing the eBook reader for you.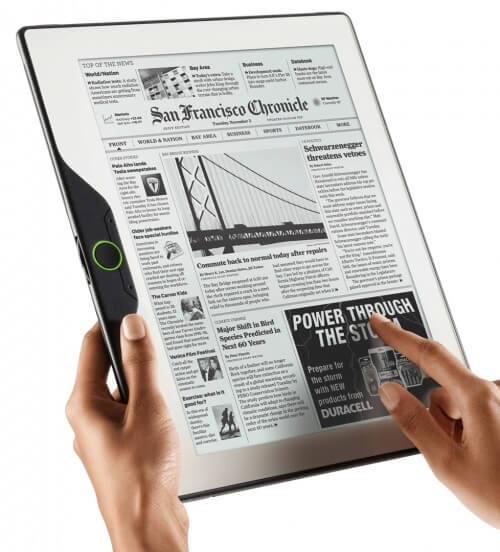 Battery life
How long an e-reader retains its battery-power is vital, especially if you are a person who travels a lot. A device that stays functional for long durations keeps you comfortable even in areas with lesser electricity supply. Also, you can enjoy a smooth reading experience always, without any interruption.
Waterproof eReader
There are a plenty of waterproof eReaders and a few of them are the latest Kindle Paperwhite, Amazon Kindle Oasis, Kobo Forma, and Libra H2O.
Connectivity
Being able to share the contents from a device to another easily is what most of the customers look for. As an eBook conversion company, we are aware of the ways how this transfer can be done. There are various means including Wi-Fi, USB, 3G internet connectivity and Memory Sticks etc. It is obvious that more connectivity means better share-ability.
Size and type of content
Content comes in diverse formats including text formats, graphics and picture formats, audio and video formats, and web pages. Sizes also vary a lot for different content types. An ideal device, in general, must support maximum formats and the storage capacity should be higher.
Display features
The way content is displayed on a device directly impacts the reading experience. Different types of displays are CRT, LCD, TFT and e-Ink etc. If your eBook is meant to display videos and heavy graphics, LCD is preferred. Else if only the text needs to be displayed, e-Ink would serve the purpose.
The industry standard for the ideal display size for e-ink readers is 6-inches; it applies to Amazon Kindle but has some exceptions. The Kobo Elipsa is 10.3 inches and Forma is 8 inches while Onyx has varied tablet sizes for reading.
As far as screen resolution is concerned, small eBook readers use e-Ink Carta screens with 300 ppi. But larger eBook readers are less dense. The latest readers have high-quality e-ink displays that help in quicker page refreshes.
Any professional company offering eBook conversion services can surely guide you in selecting the device.
Memory space
Many popular eBook reading devices offer in-built memory of up to 8GB along with an option to expand it further up to 32GB by using a removable memory card. High eBook reader storage space is now an inevitable feature; users prefer digital content over the hardcopy and hence need an eReader that can store hundreds of e-books and audiobooks which can be accessed without much effort. Carefully check the e-book storage capacity before you buy one.
Control mechanism
Nowadays, eBook reader devices which are button-controlled, touchscreen- enabled, and a combination of these two features are available. Less power requirement and enhanced accuracy rate are stated as the advantages of button-controlled devices but the difficulty to use make them less user-friendly and the touchscreen versions are more preferred. However, they use more battery power and have increased vulnerability to smudge. For ink-based displays, one with a touch screen interface is regarded as the most compatible e-book reader. Certain versions present in today's market have both button and touchscreen compatibility.
Ease of access
Direct access to the e-book stores is one of the attractive eBook reader features, but it varies according to the type of the device used. The best example is Kindle, Amazon's digital bookstore. It provides more convenience in selecting documents and enables a user to get updated and read the most recent bestsellers. Check with the eReaders reviews for the different options to know more about their accessibility feature.
Even if your device is not supporting this feature, you can still view e-books on the device but it needs to be downloaded on a PC first. Free sources such as Project Gutenberg can be relied upon as a good platform.
When you opt for lending from a public library, open-source eBook reader lets you browse through the library site to choose the book for your device. The Kobo eReader permits you to install the Overdrive library app from their store. The Onyx has its library app for this purpose.
Colorful reads
Do you want to read colorful comic books and magazines on tablets? Then low-cost color screen tablet like the Fire 7 can help you with video-streaming from the web, Netflix, or other sources. Experts recommend a basic iPad when you want to read a full page filled with rich and colorful content.
Audio narration supportive eBook readers
Do you love to listen to audio content rather than reading eBooks or do you love doing both? When you need an Immersion Reading, you have to use an Onyx eBook reader. The Onyx reader has the best in-built speakers to support several audiobook apps. This eReader delivers the best sync of text and audio during the narration.
Cost of purchasing
When one intends to buy an eReader, he compares the cost with its similar variants. Earlier, it was priced far more than what a tablet costs now. But currently, it has become cheaper and many industry researchers and analysts opine that a widely accepted price tag is $99. Almost all popular readers cost closer to this. However, there may be a slight fluctuation in eBook reader prices in India.
Downloading ease and pace
These days the web is the source for any type of content. eBook conversion is getting preference also because of its ability to communicate and synchronize with other devices. In fact, the majority of the content is derived from the web. So, the device regardless of the manufacturing company is expected to assure downloads with higher speed and greater bandwidths.
Several other factors need consideration, such as hardware components used, screen effectiveness, weight, portability, and the level of comfort offered. For your convenience, we have charted down a list of the best eBook readers that have the best features.
Kindle Paperwhite

Price: $253 – 32 GB, $130 – 8 GB

This thin and waterproof eReader provides a 300ppi glare-free digital reading experience even under bright sunlight.

It has an enormous 8 GB and 32GB storage capacity that helps store a massive collection of your favorite books. This eReader has in-built integrations with Audible.

If you are worried about the battery life, then this device has the best solution. Kindle Paperwhite comes with a single battery charge that can last for a week.

Features

Thin and sturdy
Single battery charge
Glare-free
Integrated with Audible, a leading eBook audio reader
Supports Wi-fi

Kindle Paperwhite eReader (7th gen)

Price: $137

This device combines elegance with performance. The 300ppi screen display allows for a sharper and darker text for a serene reading experience.

The stand-out feature of this eReader is that it supports online sharing of your favorite lines of text with your colleagues, pals, or family members. Besides, it is a lightweight device.

The day and night light adjustments make reading easier at any time of the day. The typesetting and layout designs of this eBook reader are worth mentioning.

Features

Change typeface size
Auto-adjusting page layout
Lightweight
Sharp display
300ppi screen display
Supports Wi-fi

Kindle

Price: $90

This device display has a 167 ppi that provides the users with a natural reading experience. The eReader has in-built light adjustments that deliver a stress-free reading experience during day or night.

The integrations with Audible and a port specifically dedicated to headsets is a vital feature. When you pay a minimal amount while purchasing the best eBook reader for Mac, you will get access to the unlimited gallery.

The storage of this app is 8GB, which is quite adequate to save your favorite digital books.

Features

Compact and lightweight
Easy to use
Massive internal storage
Text-to speech device navigation with voice-view reader
6-inch display screen
In-built integration with Audible

Kindle Oasis

Price: $360 – 32 GB, $250 – 8 GB

The 7-inch display screen of this device can instantaneously impress the readers. Kindle Oasis has a 330ppi glare-free display that offers a natural and soothing reading experience.

The in-built lighting adjustments give comfortable reads during any given time and atmosphere. The integrations with Audible can support Bluetooth speakers and headphones for easy and quick swaps between listening and reading.

Features

Large 7-inch display screen
Easily connect with Bluetooth speakers and headphones
Sturdy and waterproof
Integrated with Audible
Supports Wi-fi

Kindle Paperwhite (3G powered)

Price: $90

This device was the talk-of-the-town during the rise of 3G. It promised a Wi-fi free reading experience to the readers. Even though 3G has become outdated, it remains relevant with a loyal customer base to date due to this Wi-fi supporting feature.

Like other reader devices, this also has lighting adjustments and a glare-free display. It can be linked with the Kindle library that provides readers with access to an unlimited collection of books.

Features

Works well with 3G network
Impressive 6-inch display screen
Long battery life (up to a week)
Glare-free display
Storage up to 4 GB

Kindle e-Reader (8th gen)

Price: Starts at $80

It has an array of exceptional features that Kindle fanatics love. Kindle e-Reader (8th gen) is an easy-to-carry and easy-to-read device with Audible integrations that are compatible with Bluetooth headsets and speakers for enhanced listening and reading experience. You also have access to a free and paid eBook collection.

Features

Text highlighter and modifier
In-built dictionary
6-inch display screen
High contrast touchscreen for a glare-free display
Kindle library access
Integrated with Audible

Kindle Kids Edition

Price: $219

When you want to encourage your kids to read, then this is the best gift for them. With the Amazon kids edition yearly subscription, you get free access to the Kindle library for a year.

Your little prince or princess has access to famous titles such as Mary Poppins, Harry Potter series, BraveLands, Toy Story2, and much more. The graphical layout of the device impresses the kid's instincts.

The in-built dictionary and vocabulary builder tools can enhance your child's intellectual capabilities.

Features

A safe parental lock
Free access to Amazon library on yearly subscription
In-built dictionary
Storage capacity of 8 GB

Certified Refurbished Kindle Paperwhite

Price: $100

As seen from the title, this Kindle Paperwhite gets revamped, tested, and certified to look and work like a new one. Do you care about the environment and support recycling? Then we recommend this one for you.

It provides a glare-free reading experience with appropriate lighting adjustments. The refurbished edition gives you access to more than millions of eBooks.

It has double the storage capacity in comparison to others. Also, it works for a week on a one-time battery charge.

Features

Lightweight and waterproof
Audible is in-built
300ppi glare-free display
Works well with Bluetooth speakers

Kobo Clara HD

Price: $134

This eReader finds a spot on this list for two significant reasons. It uses a Carta e-ink that makes the text clear and readable and cuts off the blue light exposure from the users during the night-time reading.

With an impressive 8GB capacity, you can store up to 6000 titles in the library. The in-built light adjustment feature gives peaceful reads. The slim size and lightweight hardware are the most favored Kobo Clara HD aspects among eBook readers.

Features

6-inch screen display
Blue light exposure reduction
Multi-language support
Compact and high-performing hardware
Supports Wi-fi

Kobo N873-KU-BK-K-EP (7-inch)

Price: $169

This version is lighter and slimmer than other Kobo readers. It has a warm light feature that appeals to the users while flipping through the pages during the night.

The large screen display allows for a smoother reading experience. The only downside for the users is the absence of a manual button for lighting adjustments.

Features

8 GB storage capacity
Supports several file formats
7-inch screen display
Waterproof

There are several other factors that should be taken into consideration and these include the hardware components used, screen effectiveness, weight, portability, and the degree of comfort that can be enjoyed during reading. Follow our blog to stay updated about the latest developments in the eBook conversion domain.