Ultimate Guide to Download All Photoshop Versions for Free
Adobe Photoshop is a widely-used software application for editing, retouching, and manipulating images. It can be used by both professionals and novice users for the same. Consisting of varied tools, the software can even edit individual or large batches of photographs.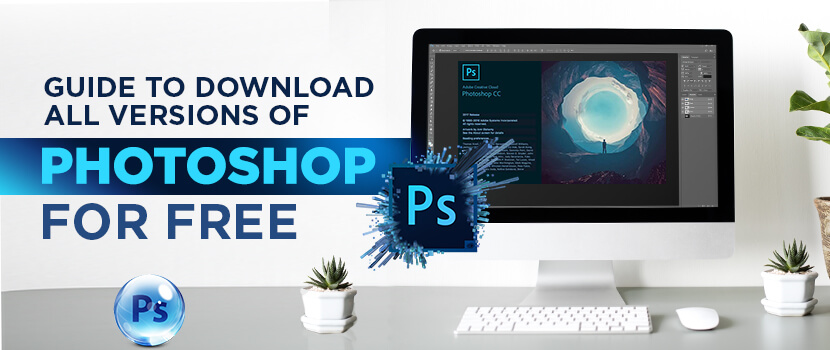 Apart from editing images, it can also be used for video editing, designing websites, and creating amazing 3D artworks and illustrations. It can run on different operating systems and is available in many languages for personal and business use.
People who are new to the photo editing field, often look out for free tools to practice. However, downloading the best always comes with a price. It is especially true if it is good software like Photoshop.
So, how can you download Photoshop free of cost?
In this guide, we will share the secrets to getting Adobe Photoshop for free. In addition to that, you will learn how to download it, the basic system requirements to use it, and the file format it supports.
Introduction to Adobe Photoshop and its free versions
Adobe Photoshop software is a photo and raster graphics editing tool developed by Adobe Inc. Because of its various capabilities and features, it has now become an industry-standard software for editing raster graphics and digital art. It is widely used by graphic designers, web developers, creative professionals, and photo editors.
Adobe Photoshop consists of a wide range of tools, some of which are quite complicated. To learn the use of these tools, try using the online Photoshop tutorials. Once you are strong with the fundamentals, you can move on to the next step, i.e., getting acquainted with the advanced features.
An important note to consider
Interested users need to buy the Adobe Creative Cloud suite to access all the versions and apps for free. This signifies a "free trial period" of 7 days. Users must provide their payment mode credentials while initially signing up for the seven days trial. Within this one week, they can access and utilize all the versions and relevant apps for their purposes.
After the trial period ends, the payment will be charged from the source mode. Professional graphic design agencies and photo editing artists take a paid subscription to the Adobe Creative Cloud to get unlimited access to these Photoshop versions and advanced Photoshop apps. That way, they ensure the best quality for every image editing project.
Alternatively, a completely free option was recently presented by Adobe - the Adobe Express. If you are on a shoestring budget, Adobe Express can be your best bet.
However, remember that some of the advanced photo retouching features might be unavailable in this free Adobe application.
Steps to Download Photoshop Software for Free
Is Photoshop free? This is the first question that comes to the mind of a beginner pursuing a career in photo editing.
Beginners usually don't prefer to buy the Photoshop paid version due to minor project requirements. Intermediate or professional users may not even choose the paid one to try it out before investing.
So, if you are also looking for a way to use the editing software for free, or want to download all the Photoshop versions for free, then there is a secret way to do it. Don't worry! It is completely legal and safe. But before using it, you first need to download. So, now the basic question is how to download Adobe Photoshop for free.
Below are the steps for AdobePhotoshop free download. You can completely rely on these instructions because it is 100% legit.
Go to Adobe's website and open the Adobe Photoshop Free Trial page.

Click on Start your free trial.

Choose the plan you want as per your requirement.

The next step is to log in or sign up for a new Adobe account.

Select the method of payment like PayPal, credit card, or debit card. Don't worry! You are not going to pay for the trial period. However, before the seven days are over, you need to cancel your trial or money will be deducted automatically.

Click on the Start free trial button present at the bottom of the page.

Now, a screen will appear where you have to enter the password for your account. Then, click on Set your password.
You will see an on-screen prompt to install or open Creative Cloud. If it doesn't appear, then you can manually download and install it from the Abobe's website.

If you see any license terms after signing in to your Adobe account, then click on agree.
Once installed, the Photoshop free version will automatically open. However, if it doesn't, then you can use the Open button in the Creative Cloud.
List of Photoshop Versions that can be Downloaded for Free
Several versions of Photoshop are available that provide the option for a free trial. You can download the below versions with the steps we have discussed earlier. Now, let us check out the different versions that can be used for free.
Photoshop CS
Photoshop CS2
Photoshop CS3
Photoshop CS4

Photoshop CS5
Photoshop CS6
Photoshop CC

Photoshop CC 2014
Photoshop CC 2015
Photoshop CC 2017

Photoshop CC 2018
Photoshop CC 2019
Photoshop 2020
Different Photoshop Apps Available in Free Trial
How to Cancel the Photoshop Trial Period?
Once the trial period is over, you need to pay for further use. So, here are some instructions to follow to cancel the trial period before it is up.
Open the Adobe Account page and log in.
Click on the View plan or Manage plan option that is present below the Photoshop section.
Now, select Cancel plan.
A question will appear on the screen asking your reason of cancellation. You can choose one from the available options or explain your reason in brief in the Comment section.
Now, click on Continue.
Buying Guide for Adobe Photoshop
Once your trial period gets over and you want to continue using the software, then you can opt for its paid version. The cost of Adobe Photoshop may vary according to the type of product version you are using.
For example, if you are using Photoshop Elements, then it will cost you around $100. You can use it for the rest of your life. However, if you are using any other Photoshop products, then the cost will range from $10 to $60 per month. It will mainly depend on the subscription type and length.
You can also go for the lower-cost option if you only want the Photoshop apps. However, if you select the higher cost option, you will get the complete set of Creative Cloud tools along with Photoshop.
Use the below guide to choose the desired one from the various Photoshop purchasing options.
Photoshop CC

This option is suitable for those who want to buy the full Photoshop version. It comes with a monthly subscription fee, which you need to buy from the Adobe Creative Cloud. The software is available for Mac and Windows.

Photoshop Elements

People who do not want to use all the features of the full Photoshop version can choose Photoshop Elements. It is also available for Mac and Windows.

Mobile apps

If you are looking for an option that will allow you to edit pictures on the go, then choose the Photoshop mobile apps. Adobe offers a few mobile applications for iOS and Android devices. However, remember that the applications won't be as powerful as the desktop versions.

Alternatives

If you want to save money and don't need all Photoshop features, then choose Photoshop alternatives. Photoshop also offers options for other image editing applications that can be used for free or at low costs.
Available Plans or Pricing for Different Users
There are various plans and pricing available for different users who wish to purchase the license. Apart from this, they are also entitled to get discounted plans that are specifically designed for each type of user.
Individuals

Individuals can get access to a variety of single apps like Photoshop, InDesign, Dreamweaver, After Effects, Illustrator, etc. for $ 19.90, and Adobe XD, Lightroom, etc. for $9.48. Besides, it also provides access to 30+ creative desktop and mobile apps.

Students & Teachers

Students or teachers can avail the Creative Cloud All Apps plan at a discounted price of $18.97 per month for the first year, and then paying $28.44 after that. It has around 20+ mobile and desktop apps, which include Adobe XD, Illustrator, Photoshop, etc.

Schools & Universities

The Creative Cloud for education plan is another affordable option that is ideal for smaller groups at schools, universities, or non-profit organizations. To access only a single app, you have to pay around $14.21 per month. However, while accessing all the latest desktop apps, including illustrator, XD, and Photoshop, you have to pay $33.18 per month.

Business

Businesses also get the choice of selecting either one creative desktop app for $75.86 or the entire set of 20+ apps for $32.24 with the Creative Cloud for teams plan. However, if you wish to buy the option for a larger organization, then you can go for the Creative Cloud for enterprise plan.
Basic Computer Requirements for using Free Photoshop Trial
Whether you are using a MAC or a Windows-based computer, Adobe Photoshop can be used on both. You can find all the menus, tools, panels, and options on each of the versions, and the functionality will also remain the same. However, there are certain basic requirements that your computer must meet so that it can support the Photoshop free trail version and these are mentioned below:
For Windows:
Your computer must have updated OS versions such as Microsoft Windows 7 with Service Pack 1, Windows 8.1, or Windows 10.
The RAM should be 2 GB or more.
A strong internet connection is required to activate the software, validate subscriptions, and access various online services.
It should be an Intel® Core 2 or AMD Athlon® processor with 64-bit support.
The available hard disk space should be 2.6 GB or more for a 32-bit installation and 3.1 GB or more for a 64-bit installation. Apart from that, additional free space is needed for installing the software.
It must have a display of 1024 x 768 with 16-bit color, and a dedicated VRAM of 512 MB or more.
The 3D graphics API should be an OpenGL 2.0.
For macOS
The macOS version of the computer should either be MacOS version 10.12 (Sierra), 10.13 (High Sierra), or macOS X version 10.11 (El Capitan).
The RAM should be 2GB or more.
Internet connection will be needed to activate the software, validate subscriptions, and access various online services.
Computer should have a multicore Intel processor with 64-bit support.
For installation, the available hard-disk space should be 4 GB or more along with the additional free space.
The display size should be 1024 x 768 with 16-bit color and 512 MB or more of dedicated VRAM is required.
It should support OpenGL 2.0.
Conclusion
This is a quick overview of the basic things you should know while downloading Adobe Photoshop for free. Since its inception, it has evolved from a basic photo editing tool to a comprehensive suite for undertaking image manipulation and retouching tasks.
In case you need to edit a set of images, then you can also choose the free Photoshop presets provided by various websites. It can help you to avoid repetitive edits and speed up your entire work process. By getting a proper idea of downloading and utilizing Adobe Photoshop to its full potential, you can get exceptional outcomes to meet your project needs.