About the Client
The client was based in Europe and they specialized in aerial and ground photography. They created virtual tours for their clients who were mainly realtors.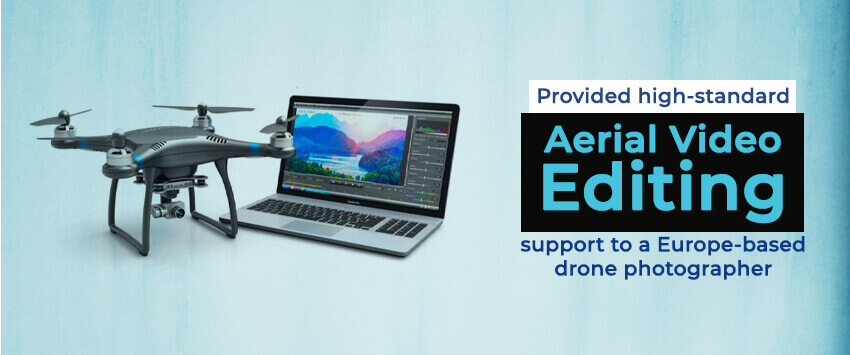 The Requirement
The client approached MAPSystems for aerial image stitching requirements. They also needed us to design a complete 360 degree virtual tour. Apart from these, the client demanded us to add hot spots so as enable viewers to click on some areas and get a clear view from the ground level. The client previously worked with many vendors, but was utterly dissatisfied with the outcomes that they received. They selected us to do the job as we were referred by one of our previous clients for whom we did a similar job successfully.
Challenges
Employees handling these types of tasks need to have high level of knowledge and we needed to carry out such tasks in the best possible way by allocating the best resources. Stitching pictures that are clicked by a drone is never easy. Even the minutest of alignment issues might adversely impact the actual purpose of drone aerial photography.
Solutions
We first offered the client a free trial so they could know what they might expect from us. They were happy with the sample and post approval, we assigned the most experienced and talented image editors from our team for this project. The team used advanced technologies and performed image stitching as per the clients' guidelines. Quality concerns were completely eliminated by making our QC team conduct multiple rounds of quality checks to ensure that the stitched photo was seamless. After this, the images were uploaded on a web browsing- compatible video maker for creating the virtual tour.
The Outcome
Our services were cost effective and so the client was able to considerably reduce their in-house costs. The client was able to make an optimal use of high quality images by enhancing their portfolio. We were able to achieve up to 99 percent accuracy level and the client was amazed to see the outcomes. The client could complete all his commitments within the deadlines and made us their partner for a long term. We regularly work on their projects, allowing them to free up time and focus on more critical projects. Throughout the course of the project, we ensured high levels of data security by promoting authenticated access to project files. Each designer was provided with a separate username and password. Proper documents including non-disclosure agreements (NDA) were signed to reassure the same. The virtual tours created by our professionals provided a detailed walkthrough of real estate projects, thereby allowing the client to close deals faster.
Outsource drone image editing requirements to MAPSystems
MAPSystems employs the industry's best drone image editors who can deliver the best outcomes, ensuring the highest levels of quality and timely project completion. We offer fair pricing, allowing our clients to get high returns on their investments. If you are interested to know about drone image editing or any other type of photo editing services, you can contact us. We are always ready to address your drone image processing related requirements or other types of image retouching needs. Call us or write to us anytime; we are always ready to deliver exceptional support.
Contact Us