How to Create 2D Animation Storyboard? - 9 Simple Steps
Storyboard refers to the planning process of a video. These are required to organize the video making process for professional purposes, demos, training and other aspects. It is a shot by shot, graphic representation of the video, showcasing how it is going to unfold. It has a number of illustrations in the form of squares in it. Each of these slots comes along with notes, referring to what is being said while the videos are played. It can be referred to a comic book-type representation of the script. Creating storyboards for video is an art and you need to master certain technologies as well when it comes to its digital realization.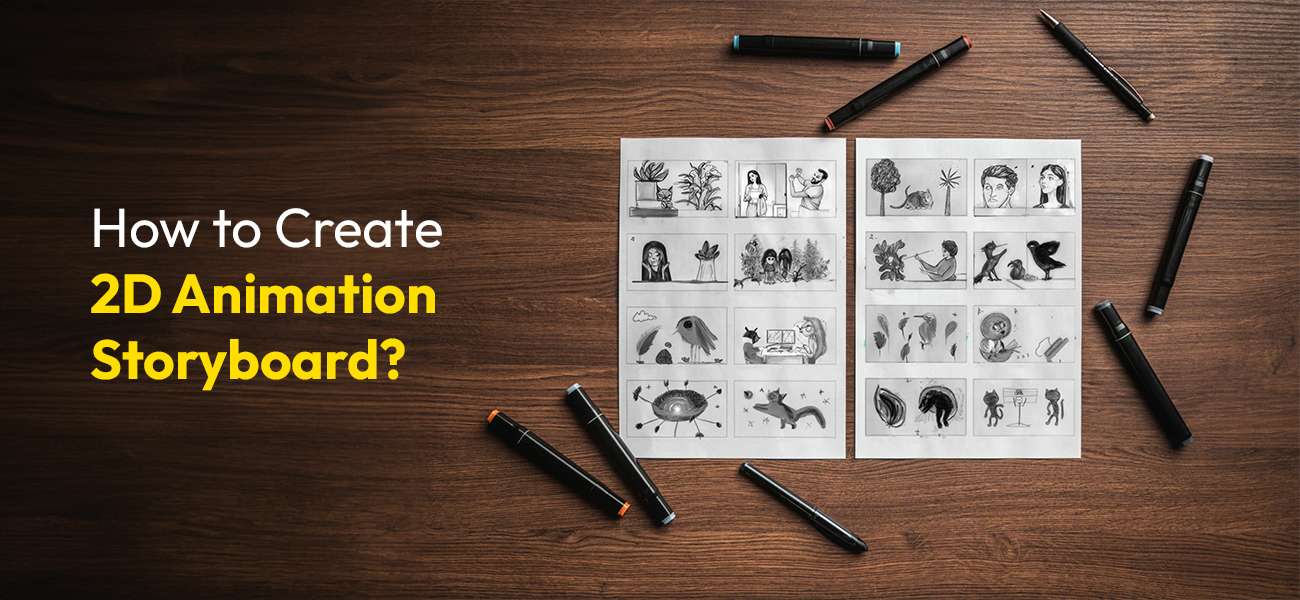 How to create a storyboard?
What is Storyboard Animation?
Storyboard animation is a visual narrative that uses animatic drawings, images, or illustrations to showcase the flow of a video. All the key moments and events are drawn and laid out in a sequence in the animated video to tell a story.
In a standard storyboarding, you will usually find the below three things, i.e.,
A series of visuals presented in an order
Each scene containing the key information
What the viewer will see or hear
Storyboards are great at guiding you throughout the process of animation production. You will know which shots to add, create, or place in what sequence so that the video displays the exact story you want.
Why is an animation storyboard needed?
Well, creating storyboards for animation might turn out to be an extra step to you. However, it helps to create the video flawlessly. Here are certain reasons explaining the role of a storyboard.
Share your vision in the best way

When you want to share your ideas and concepts to others, visual representation has no alternative. It is difficult to read the thoughts and vision of a person through verbal communication. When these thoughts are represented visually, it makes it clear and transparent. It maps the entire concept and eases up the process of conveying your idea.

Adds clarity to the production

A storyboard makes it clear to understand how the shots will be arranged and how the scripts will interact with the visuals. The starting point of a person's thought-line lies in the storyboard. It ensures that no scenes are omitted or forgotten. You will be able to piece together your own version of the thoughts while making the video.

The time saving factor

Although you may need a little time to make, it will cut down time in the future. It ensures that the process of making the video does not face any hitch, and enables it to run seamlessly.
How to make a storyboard animation?
The process of creating a storyboard for your video is explained below; most of the companies offering storyboard illustration services follow the under mentioned procedure:
The blank slides need to be created

You will find lots of templates for printable storyboard on Google. The first step involves the drawing of a series of squares in it. These squares act as video frames. These scenes can be sketched by hand. You can take photographs or create them by computer. Leave out space spaces for the notes at the bottom.

The script needs to be added

Under the script, the lines that are to be spoken are incorporated. It will look like a comic book, explaining what exactly goes on in the video. When you create animated storyboard, an extra life and more communication are experienced.

The story has to be sketched

The next step is to sketch the designs for representing how it will look in the visual version. You need not detail too much, and colours too, need not be used. You simply have to provide the desired amount of visual detail to explain the general framing. The video and text will convey rest of the information.
Some useful tips for storyboard creation
Here are some tips followed by prominent companies offering 2D animation services for making a storyboard that you will find helpful:
First of all, you need not tell, just show. It can act as litmus, judging whether the video will convey your thoughts.
You need to be cinematic. The things, places and other elements in the video may combine together to represent a cinematic video. The visual elements must be correlated and logical. As it conveys a story to the audience, you need to make it consistent from the start to the end.
You may pick a particular theme. Include charts and diagrams to give it an infographic touch. In case you want to focus on a pain point of a customer, represent it with a character, taking them through the journey.
All the relevant details are to be included in the storyboard. The script has to be broken down into smaller groups of information. The animated animated video production company must consider the characters on the scene and background, their action, the existence of props and so on. These must be compatible to the background setting. Think if you would include any colour in the text and the entire message that the video conveys.
A few other tips of the storyboarding process
Storyboarding has a definite set of tips and so you should take care to adhere to them so that you experience a hassle-free process and generate an outcome that has a wow effect. Here we go with the list of the tips:
Know the characters

You should have a clear idea about the characters you create. This would make your storyboarding more meaningful and targeted. This would help you create appropriate gestures and expressions.

Start Chronologically

It is not a good idea to start with the scenes that you like the most. Rather, you should follow the chronological order. If you focus on creating particular pieces, you will definitely run out of time. If you are not happy with a scene, you can skip to other scenes and then come back later to finish this up.

Be prepared for reworks

You may often be asked to rethink your ideas or to adjust with the changes in staging or script, so you should be mentally prepared to handle a lot of revisions. This is what all artists have to face.

Make small yet fast progresses

You should work on smaller pieces at a time; this would help you in making faster progresses.

Draw inspirations from cinema

Storyboarding is more about communicating your ideas. So you can invest some time in understanding the language of the cinema. Every visual clue is useful.

Adopt simplicity

If you are creating a comedy scene, you should follow a minimalist approach and forego the idea of applying too much of showy stuff in your scenes.

Promote Yourself

You should spread awareness about your skills. You should meet people, visit events, get in touch with people in the industry, create a portfolio, upload pictures online, and be active on social media.

Adopt a professional approach

You should follow a timely approach and remain responsive to your clients' needs. Try to be a professional who people can trust and rely upon for their projects.

Stay Passionate

You should remain passionate about your work even if it involves struggle. Often times, you may get discouraged with scenarios, but you should motivate yourself to achieve your goals.
Conclusion
In the beginning, creating a storyboard can turn out to be a challenging task. However, it constitutes an integral part in making a video, eLearning modules, conveying your ideas to your stakeholders. It clarifies your vision to the professionals dealing with animation post production. Expert companies also assist with post production storyboard related activities. All you need to do is a little bit of research to find the best people.