Photoshop Presets- Key Concepts and Free Resources to Download
Repetitive tasks and processes may make photo editing a tedious job for professional photographers, which is why they look for professional photo editing services. Experienced image editors can optimally use Adobe Photoshop to deliver finer image-versions that photographers can confidently use for their projects. Expert users of Photoshop can effectively utilize Photoshop presets and actions so as to make adjustments and edits a one-click process. While Photoshop actions appear similar to presets, they are different applications that are used for photo editing.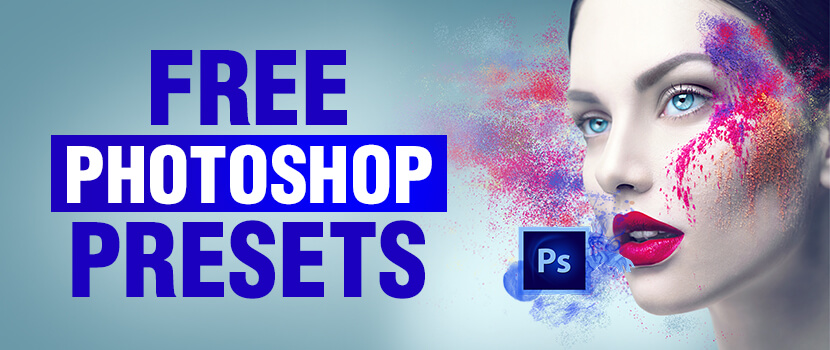 What are Photoshop Presets, and how to create Presets in Photoshop
Presets are an aggregation of edits that users can record as a batch. The user can then apply the changes to one or several images with a single click. Presets allow users to avoid repetitive edits and perform the edits with better accuracy and speed. When you modify an image per your requirements by applying a preset, you may save the file in JPEG format and refine it further in Photoshop. This editing application comes equipped with built-in primary editing sliders. These sliders alter the effects of color, shadows, contrast, vibrance, and highlights. One may find it quite easy to create specific presets on their own. Users can upload an image into Adobe Camera Raw (ACR) and then start with the editing.
Once you are done with editing and have finalized the edits, you may consider creating a preset by saving the editing sequence:
Locate the icon list at the right section of the control bar and click on the presets icon.
Next, locate the Save icon at the bottom of the control bar and click on it.
Allocate a name to your preset and click "Ok".
You may keep editing the same photo or new photos and save new sequences as new presets. This way, you can create an assortment of original presets that you can use anytime.
What are Photoshop Actions, and how can you install them
Photoshop actions allow for quick and efficient image editing. When an action is created in Photoshop, users record a sequence of edits applied to an image. This is done so that they can apply the same to other photos as well. Once you upload a JPEG image for processing on Photoshop, you just need one click to apply an action to the photo. Professional photographers keep pre-recorded actions one can download and apply to the photos. Photoshop actions are effective learning tools for photographers wanting to enhance their editing skills. This is mainly because users can examine actions in every layer and become aware of every adjustment the photo editor has made.
Installing Adobe Photoshop actions is easy and starts with downloading the action that you want to apply. Next, access the zip file, locate the .ATN file, and pull it into Photoshop to upload. You can now access the file in Photoshop's 'Actions' panel.
Photoshop Presets vs. Actions: How do they differ?
Presets and actions work differently but lead to the same outcomes. Both are excellent tools for professional image editing. However, there are key differences between the two, and we have pinpointed the same for you to refer to:
Presets
The editing is performed in Adobe Camera Raw.
Presets promise a user-friendly experience.
The user needs to have prior knowledge of basic photo editing applications.
The full image is subjected to non-destructive edits.
Presets can be applied directly to JPEG or RAW files from the camera.
The changes are brought into effect instantly.
Actions
Image editing is performed in Photoshop.
Actions come equipped with a more sophisticated user interface.
The user needs some experience using Adobe Photoshop to use Actions properly.
Users can apply actions only to individual layers.
Actions can be applied to JPEG formats only. This means you must convert RAW files into JPEG formats before applying Actions.
Users can exercise complete control over the speed with which edits are performed.
Behance

Behance allows artists to share and showcase their artwork. Users can get access to free Lightroom presets and Photoshop actions

MCP Action

MCP actions consist of a series of pre-programmed steps. Some actions may include hundreds of such steps. Users can modify each layer to create a customized image.

DevianArt

This website is a peer evaluation platform that enables users to share feedback about each other's works. Users can download stock images, Photoshop actions, and brushes for free.

PsdDude

This online platform offers free Photoshop actions either from its own repositories or other websites.

PanosFX

PanosFX allows users to download styles, Photoshop actions, and brushes for free. However, some resources are offered at a price.
Photoshop brushes allow artists to create rich, appealing artwork in very less time. The tool also helps them avoid the hassle of creating single design elements every time. For beginners, choosing the right Photoshop brushes may be challenging. This is mainly because the tool comes in diverse forms and serves specific purposes. The specialized brush tool generates special effects similar to:
Watercolor
Grunge
Cloud patterns
Rain splashes
Leaf designs
Leaks and bokeh, etc.
We can classify Photoshop brushes into 4 broad categories:
Photoshop Painting Brushes: Such brushes can be used to resemble classic art effects.
Natural Brushes: These are brushes to draw finer, detailed images of hair, trees, cloud, water, and fire effects.
Grunge Brushes: These brushes can create distressed, blurry effects.
Fantasy Brushes: This category features half-tone brushes that can produce sparkle effects.
Top 5 Websites to download free Photoshop brushes
BrushLovers

This website offers various categories of free Photoshop brushes. Such as grunge, vintage, paint, texture, flowers, nature, light, people, animals, etc.

Brusheezy

Brusheezy is a platform where artists can share their Photoshop brushes and other resources. They can also explore the works of their peers. All the resources can be downloaded for free and used in projects according to the license terms and conditions.

Creative Bloq

This website offers freebies, and advice to digital and traditional artists, VFX specialists, creative designers, and illustrators to keep them updated about the latest design trends.

Speckyboy

This online platform allows users to download diverse Photoshop brushes. These brushes can create diverse effects such as vintage, smoke, light, charcoal, water splash, watercolor, and more. Speckyboy also provides tutorials and tips to designers about the latest developments and updates.

Inspirationfeed

Inspirationfeed offers design and development resources and industry guidelines. This helps Photoshop users make the most out of the latest trends. The platform offers free Photoshop brushes, along with other freebies. Such as graphics, actions, presets, textures, patterns, icons, mockups, templates, vectors, wallpapers, etc.
Patterns refer to images repeatedly used to fill a selection. Photoshop features several preset patterns that users can create new patterns. They can store them in repositories for later use with different tools and commands. The options bar for the Paint Bucket, Healing Brush, and Patch tools have pop-up panels displaying the preset patterns. Users can choose a display option from the pop-up panel menu to change the patterns' display. Alternatively, pattern presets can be managed by using the preset manager option.
Steps to create a preset pattern to define an image
Start by using the Rectangle Marquee tool on an image to select a section you want to use as a pattern.
Set the feather to 0 pixels.
Please be aware that the large images may appear somewhat clumsy.
Next, choose 'Edit' and then the 'Define Pattern' option.
You may name your pattern and enter the same in the Pattern Name dialog box.
Photoshop gradients are effects created when colors, shades, or brightness levels fade into other colors, shades, or brightness levels, respectively. Precisely, gradients are color effects users can apply to modify existing colors as per set patterns. They include different colors in varied densities and extend in diverse directions. Users can combine the color effects and apply them to an image for a drastic color change as well as other aspects of the image.
Web and graphic designers commonly use gradients to create stunning appeal. Several websites allow users to download gradients for free. This is really helpful for designers who can instantly:
Use the already-prepared gradients
Experiment with new gradients quickly, and,
Add momentum to the design process
One can create personalized gradients on their own. But at times, a repository of ready-to-use gradients comes in handy.
Creating a gradient in Photoshop
Graphic designers typically use gradients to express weather conditions or to create a virtual shadow. Designers can direct a gradient in a specific direction by appropriately using Photoshop's gradient tool. The gradient can be rotated from left to right or in any direction.
Creating a gradient is very easy. Start by selecting the gradient tool and then combine the different colors, to place them sequentially. Draw a line in the direction of the gradient. Perform a few more edits till you can create the perfect contrast type throughout the entire image.
With gradients, you can create vintage effects or generate a special appeal. This instills the look and feel of sunrise or sunset effects or indicates a particular time of the day. After applying a gradient, you must execute appropriate customizations to ensure realistic outcomes.
You can optimally use this tool to create a collection of gradients by carrying out all possible experimentation with color schemes and regular/irregular patterns. With more and more practice, you will be able to use diverse features and methods to generate the best outcomes.
Top 4 websites to download free gradients
Many websites allow graphic designers to download different types of gradients for free. Some of the most popular websites that you can consider checking out are:
Filters are used in Adobe Photoshop CC to instill quick effects in an image. Users can combine filters as well to generate unique outcomes. Filters can be used to create innumerable effects. Whether you need to create a 'rain' or a 'fog' effect or want the sky to appear 'painted', you will find specific filters for every such effect.
Some of the most commonly-used filters are:
Motion Blur: This filter can be used to create life-like motion effects.
Displacement Wrap: This filter allows users to create remarkable water reflections and subtle textural distortions.
Surface Blur: This filter allows for the retention of the edge detail and is commonly used to even out facial skin.
Noise Reduction: When rasters are filtered, enlarged, or sharpened, images get affected by pixel accumulation. This can be addressed by applying the "Reduce Noise" feature on individual or merged layers.
Oil Paint: This filter is commonly used to give the image background a cartoon-sequel look and feel. Use the Pen tool to create a simple path and then choose the 'flame' option from the Filter menu. Select the type of flame you wish to use, and then use the Advanced Settings option to incorporate the necessary modifications.
Plastic Wrap: This filter can be used to create liquid effects. You may focus on certain portions of the image and adjust the settings to create the desired effects.
Render Clouds: Start by drawing a blank layer and apply the Motion Blur effect. Apply a soft brush to mask away areas to unveil the details from the background.
Conclusion
The Preset Manager is the best option for installing presets in the latest Photoshop versions. Older versions launched before 2009 did not have the Preset Manager feature. If you have installed compatible applications, such as Photoshop and Photoshop Elements, you may apply the 'Open with' command to select the program where you want to load the presets.
Optimal use of the Photoshop program will call for a high level of expertise of the users. But with free Photoshop resources and ready-to-use presets, users can add momentum to their projects. As well as complete them with better efficiency and quality.
If you are a professional photographer and want to offload some of your photo editing requirements seek an expert image editing companies. They have unlimited access to the latest tools and image editing techniques. Find such an outsourced partner, and make your turnaround time faster.