Improve Post-Production Workflow for Wedding Videos
Video editing is a crucial part of the entire video post production process, on which the quality of video output depends. Whether it is going to be viral, or fall flat with the viewers, depends on how well the video has been edited. Needless to say, this is more important for wedding videos, where video editors need to bring out the most from thousands of video clips.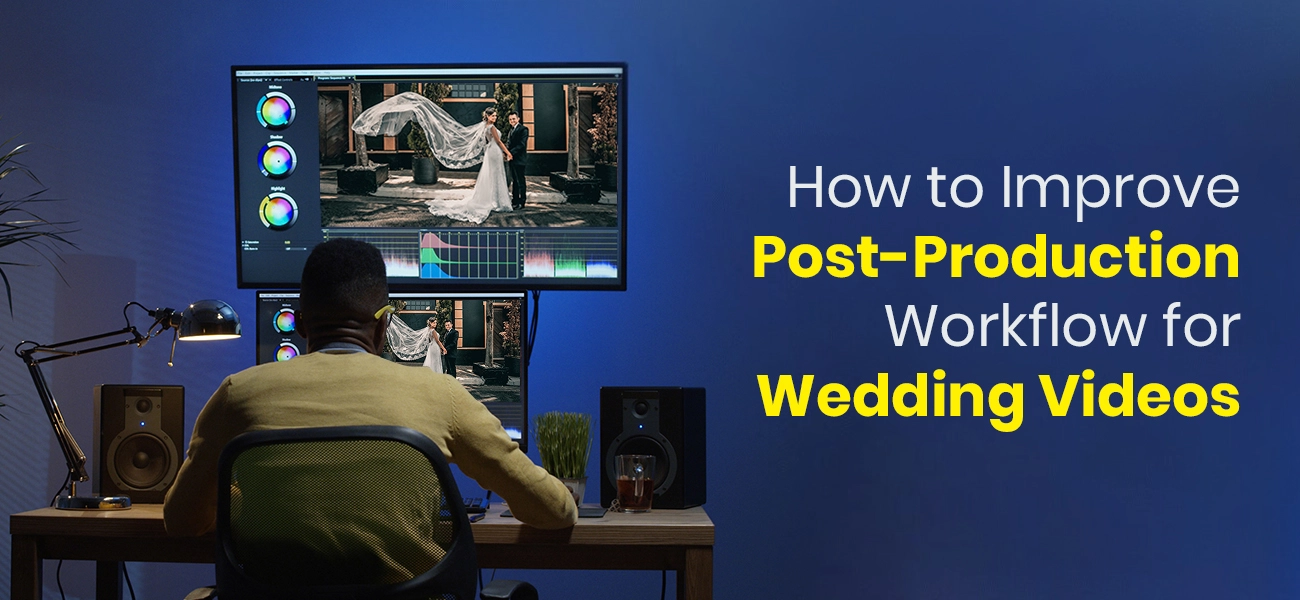 Thus, the post-production workflow for wedding videos requires the most perfection and attention to detail, which differentiates them from other video projects. Thus, knowing how to make the workflow more efficient surely helps an editor in the long run.
So, if you are an aspiring videographer or video editor wondering how to strengthen your wedding post-production workflow this blog is for you. Let's begin!
Tips to improve post-production workflow for wedding videos
As it is known, wedding videos are quite different from any other genre since here raw emotions are conveyed, candid gestures are featured, and the most emotional scenes are captured. Hence, such event videos with an immense personal touch needs a meticulous editing process. 
Planning everything beforehand not just saves a lot of time but also makes the TAT faster, impressing the client and making room for repeat orders. Let's take a vivid look at how one can make their wedding video post-production process much more efficient.
Culling the video clips

First things first, sort out the best clips that capture the exact moments of joy. It goes without saying that videographers take thousands of hours of footage throughout the ceremony in order to keep a linear flow. 

However, not all of them turn out to be relevant to the final wedding video; some are plain and boring, and some may be random clips.

Therefore, it is of the utmost importance to take time and shortlist the best set of footage that is worthy of editing. Editors must keep a timer handy to maintain track of time and cull the clips within a given time. The faster you cull, the easier you make your editing workflow.

Be aware of the number of cameras

Not every wedding videographer edits their video; some hire experienced video editors to help them with the job. 

In such cases, the editing expert must be completely aware of how many cameras the videographer is going to use at the event, at what angles the cameras will be set up, what is the tentative duration of the footage, the names of the guests (at least those who are close to the bride and groom), the venue location, and the date of the event. All this critical information must be detailed in the shot logs.

Apart from these video shot logs, slating the camera also helps tag visual references to each piece of footage. All these logs and other information greatly enhance the editor's work. 

The camera slate information can later be used to develop metadata templates to tag each footage with an accurate description, name, any other tags, etc., that can help locate the footage easily.

Leverage multicam sequences

Marriage ceremonies usually have more than one camera covering the entire event. Therefore, wedding video editors must be adequately proficient in cutting multicam sequences. Adobe Premiere Pro gives a very useful multicam sequence editing tool to sync all the clips from multiple cameras under a single, accessible "file".  

This "sync" helps to view all the footage simultaneously and make some rough edits in real-time while switching between cameras and tracks. 

Plan for multiple sources of backups

Multiple sources of backup planned beforehand can help in saving a lot of time. Videographers or video editors must ensure keeping backups in multiple sources, both on SSD card, an external media, as well as by uploading the footage on cloud. This will enable real-time editing anywhere, anytime. As well as, if one copy of the file gets corrupted or crashed, the backup can save the day.

As weddings are once-in-a-lifetime events, planning and preserving backups beforehand saves a lot of time, prepares for any unforeseen incident, as well as increases productivity. 

To avoid a last-minute mishap, the process of securing data must begin even before the editing procedure begins. The backing up of the footage can be done in multiple ways. 

This guarantees the footage is secured. Also, the footage can be duplicated as a copy before the ingesting video process. In short, strategizing your backup plans falls within the basic workflow of video production.

Organization is the key

Another important component of a flawless wedding video post-production workflow is how the files are organized. Truly speaking, organization is the key when editing more than thousands of video clips in one go. Unkempt or disorganized files can add to your stress, if not reduce it. 

That said, keep a consistent file structure or hierarchy, file nomenclature, color legend, etc., and maintain the same for each project you work on so you can make a habit out of it. 

Most importantly, such file and folder organization helps locate much older projects in case you need them.

Choose your equipment wisely

Editing wedding videos involves advanced software and tools that require high-end computer setups. Standard PCs won't work when you are working with the latest software like Adobe Premiere Pro, Final Cut Pro, Pinnacle Studio, etc. 

These software need computers with higher efficiency, preferably higher RAM, advanced processors, and the best GPU.

At the same time, you don't need to overspend. With some amount of investment ($1000-$2000 approximately), you can get a competent assembled PC to utilize all the tools for seamless editing. 

Keep some smart tricks handy

Nothing works better than keeping your turnaround times short and delivering the edited video to your clients while their excitement continues. Having a few wedding video post-production tips and tricks up your sleeve can help you achieve this. 

Invest a few bucks in some royalty-free upbeat music beforehand that you can utilize in your next project. Keep yourself updated about the latest video trends that young couples prefer these days. After all, any video you develop will be uploaded on their social media channels. So, always stay one step ahead by knowing the latest trends.

Alternatively, keep a list of preset color tone effects and styles that work best with weddings. Once you are done with your final edits, use these preset color correction schemes for an engaging cinematic appeal to the video.

Most professional video editing service providers manage to tackle multiple projects at the same time by availing themselves of these simple hacks.

Reach out to the "professionals"!

If you are overburdened with multiple projects and have to let them go due to a shortage of time, contact any of the reputed video editing service providers with years of experience and domain knowledge in professional video editing services.

An agency backed by several video editing experts can deliver not only top-notch wedding video editing services but also share much of your editing worries. Thereby, you can devote more time to business development and closing more sales.

Furthermore, an agency executing the editing task will ensure your projects are done with all the latest wedding video editing software without you spending a dime on that. So, forget the recurring expense of maintaining costly licenses, and enjoy more profit; as the agencies will charge you a nominal fee, which is half of these licenses' costs.

Use Keyboard Shortcuts

Shortcuts can not only save a lot of time when performing an editing task, but also enhances the productivity of the editor. Knowing few handy keyboard shortcuts (respective to Windows and macIOS) can give the workflow the desired speed and convenience.

Therefore, it is imperative to learn the software irrespective of the operating system involved. Each software shortcut varies with the respective operating systems.
Conclusion
There you go; a bunch of simplified yet informative suggestions on improving post-production workflow for wedding videos that will help you stay on track and deliver projects in shorter turnaround times. 
Hopefully, this guide will help the novices who have just started to try their hands at wedding video editing, especially for weddings to improve their customer experience.
For more such useful tips and hacks, stay tuned to our blog posts.