YouTube Shorts Vs Instagram Reels
Social media shorts and reels are quite a trend now. They are unique ways of connecting with the audience for people who are into social media and trying to make it big there.
Common people who have turned into influencers and have earned a handsome fan-base over time, rely solely on these short videos. They are at most a minute and a half long and try communicating messages, information, etc., through singing, dancing and other activities in as little time as possible.
YouTube shorts: what are they, pros and cons
YouTube introduced "Shorts" as a response to TikTok. Initially, the time duration of shorts happened to be 30 secs which was completely an attempt to see if it was running in the market. Eventual updates now have it stand at 60 seconds today.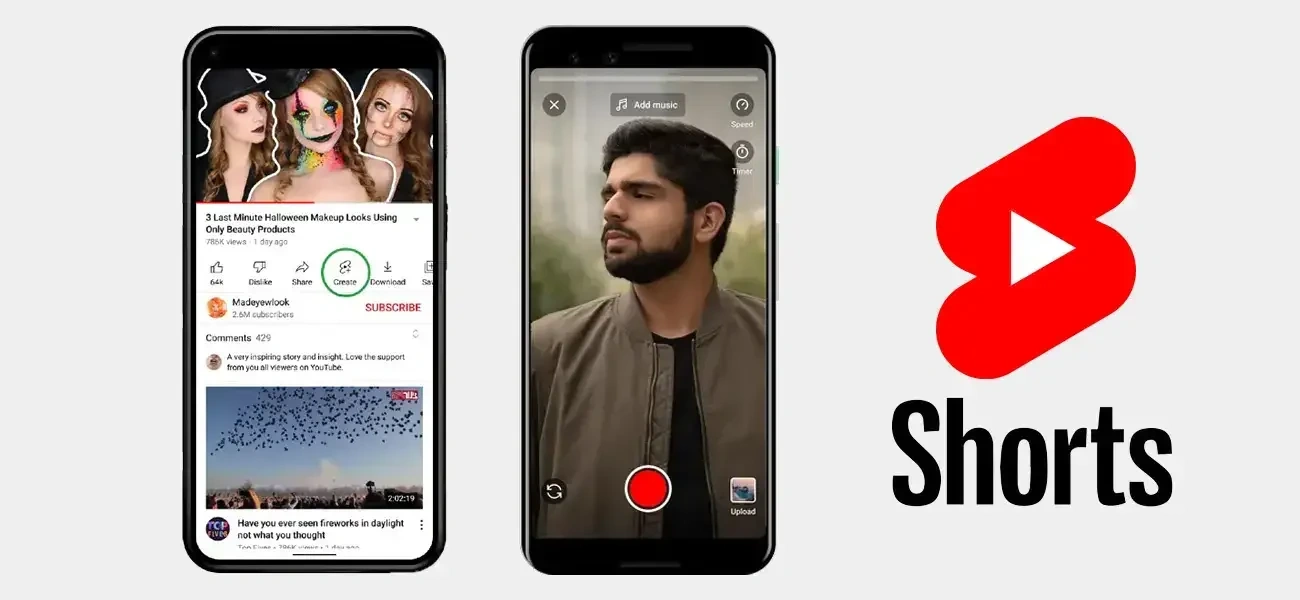 They are vertical or square videos (videos fit for viewing on vertical screens like mobile phones) with any video spanning less than 60 seconds. Anything more than 60 secs won't be fit for a YouTube short. However, a video of length 15 to 45 secs is best for increasing the user engagement.
Subsequent updates made YouTube shorts avoid fraud and have a separate section or dedicated "shorts" button in the application. Videos with 1920 by 1080 pixels resolution and an aspect ratio of 9:16 are perfect for making a YouTube short. Users can choose music from the YouTube library or embed royalty-free music with their content for YouTube video editing.
Pros:
Help grow a channel as the viewers belong to multiple age groups. So while watching long YouTube videos, they can switch to shorts for a change.
YouTube shorts help better engage with the audience and increase the fan base by becoming a support to the existing long video content of the creator's channel. The content creators can make short versions of their long videos by pointing out the attractive features and increasing the views of the existing videos.
They are highly monetized due to their good ranking. The creators can earn a handsome sum after reaching the monetization policies and also upscale their revenue through the increased traffic.
YouTube shorts are a great source of earning clients or promoting business due to their professional inclination.
Cons:
YouTube's algorithm works by following the users' watch history and suggests only related content to watch and share.
The maximum duration of the videos offered is 60 seconds which might not be sufficient every time for conveying long messages or info.
YouTube shorts don't let users attach links to the videos.
Instagram reels: what are they, pros and cons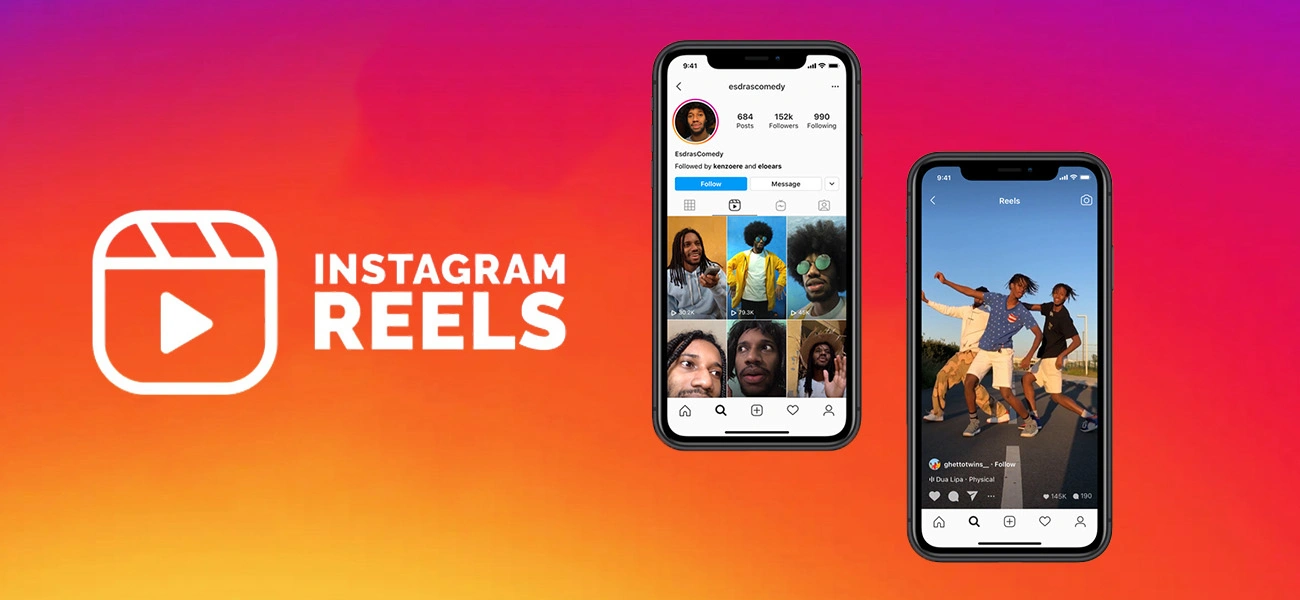 Quite similar to YouTube, Instagram introduced "Reels" as a response to TikTok and also as a competition to YouTube. The time duration of reels was kept to 15 secs initially. Recently, Instagram declared any video spanning less than 15 minutes as "reels".
They are strictly vertical or square videos with similar aspect ratios and resolution requirements as YouTube shorts. They are made to fit completely in the vertical mobile screen to give the users a perfect and engaging viewing experience.
The trendy sound clips in the library, amusing AR filters, live sessions for the creators to interact with their followers and other features of reel video editing make Instagram the most liked and used short-video platform by the people of today's generation.
Pros:
Instagram's algorithm prioritizes new content over existing ones. This makes Instagram reels suggest newer content to watch and share.
Instagram declared any video with less than 15 minutes of runtime as "reel content". This is easier for people who like making and watching long, detailed content.
Instagram reels allow users to attach links to them.
Instagram reels are the best when it comes to showcasing talents. People mostly prefer Instagram reels over any other platform when it comes to entertainment.
Cons:
Instagram is mostly and widely preferred by Gen-Z, so the user gets restricted to the audience of a certain age group which reduces the ranking.
Installing reels is difficult to monetize as it is an "invite-only" bonus program.
Why do the users go for Instagram reels and YouTube shorts instead of long videos?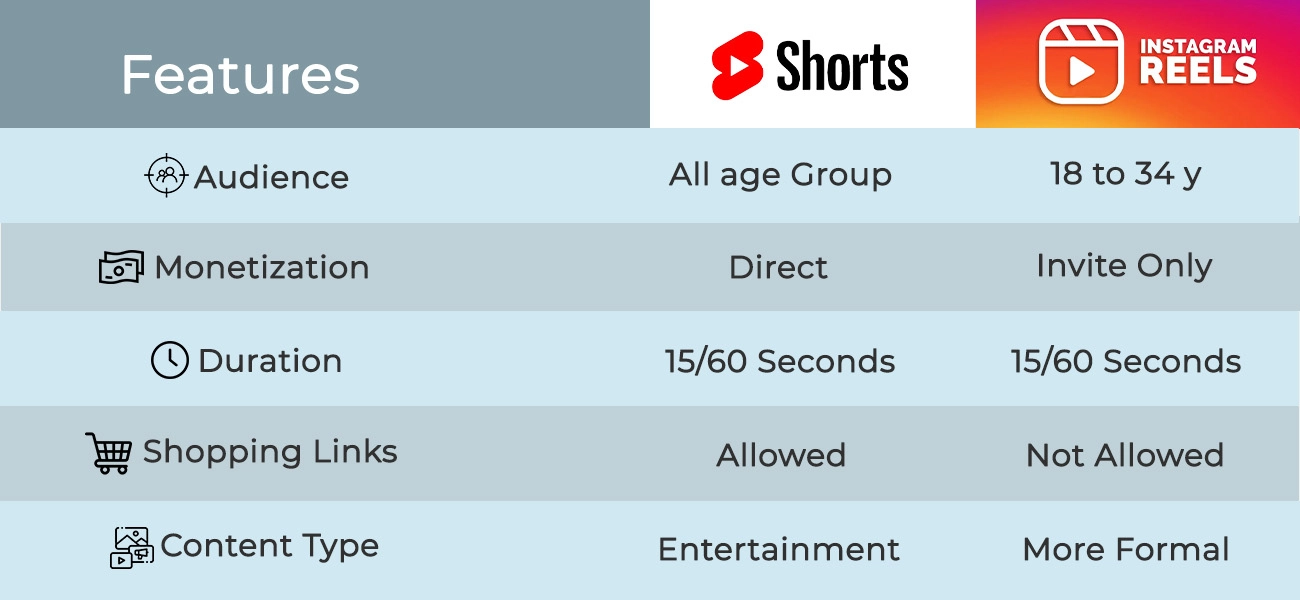 Recently, there have been many studies on the average attention span of humans. Findings say there has been a drastic reduction over the past 15 years, from 12 seconds to 8.25 seconds. This means that we can focus on any task for only about 8.25 seconds, which is even less than that of a goldfish!
Much before the arrival of the shorts and reels, vlogging (video+blogging) and Instagram stories happened to be at the heights of their fame. The vlogs are around 8 to 10 minutes long (sometimes even more) while the stories less than a minute, gathered a large audience real quick.
When TikTok stepped into the frame, people got highly engaged with the 15 secs permanently staying short videos with several visual and sound filters. Soon enough, Instagram and YouTube followed the line and introduced short videos in their applications under the names of Instagram reels and YouTube shorts.
Given the tiny attention span of humans these days, the short videos got numerous eyeballs hooked to them and are currently the biggest revenue generators of the social media platforms.
Apart from this, another reason also marks short videos' stardom.
YouTube videos stay in the application permanently until deleted but most people do not prefer the duration. Instagram stories allow recording videos but go invisible after 24 hours of uploading them.
So, Instagram reels and YouTube shorts both got favored by users who did not like recording or watching long videos or wanted their videos to stay on the platform forever.
Conclusion
Besides entertainment, short videos prove to be an excellent way of promoting a brand name and building small businesses. Every platform has its own set of merits and demerits, but it fully depends on the user's intent as to which one would be the best for them. So you must go for the one which suits your needs the best.
Nowadays, we find a social video creator in almost every house, and many people have made it big in terms of money and fame! But be it a short or a reel, editing the videos per the trend and the type of audience is the most important thing to make it run. As a long or short video, whatever comes the way, editing a video artistically never goes out of style!
Although there's not much difference between reels and videos, whichever platform you chose, always remember to look at the analytics and know your intent very well. You will be halfway through with the problem already! But if you are still stuck, you can take the help of professional video editing services.
Hope this blog will help you make a better choice. Stay tuned with us for more such pieces!