All You Need To Know About Multilingual Desktop Publishing
When it comes to the written document, DTP or desktop publishing comes to play. It is the combination of graphics and texts, created with the help of software in the computer. After it is done, it is printed and published. Contemporary business firms look out for multilingual DTP so that it can cater to the needs of different classes of readers. In multilingual desktop publishing, experts incorporate different texts and graphics to craft the necessary documents.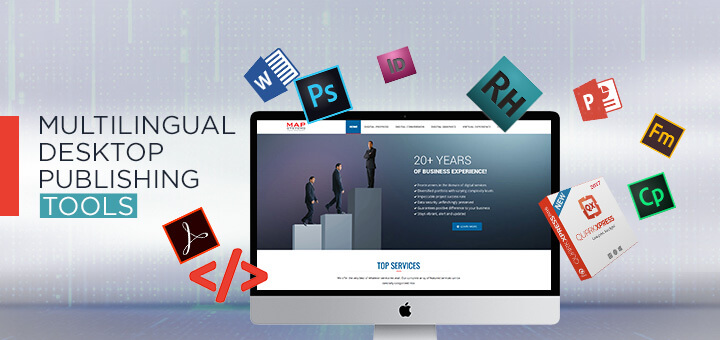 How multilingual desktop publishing is done
At the outset, the page designing is done. In this step, a page is first designed for a particular language. After that, it is made compatible with other languages. However, it is possible to customize a page according to the need of separate languages as well. The typesetting process has to be done for each of the languages and finally, the output is obtained.
The multilingual typesetting process starts with the translation of the original text into the desired languages. These are done in word files and then copied and pasted into the main document. After this process is over, the texts are formatted and re-adjusted. The fonts are also made compatible with the document. The experts understand the fonts better than others. The point-size of fonts are also determined in the process. Altogether, the entire set of visual elements are customized according to the relevance and need.
The last process of the publishing is checking the text for errors. There may be spelling errors, missing alphabets, issues with fonts and so on. A flawless document has to be free from all sorts of errors. Find here in detail about common pitfalls of foreign language typesetting.
The knowledge and tools needed for multilingual desktop publishing
Technical and software knowledge is of immense importance when it comes to DTP. Here are certain aspects that a person needs to know.
Software knowledge: This is a must for the professionals, as there are some plugins and language-specific variations in the software. So, the knowledge of industry-standard layout is crucial in DTP.
Knowledge of language: A DTP professional needs to have a good grasp of several languages, as a minor deviation from the actual copy may lead to misleading results. There must be no gap in interpretation. If there is the problem in understanding, the DTP operator must seek help from someone who is expert in those languages.
Language-specific font: In every language, there are certain specifications related to fonts. Thus, one needs to pick language-specific fonts for the purpose.
Programming knowledge: Experts catering to various clients with customized digital prepress and typesetting services possess good programming knowledge so that they can accommodate the entire volume of text in a given space. This makes helps in delivering polished and well-finished documents.
Benefits of using multilingual desktop publishing
Multilingual desktop publishing brings with it a range of benefits such as increased productivity, enhanced aesthetical appearances, reduced production costs, improved look and feel of the documents and superior turnaround time along with a slew of others. One of the most exceptional capabilities of multi-lingual desktop publishing is that it can help the user create impeccably looking documents without having to resort to graphic designing.
Take a look at some of the most notable benefits that you can enjoy with the use of multilingual desktop publishing;
Benefit 1: Exceptional Page Layouts for Superior Appearance

As you would know, the page layout is the process of organizing or re-organizing a range of graphical and textual elements on a page so as to elicit an aesthetically appealing design. It is important that you make enough room on the layout for the content you write so that the customers can read the content and decide whether to buy the product from you or not. With the help of a professional company offering effective DTP and such pre-publishing services, you can successfully create an exceptional looking layout balancing various elements such as color, space and lighting to attract the audience. Having an aesthetically stunning and luring design will undoubtedly help influence your audience that is reading your marketing flyers, sales brochures or promotional booklets.

Benefit 2: Effortless Customization of All Kinds of Documents

If you can effectively leverage the capabilities of DTP, there is no doubt that it can change the way your business and company are viewed by a range of stakeholders associated with your business such as employees, customers, investors and suppliers. DTP brings you the ability to edit, perk up and customize any sort of document that you want to utilize to target a special section of audience. Irrespective of the sort and scope of the document, you can effectively apply the capabilities of DTP to customize such documents as press release, graph, menu, business proposal, statement, flyer, newsletter, schedule, catalog or even name tags along with many others. Multilingual desktop publishing will tender you with all the support you need when it comes to document customization.

Benefit 3: Cost-effective Production Process

One of the most value-adding advantages of outsourcing DTP requirements is that you get the best service at costs that provide immense value for your investments. If you are trying to get it done in-house, you will be required to invest in a wide range of applications and software programs like advanced desktop publishing software to drive the benefits you expect. However, when you hire the support of an established multilingual desktop publishing company skilled in digital prepress services, you will be given the support of a team who already has the access to such state-of-the-art systems and applications. This will help you get the best support from the team at one-third of your investments and time. And thus this will reflect heavily on your annual operating cost and significantly improve your ROI.
If you are looking for multilingual typesetting service provider in India, you can contact MAPSystems. We excel in providing multilingual DTP services to our clients within deadlines and at an affordable cost. There is a team of experts to shoulder the entire responsibility and you can rest your trust on the professionals with us to get seamless services. To know more about typesetting cost and other information, check out FAQ.