Industry - Graphic designing
Client - Interior design magazine services publisher based in UK
Requirement - To design and format bimonthly and quarterly issues of interior designing magazines with annual cumulative output of approximately 30 issues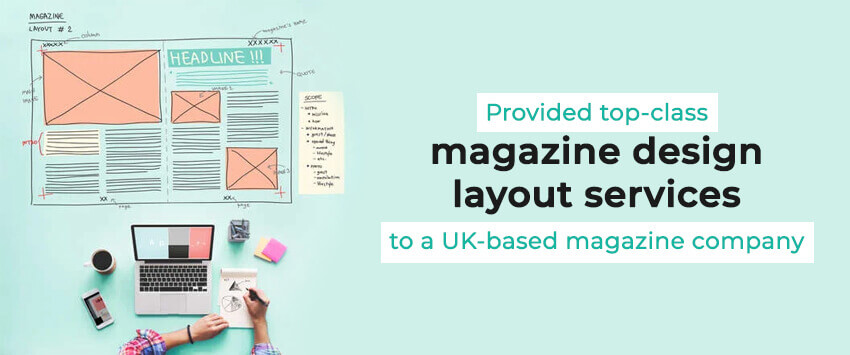 Challenges confronted
The client was in an awkward situation as they inadvertently jumped the printing schedules, thus delaying the delivery of magazines to subscribers. The repeated violation of printing deadlines had been conveying a very wrong impression of the client to loyal and prospective subscribers. The existing staff was reluctant to outsource the project to vendor as they were apprehensive of the quality and logistics of managing printing cycles. After all, the reputation of the publishing house was at stake since the interior design magazine print has always experienced stiff competition and the challenge was to steal the march over contemporaries and consistently remain the favoured publication of niche readers. Any compromise on quality front would irrevocably distract the customers and the client would lose its foothold in the market.
Solution
MAPSystems take immense pride in its proficient team of skilled professionals and this competent manpower was optimized for the job. A team of multi-faceted and versatile professionals were assembled. The members were thoroughly conversant with all top notch graphic design and photo editing software. The magazine design followed seamlessly. Exquisite interior design images were captured and published which won the admiration of the readers. Vivid portrayal of the client's envisaged designing portfolio was pulled off relatively easily with the aid of cutting edge software and equally proficient application of designing sense of our professionals. The output quality achieved was discerningly better than previous versions and the TAT was fully respected.
Result / business advantages
Interior design magazines were taken to the next level by the concerted efforts of the MAPSystems team members. Client's subscribers appreciated the output and a surge in readership followed. This stepped up the revenue generation potential of the client's enterprise and ROI was positively shaken up. The entire designing was seamlessly transferred to MAPSystems. This thumping success also spelled recurrent business for us apart from significant cost savings by client.
If you have similar graphic designing requirements and seeking for a service provider, you are at the right place; we have professionally trained designer to provide top notch results within the given time frame. Also read some of our creative design testimonials provided by our clients.
Still do you have questions regarding our magazine design services? Don't hesitate
Contact Us