About the Client
The client is one of the popular companies in Italy that provides integrated real estate services related to consulting, investment, and brokerage. It is headquartered in Milan and has been operating since the 2000s. They mainly help people to look out for investment opportunities and identify locations for purchase, rental, or sales of the real estate properties.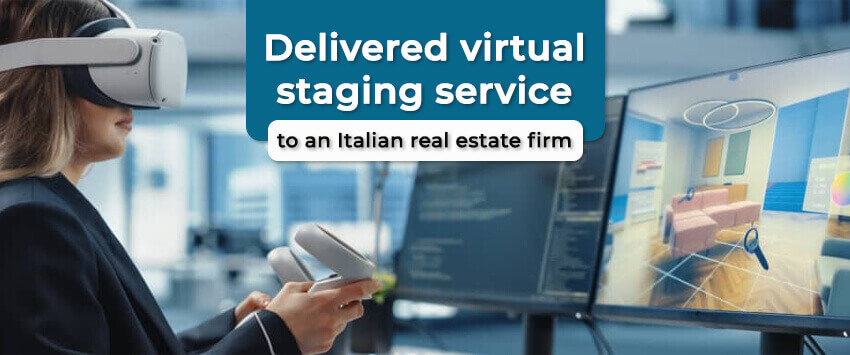 Requirements for the Virtual Staging Project
The first requirement was absolutely common, i.e., making the real estate images look highly appealing. Apart from that, the client also had a few more requirements for the project, such as:
Challenges we faced
They wanted all the above things to be done really fast. A particular set of images were needed to be sent to clients every two days. So, the overall timing was a bit pressurizing for our team. Sometimes, they even had to face occasional setbacks when the image inputs we received were not clear or the angles were not correct. It required us to put extra effort into photo editing and enhancement.
Each property image we were asked to work on was required to be based on various themes. So, for each theme, we needed to showcase 4-5 different images that would showcase their bedroom, kitchen, kid's room, study place, outdoors, or even living space. In that case, the challenge was not only to create the virtual staging for all those rooms but also to collect all the information on the various themes that wanted us to create.
Apart from staging, they wanted us to create 3D visualizations that can educate both the customers and builders on its own. It was also required for the builders since they might have to work on it in the near future if a potential client selects that particular look. To ensure this, our team had to make sure that the visualizations were more expressive and thoroughly detailed so that the audiences do not have any confusion.
Principles we implemented to Overcome Challenges
In the beginning, we had to go through a bit of ups and downs while creating samples for the property as well as the 3D product design of the furniture. Once it was approved by the client, worked quite fast to complete the project. Meanwhile, we also send them project updates so that they get to know how the work is going on.
We consulted with our 3D artists and project managers to understand if they were facing any difficulties working on it. With a few meetings and discussions, we came up with solutions that can address their problems.
We included advanced technology and software so that it would be easier for our team to work on the project more effectively and efficiently. In addition to this, we also trained them regularly to grasp the client's requirements, which helped them to create virtual staging in an aesthetically pleasing manner.
Before sending the samples or outputs to the client, we use to check it first by performing stringent quality analysis with the help of our QA team. They were supposed to check everything that is related to quality, clarity, or appeal.
Besides, we also need to appreciate the client in this matter since they were very specific with the instructions and were open to discussions whenever we needed it. It is also one of the reasons why we were successful in handling the project.
End Results
The client appreciated our consistency as well as the final outputs we have crafted for them. When the images went online, they did receive inquires, which made them appreciate us more. We were glad that our work had helped them to get those sales. Overall, it was a good experience that benefitted us both. Since the project was a bit different from the others we have handled so far, it made us confident to handle more projects like this in the future.
If you have any requirements related to colorize your black and white photos, feel free to reach us
Contact Us