How to Remove DRM from Your eBooks legally
With the increasing demand for digitization, copyright and protection of intellectual property has become the new norm. Even though the internet is helpful to authors when it comes to getting their work published and accessed, it can sometimes cause a lot of trouble. For example, it cannot control unauthorized access to copyright materials. This is when DRM or Digital Rights Management steps in. The DRM is responsible for protecting the digital content as a support to the traditional copyright laws to keep the rights of booksellers intact. Despite it sounds like a great deal to authors, it can be a problem for users. Here, the problem might be related to account suspension, changing or removing of content, etc. It is one of the main reasons why people opt to remove DRM from eBooks. Keep reading the article to get more insight into the topic.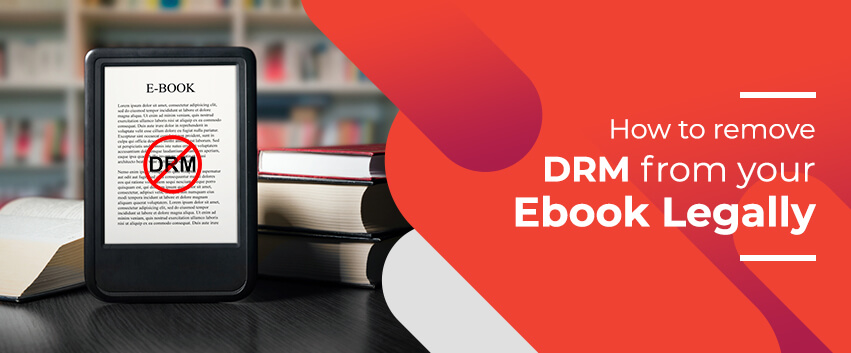 DRM as "A Protective Barrier"
With DRM, you can stop people from printing, sharing, or copying your content by controlling how and where your eBooks are downloaded. You can also control the revenues coming from each sale by regulating who purchases your eBooks and ensuring that it continues getting purchased. Aside from that, it can help you in other ways like
eBook publishing, downloading, or uploading
Accessing and lending of eBooks
eBook conversion and sharing
Compatibility of devices
Restriction of copy-paste feature, etc.
Issues with DRM
The first issue that consumers face with DRM is that it prevents them from reading an eBook in another device, although it was purchased legitimately. For instance, if you are buying a book from the Kindle store, then it can be only read in Kindle eReaders or Kindle app. However, if you switch to any other e-reader from a different manufacturer, then you have to use a different reading app on your device.
Another issue that users complain about is the changing or wiping off of content. Apart from that, it is also said to lock the media to your device, which means your library cannot be transformed into different devices. So, now let's take a quick look at how to remove DRM eBook.
How to Legally Remove DRM from the eBooks?
The best way to get rid of DRM legally is by using a tool. A variety of tools are available today that can help you with the removal process. Besides, the DRM removal software we are going to mention here is completely legitimate, so you are not doing anything illegal. So, here's how to remove DRM from eBooks by using some of the best tools.



One of the best ways to organize and manage the content of your eBooks is by using the Calibre DRM removal app. Apart from that, it can be also used for eBook or ePUB conversion in various formats, editing the eBook's metadata, or downloading the news or articles on your e-reading device. It is available for free download and offers plugins for removing DRM.

Availability: Linux, Windows, & Mac

Epubor is a free tool that only works with Kindle Store eBooks. Check out the steps below to use it.

Step 1: Go to the Menu and click on Settings. Now click on Device Options and then, Device Info to find out the serial number of your Kindle eReader.
Step 2: Enter the number in the Epubor tool and remove any hyphen or space if present.
Step 3: Use a USB cable to connect Kindle to the computer.
Step 4: Drag and drop the required eBooks into the interface of the web app.
Step 5: Otherwise, download the Kindle app's desktop version. Sync the desired eBooks, and drag into the web app interface from the hard drive.
Step 6: Once the process is complete, a Download button will appear. Click on it to save.

Availability: Web




This Kindle online DRM removal app is considered to be one of the best eBook converters. Since it is impossible to carry out the Kindle conversion if the eBooks are locked in DRM, the tool can be used effectively to remove it so that you can carry on with the conversion process. Similar to Epubor, it does not support online books from other stores and can only help with the removal of DRM from Kindle books. The various types of eBooks it supports are MOBI, AZW, PRC, TPZ, AZW3, AZW4, etc.

For using it, you first need to authorize the app with your Amazon ID. Now, download all the needed Kindle books on your hard drive while using an official Kindle app. Sync the books, and drag and drop them into the app.

Availability: Mac

Other EPUBee DRM Tools




ePUBee consists of two other tools for DRM removal, i.e., ePUBee EPUB DRM Removal and ePUBee PDF DRM Removal. Here, the former one is used to remove DRM from EPUB while the latter is used to remove DRM from PDF files. Both of them are available for free download and access.

Availability: Mac & Windows




Even though this app is less polished, it is free to download and can be used for removing DRM from eBooks that belong to a variety of stores. It can work with the DRMs of Nook, Kindle AZW/MOBI, as well as Adobe ADE. In addition to that, it supports a variety of major eBook formats like PDF, EPUB, MOBI, AZW, AZW3, PRC, etc. The removal process is simple and is similar to the tools discussed before. It only requires the dragging and dropping of eBooks onto the app's window and then clicking on the Start button. Once it is completed, the files will be automatically saved to your hard drive.

Availability: Mac & Windows




If you are looking for a single tool that can help you with removing DRM from eBooks belonging to a variety of stores, then you can use Any eBook Converter. As mentioned, it can aid you with the same by removing DRM protection from different stores like Nook, Adobe, Kobo, and Kindle Store. It can supports 24 eBook format types, including PDF, PRC, DOC, TXT, EPUB, MOBI, KFX, AZW, HTMLZ, etc. Apart from DRM removal, it can also help with various activities like conversion of eBooks into different formats, editing the eBook's metadata, and ease of accessing content on your choice of device. It is usually a paid tool available at $30 but also offers a free trial version for users.

Availability: Windows




This automatic DRM removal tool is free to use. The program automatically finds the files protected by DRM and removes them. It can remove the copyright protection from all types of iTune files, be it songs, audiobooks, clips, or iBooks.

The best feature of this software is that it can convert files without affecting the quality. Besides, these files can run on any third-party devices like PSP, Android smartphones, Xbox 360, etc.

Availability: Mac & Windows




The Kindle DRM removal tool can help to remove DRM protection in batches. After removal, the program will produce a new Kindle book. These books can easily run on any e-reader, such as Nook, Sony Reader, iPad, etc.

By using the batch mode in this tool, you can remove copyright protection from more than 50 books at once. However, its drawback is that it can be used only for Amazon books present in Mobi, AZW, and PRC formats.

Availability: Windows & Mac




This DRM removal software is free to use and supports automatic eBook scanning and detection. Moreover, it is easier to install and use. The software can convert eBooks in different formats, like Mobi, KFX, AZW3, PDF, Kobo, Kindle, TXT, Adobe, etc.

It supports batch conversion and has the capacity to convert your entire collection of digital books. However, it won't affect the originality or quality of eBooks.

Availability: Windows




This free video converter can also help with removing DRM from eBooks. It is fast and can work for a variety of file formats, such as M4A, M4B, M4V, WMV, ASF, WMV, etc.

The DRM remover software offers a large number of presets for portable players. It will help you in converting various media files and documents on the go. It also provides multi-threaded conversion, which means you can convert many files at once.

Availability: Windows




It is a powerful PDF conversion tool. It can convert eBooks to a variety of formats like PDF, TXT, SWF, HTML, DOC, ePUB, etc. Besides, you can carry out the conversion in batch, which will save you a lot of time.

Apart from this, the tool can also be used for ePUB DRM removal. It allows you to get rid of DRM from Nobo, Nook, Adobe, and Kindle eBooks.

Availability: Windows & Mac




This tool has a friendly UI and can help with both eBook conversion and DRM protection removal. It is easy to use and supports batch conversion. It also allows you to import a load of video files for conversion.

It can remove DRM protection from mainstream eBooks in different formats. The varied file formats it supports are Adobe Digital Editions, Kindle books, B&N Noble eBooks, ePUB, AZW, PDF, etc.

Availability: Windows & Mac
Conclusion
All the software discussed here will surely be able to remove DRM from your eBooks. The tools come with various features, starting from becoming a one-stop destination to your eBook management requirements to being a simple and straightforward way of DRM removal. Depending on your needs, you can go through the article to figure out the one appropriate for you. Despite privacy being an important concern, the user experience is equally important when it comes to accessing any digital content. It is really unfair for people who pay money to access a particular content but are unable to use it when the device is different. Surely, the content locking up to only a single device is an unpleasant experience for all. Since DRM makes it so hard, looking up to these ways to achieve a better user experience it completely fine.