Everything you should know about Video Marketing 2023
Have you ever thought of how fast TikTok, Instagram, YouTube, Vimeo, and Facebook have grown so rapidly in the past few years? Most of these social media channels and online video streaming platforms have billions of subscribers. This clearly shows the popularity of video as an entertainment medium.
And not just for entertainment. More and more digital marketers are leveraging online video in their marketing activities. Besides, newer video marketing strategy hacks are being thought of.
If you are curious enough about videos and their relevance in modern digital marketing, stick with us until the end. This article will take a plunge into the world of online videos and give answers to the following:
What is video marketing?
How important is video marketing in 2023 and beyond?
What are the steps of developing a full-proof video marketing strategy?
Braced with the answers to these aspects of online videos, novice eCommerce marketers can drive more ROI and business growth. These fundamental elements will not just help them to draft a robust strategy, but also give an idea of where to start.
Let's begin!

What is "Video Marketing", and how does it help modern businesses?
Video marketing is the use of high-quality video content for any marketing, brand promotions, product or service promotions, sales, or awareness campaigns. It implies incorporating the intended message the marketer wants to convey within the video and promoting it online.
With the growing craze of online videos (both long-form and short-form) among new-age consumers, online video content production has also increased manifold. Because more and more marketers have realized a fact. A brand must stand out and be unique to engage people over the Internet.
And what is more apt than an engaging brand video or explainer video for this?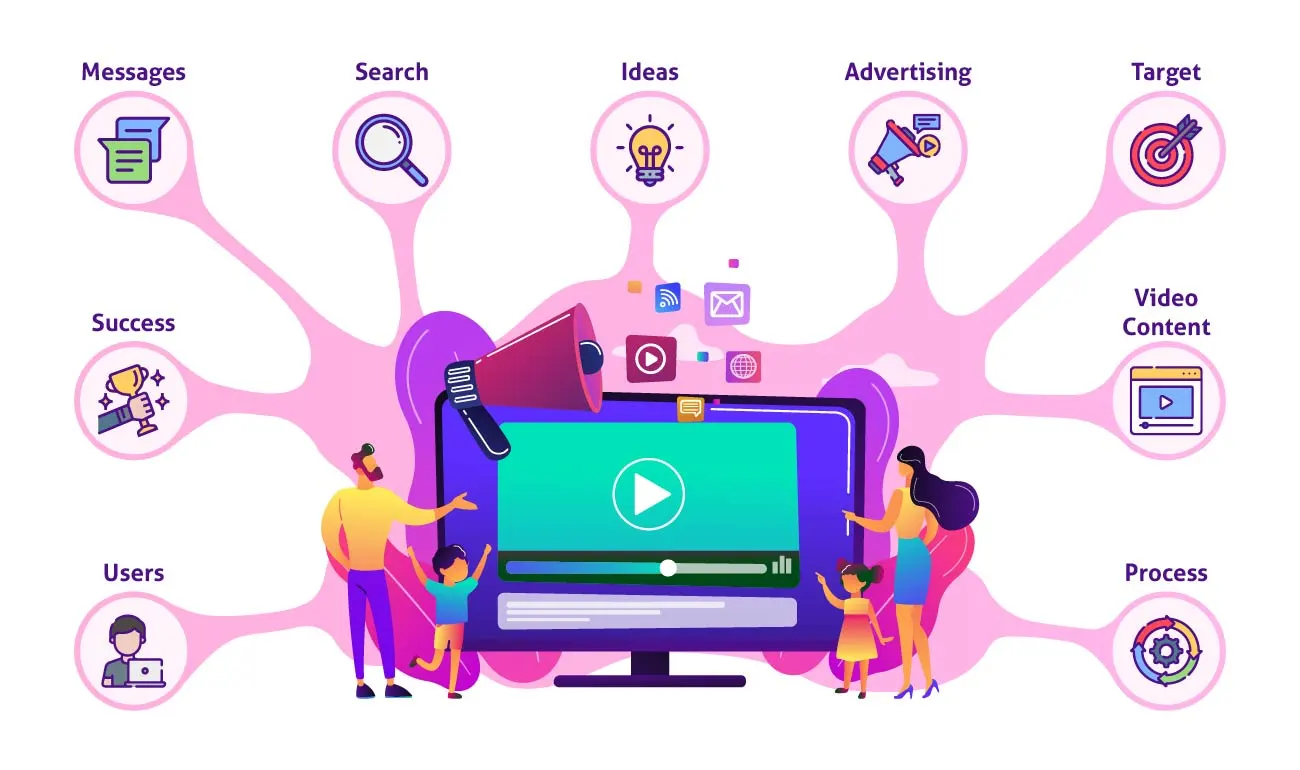 By including videos, marketers can educate the audience effectively without ruining the engagement factor. Besides, videos are the most shareable assets on the Internet. Hence, creating engagement on digital and social channels also becomes more accessible.
Probably the best part of videos is businesses of all sizes can produce them and use them for their marketing. Small businesses and start-ups are the best examples of this. Marketing videos work like magic for small businesses to promote their brand within a shoestring budget.
Throughout a customer's purchase journey from the top of the sales funnel, videos can act as support. Right from the awareness stage, to the consideration and decision-making stage, videos are the ideal tool. Some of the types for each stage are:
Educational videos to kick off a dialog with the customer and reveal the best features of your product. Educational videos are not too salesy. They subtly talk about the USPs of a product or a service.
Then comes the product explainers. Product explainer videos showcase how a specific product or service can solve the pain points of the target audience.
Down the funnel, where more social proofs are required to instill confidence in a customer, testimonial videos and case studies are ideal. Because this is a point where the potential buyer must decide. Marketers must give them adequate content that helps them to analyze the product and its advantages and disadvantages. This is precisely what testimonials and case study videos do.
And what is more apt than an engaging brand video or product explainer for this?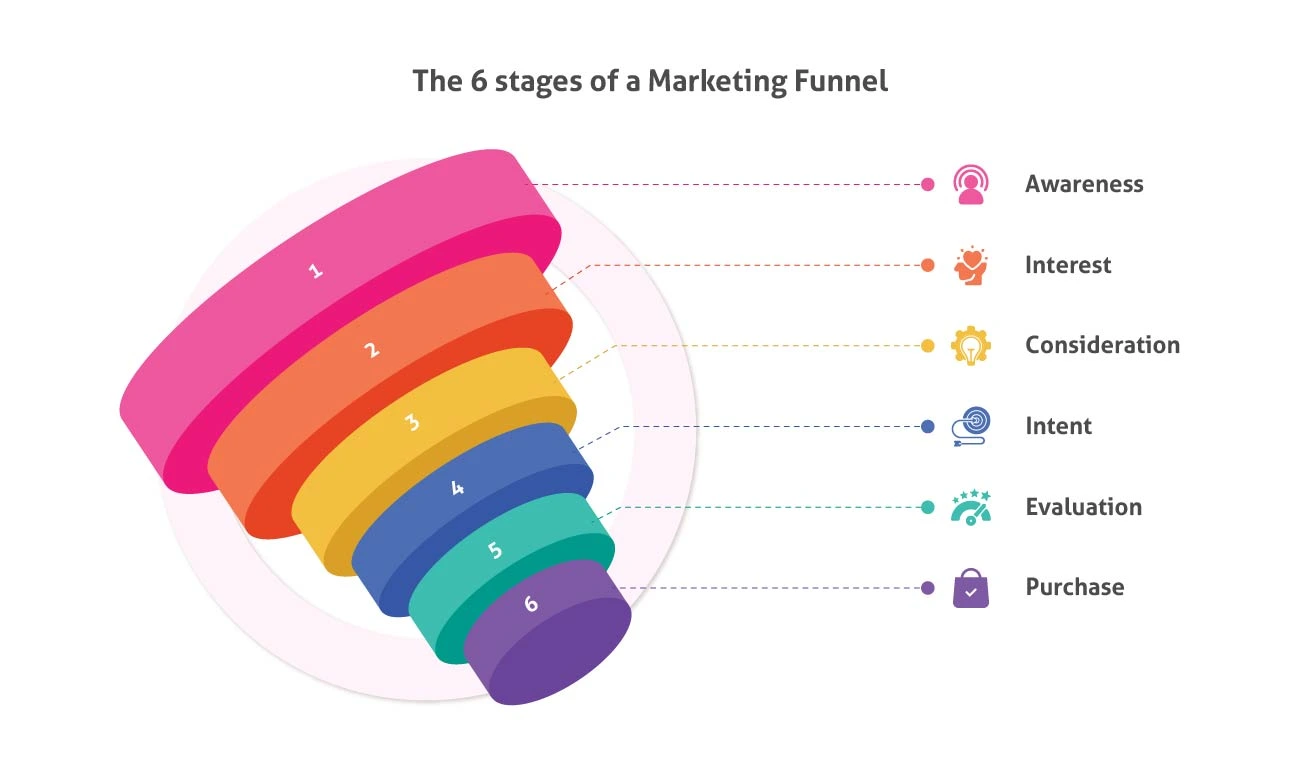 In a nutshell, marketing managers can exponentially boost customer engagement and increase brand exposure online by using any form of video.
However, to utilize and leverage their full potential, one must have a proper video-based marketing strategy in place. Using video content strategically can undoubtedly rev up your business growth. In the following section, we shall discuss the same. Keep scrolling and find ways to create a full-proof strategy for supporting your marketing with quality videos.
Ten-steps guide to ultimate strategy for video marketing
Before delving deep into the steps, let us first understand what a video marketing strategy is and why it is so vital for businesses. Well, a strategy for marketing with video content is the ultimate guide that outlines the application of the content.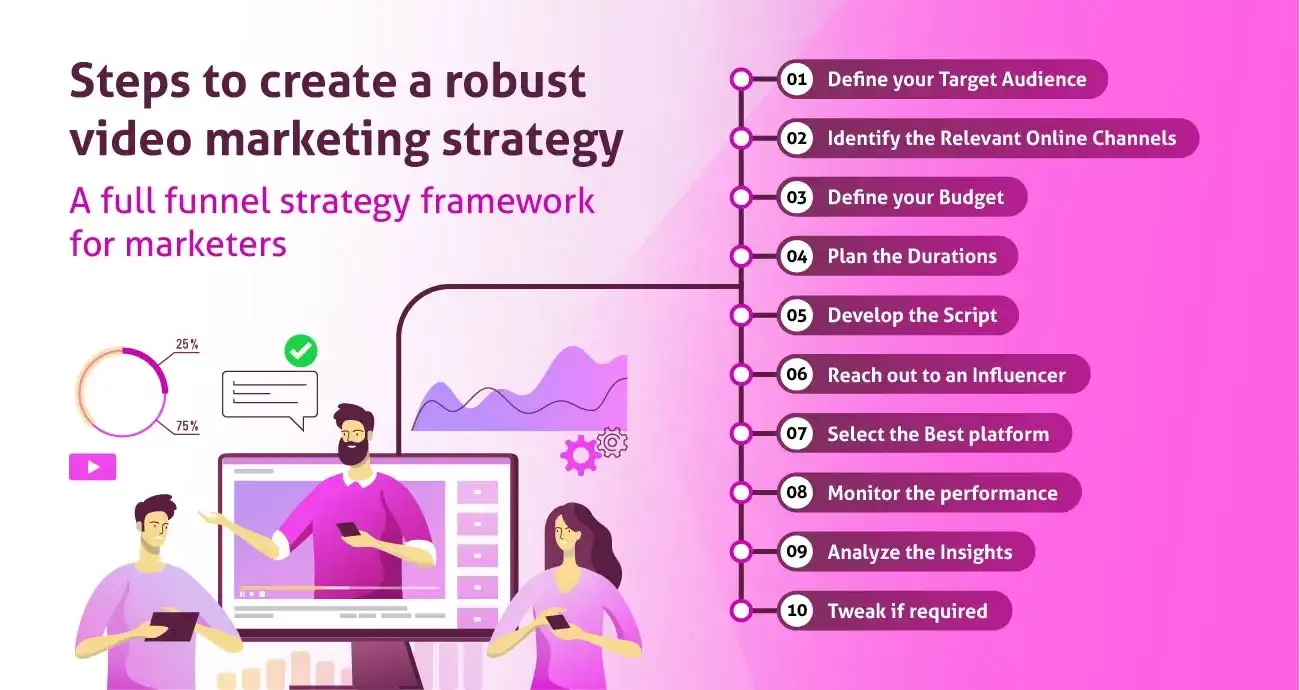 As well as to what extent it is performing amongst the target audience. Finally, what insights can be drawn by analyzing its performance. A proper strategy also helps to make tactical changes to marketing activities.
A strategy could also be deemed as in-depth research and planning. A well-defined plan or a roadmap guides two of the most important things:
These are the two factors that determine the feasibility of a video campaign. How relevant it will be for a business and what kind of infrastructure is required is understood through these metrics.
Let's find out the proven steps that can help any first-timer to use videos in their marketing and promotion. Even pro video marketers can get help from this guide and further enhance their existing marketing strategy.
Identify and define your target audience

This is the first step. Define your target audience based on demographics like age, gender, ethnicity, and geographical location. You can make the segregation further detailed, but these are the most common categories on average.

Without identifying whom you would create the videos for, you cannot understand what kind of content will appeal to them. This is mainly required while developing the messaging (discussed below) for the video. When you know your audience, you can maintain the appropriate tone and voice that will create an impact on them.

Find the online channels they are most active in

With some deep research and development, you can discover the exact social media platforms your audience is more active in. Whether it is YouTube, Facebook, Instagram, Snapchat, or TikTok - once you identify the relevant channel, start curating and optimizing your content accordingly.

It is always better to target the same channel that is most visited by your audience. If they are more active on Snapchat, running a video campaign on Facebook won't bring any real traction. Similarly, an audience active on YouTube must never be aimed at Instagram.

Also, as we know, every online platform has some exclusive preferences for file sizes, resolutions, formats, etc. So, find out the apt channel and its recommendations before beginning the video pre-production. Whether it should be a full-length video or Shorts, Reels, or TikToks, plan beforehand to reduce several reworks.

Professional video editing agencies are the best solution for all these technicalities. They have expert video editors with years of experience. These experts are well-versed in the exact preferences the leading social channels have.

Select your budget and potential investments

Budget is another most important aspect of conducting a video ad or campaign. Creative thoughts and concepts are great. But the monetary factor is greater. Set a realistic budget you can afford, which won't burn a hole in your pocket. Without planning a proper budget, it becomes difficult in the long run.

Also, think of the possible investments you might need to make. For example, if the video has a narration, you must hire a professional voice-over artist for the job. If you do the rendering, you must have advanced rendering software. So all these expenses must be well thought of.

It's better to collaborate with a professional agency with high-end rendering software. They can take care of the end-to-end pre-production and deliver the best quality.

Plan the durations: duration of the video and duration of the campaign

Both durations are super important. First, let's talk about the duration of the video. The duration or the length ideally should be within 60 seconds. Anything more than that fails to create the desired impact on the audience.

Second is the duration of the entire project. The project timeline or duration depends on a few external factors:

All these factors influence the project timeline. Professional agencies have a speedy turnaround time owing to their years of experience and expertise. It's always recommended to collaborate with a professional agency and leave the strategizing part to them. They also offer various types of video editing services under one roof at affordable rates.

Develop the script or the messaging

Whatever you intend to convey through the video, develop that messaging in a script format. While creating each frame, it's easier if a script is there. Based on the script, the flow of the video will be determined. Your messaging must be impactful enough to hook the audience and keep them glued to the end.

Based on the purpose of your video, you can include the CTAs, or call to action in the end. If your goal is to generate leads, you may give CTAs like "Request a callback", "Connect with us", or "Get in touch".

To generate more active participation, give "Register now", or "Click to register". If you want more requests for demos or trials, then give CTA buttons like "Request a demo" or "Request free trial".

Reach out to an influencer if required

Plan beforehand if you need an influencer to promote your brand. There are three main categories of Internet influencers based on the number of subscribers or followers they have. They are:

Mega - more than 1,000,000 followers
Macro - between 500,000 and 1,000,000 followers
Mid-Tier - between 50K and 500K followers
Micro - between 10,000–100,000 followers
Nano - between 100 to 10,000 followers

Make your pick based on your objective and the kind of product you want to promote. Select the right influencer who can actually engage your audience and compel them to choose you.

Select the best platform to promote your content

See which platform works best for your content. If you are into cosmetics, female healthcare, or makeup products, then Instagram will be your best bet. If it is a service you want to promote, try to engage the prospects through LinkedIn videos.

And if you are a podcaster, vlogger, or review critic, try YouTube. Facebook can also be your choice where you can put native in-stream video ads to create awareness.

Monitor the performance

A marketer's work doesn't end with promoting the video online. They need to constantly monitor the performance of their content based on some metrics. Such as:

CTR
Likes
Shares
Mentions
Comments
Tags

- etc.

Based on these data, it can be determined whether a video campaign has been a success or not. The more engaging the content is, the higher the CTR (Click-Thorough Rate) and eventual conversion.

Analyze the insights

Once you get the performance data, try to analyze the insights. This will help you understand customer behavior, prevent any data denial within your team, and make more data-driven decisions. Analyzing insights also gives a glimpse into what your competitors are doing.

Planning the next online video marketing campaigns becomes easier when someone has all the insights from an existing campaign at hand.

Make changes to the existing video (if required) based on the insights and analyses

This is the final step in developing an unfailing tactical strategy for video-based marketing. After analyzing the data and insights from the campaign performance, ensure to tweak the video accordingly. Also, marketers must consider these critical metrics while developing the following marketing content.

If the insights depict that your female prospects are less interested in interacting with the video-based ad or less driven to share it on their wall or stories, the content lacks something to impress them. It must have missed some connection with the female folks making it non-performing with that much important target segment.
Braced by this knowledge, you may tweak the content and reshare the same. Or in your future campaigns, you must ensure this metric is fulfilled.
Future trends of marketing through video content
It goes without saying that video is undoubtedly the future of digital marketing. More than 78% of online users watch videos every week. And almost 54% watch every day. 6 out of 10 people are more comfortable watching videos online than watching TV. Such has been the surge in video consumption.
Also, in production, the figures are whopping. Approximately 3.7 million new content are uploaded to YouTube daily, and 95 million photos and videos are uploaded on Instagram every day.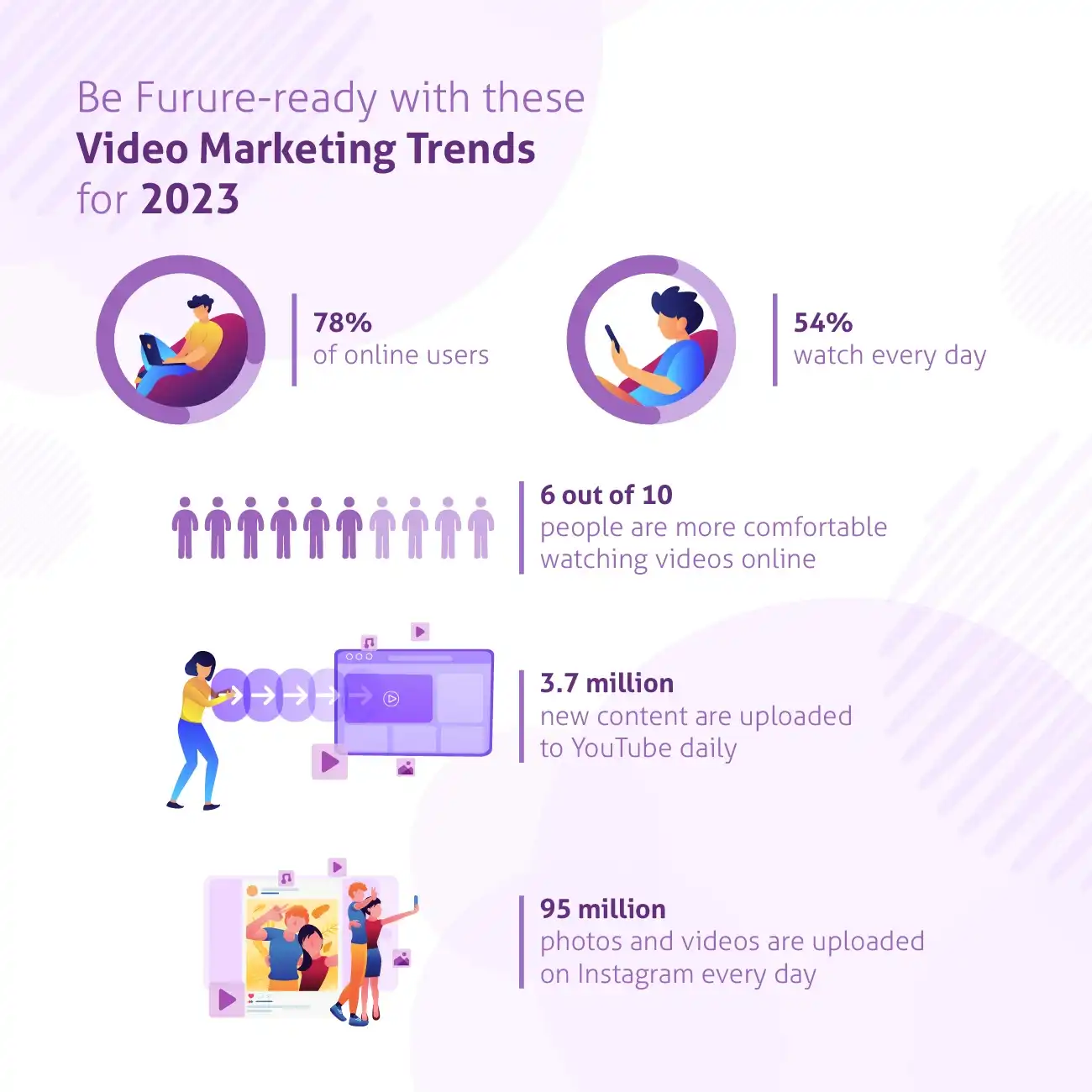 These stats clearly show how video-based content are on the rise. Owing to this major change, many social media platforms have become "video-first". So what more will be new in the social media video production and marketing landscape? Let's take a quick look.
Short-form vertical videos

Facebook and Instagram Reels, TikToks, YouTube Shorts, and Snapchat videos - all fall under the category of vertical format videos. More such vertical format videos will be produced in 2023 and beyond.

Q&A sessions with prospects

Instead of assisting a customer with videos throughout his journey, there will be more virtual Q&A sessions with them. This will make customers feel valued, included, and heard.

Live video

Live videos will see much better days than now. More and more live-format videos will be produced that will bear a humane touch. Even brands will tend to create live videos while promoting their products.

Small-time productions

More small-time and indie productions will happen. Thanks to the online tools available, creating and rendering videos these days are easy and convenient. More start-ups will produce high-quality video-based content using these tools.

User-generated content

UGC or user-generated content will get further priority. Social proof and online reputation have started to matter more to new-age consumers. Hence, seeing a new brand's previous or existing customers give them more confidence to go for it. And content created by users, like product reviews, testimonials, and social posts, will take the front seat.

AR/VR videos

Digital marketers will leverage AR/VR/MR in their content to make them more immersive and interactive. Replacing 2D graphics, more 3D rendered visuals and 3D-based videos will be created. The 3D models used for the videos will be compatible with augmented reality and virtual reality.

This will open bigger opportunities for marketing in real estate owners, manufacturers and eCommerce marketers to promote their product listings.

Considering all these fascinating trends, if you haven't yet planned for your marketing strategy, 2023 will be your year! Leverage the accessibility, convenience, and ease of online videos and give yourself a competitive advantage.
Over to you now!
There you are! A comprehensive, step-by-step guide to creating a powerful video marketing strategy. Follow these steps and start making more impact on your audience. Let video-based marketing be your dominant tool to harness better business growth and ROI.
And if you ever feel overwhelmed, reach out to professional video editing companies online. Collaborate with such a team of experts and let them handle everything. So, beginning this year, start leveraging videos in your digital marketing activities and chalk out a robust strategy.
Remember, the more you wait, the more leads you lose. Get started today! Good luck!