Industry- Graphics
Client- A prestigious 3D scanning and imaging services provider based in Berlin, Germany
Requirement- 3D modeling and sculpting by using still photo shoots as inputs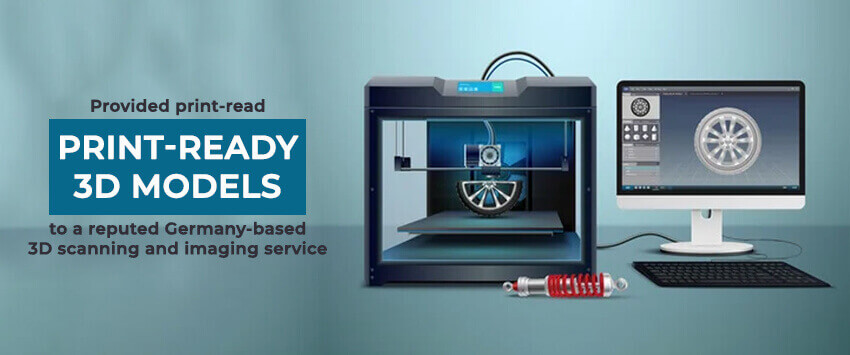 Challenges confronted
Targets were decided at the inception of the project. However, as the project progressed, the volume that was initially anticipated leapfrogged and moved way beyond the originally set target. The challenge was to manage the volume by harnessing the existing resources and infrastructure without allowing the cost to escalate.
The client's deadline was stiff. We could not violate the committed turnaround time. This would have cast irrevocable ignominy on our professional ethos. To handle the additional volume and to live up to the expectations of the client, it was imperative that the skill sets of the technical manpower have to be dynamically enhanced without halting the project.
Smooth and expeditious execution of the project had to be accomplished through the use of 3D software that had a host of dynamic features and could allow for fast processing of data sets and could accommodate increased volumes without compromising on performance.
Solution
We primarily emphasized on intensive training of technical manpower and accordingly chalked out the strategy for getting approved by the client. Manpower training and resource bolstering went in tandem. Once we were equipped with the needful amount of resources for swift execution of the project, we got it certified by the client. Subsequently, print ready 3D models were delivered within the predetermined TAT and the clients' expectations were not only met but exceeded.
Result / business advantages
The client could fully realize the envisaged benefits by outsourcing 3D modeling requirements of the prestigious project to MAPSystems. The cost-effective execution of the project prevented the client from going overboard with expenses, which also got reflected through bottom line impact in the ROI. It was also able to fulfill the professional expectations of its own clients by riding on the back of our team's expertise, experience, and resource management. The client referred our professional 3D design services to another US based client with similar job portfolio. We were also rewarded with additional projects by the same client.
If you are seeking 3D service providers with similar requirements, we are the right people to associate with; we have professional, experienced staffs to deliver top notch results within the time frame. Consider reading our 3d services reviews as well.
If you have any questions or would you like to know more about our 3d services
Contact Us