Why Is 3D Animation Important for the Architecture Industry?
3D animation in architecture describes the environmental relationship in full resolution final draft providing an immersive experience unlike 3D rendering which provides specific viewpoint from a single image.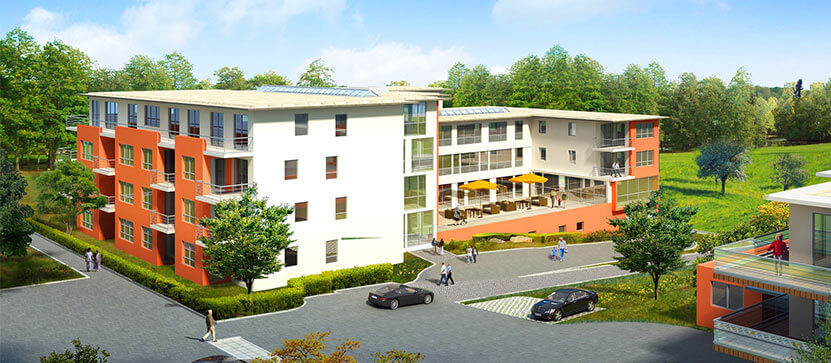 Besides, have you ever wondered how are you going to present the architectural project in front of the clients? Indeed, there are many ways to do the same but nothing is as effective as architectural 3D animation. Whether it is to showcase your inbuilt project or exclusively market your business brand, the three-dimensional animation techniques can be of real help. Even before you initiate the project, you will get the opportunity to showcase your skills as well as the upcoming project's USP with ease. Continue reading the article to understand the importance of 3D animation in depth for the architectural domain.
What is Architectural 3D Animation?
It is the process of combining 3D animation in the architectural designs with the help of CAD architecture animation software, such as Autodesk Maya, 3D interior, Giza 2006, 3ds Max, etc. to create a short movie. It usually enables the visualization of a property space in the 3D environment by including building 3D models of landscapes, interiors, moving people, and vehicles. It is mostly confused with architectural rendering. However, in architectural 3D rendering, you will only get a single image of the building model in three-dimensional views, while the architecture animation will combine hundreds and thousands of still images to provide a movie-like effect. On assembling these images and playing back, a perfect video is generated just like an actual movie, only with the difference that images used are created with computer artificially. A computer-generated environment surrounding the construction can be added for enhancing the reality quotient of the project. Most of the time, companies add these external elements to increase the salability and attractiveness of the property.
Everyone related to the architectural domain can use it to their advantage. For instance, architects and builders can use it to display the drawings or designs of homes, apartments, office spaces, villas, hospitals, digital studios, theaters, commercial and educational buildings, etc. Landscapers can employ it while working on an outdoor garden or lawn for the houses, kiosks, sports arenas, amusement parks, etc. In the same way, interior designers can also utilize it for showcasing potential interior designs that mainly includes light placements, furnishings, color combinations, and more.
Top 9 Benefits of 3D architectural Animation in Architecture Design
If you are wondering whether or not to include animation for your property designs, then know that including it will worth both your time and money. Using 3D animation buildings or property spaces will offer advantages to both architects and customers alike. There might be some benefits that will even surprise you. So, let us have a look at them.
Presenting the construction project with details

3D animation can allow you to present your project details in a comprehensive way. Thus, you can let your customers know how the design would turn out post-construction.

Apart from this, customers can get a proper idea about the property features. It may include the walls, roofing, lighting, floor tiles, textures, and more.

Ease of using and sharing

As 3D animations are crafted in movie files, MPEG, or avi, it is quite hassle-free to use and share them. You can embed them in presentations to convey the project flow more effectively. Also, customers do not have to come to your office to view the listings.

You can simply place the architect animations on your company website or share them on social media, and customers can view them from anywhere they want. Else, you can also copy the 3D walkthroughs onto your CD or DVD and offer them.

Well-being and reassurance of customers and clients

With 3D animation, designers can effectively present their future visions. This will show their dedication and effort in creating the designs. It may also inspire them to become more creative and develop impactful designs.

In addition, it is also beneficial for clients. They will be more interested in viewing the property, first virtually and then maybe physical and finalize the deal.

Complete visualization of the project

Since a 2D plan is unable to resonate with everyone, you can add 3D animations to your designs so that it feels more real to your customers. In that case, you can go for the finest 3D architectural visualization techniques like 3D architectural walkthroughs, aerial view renderings, virtual tours, and 3D floor plans for showcasing different parts of your project in the most realistic way. By implementing these techniques, you can portray the interior and exterior details of any building, whether it is an office, hotel, township, hospital, mall, or house, to draw the desired attention of the targeted audience. In short, it can help you to communicate the nature of your designs as well as the benefits it can deliver.

Showcasing the scope and scale of the project

3D animation can depict the exact measurement of the height, depth, and design of the room. This will allow customers to get a clear picture of the scope and scale of the project.

So, in case they need to make any changes in the room or property design, it will be easier on the designer's part to make adjustments with a 3D model.

Enhancing the interior style and layouts

There are a lot of things that you need to take care of while designing the interiors of the building. It is especially true if the building is a newly constructed one. So, having a 3D design model of the real estate property will support the interior designers as well as architects to begin with their task. A lot goes into designing the interior of a new construction. They can use the precise dimensions of your model as a reference and construct the building accordingly. It will reduce their time for completing their project. It is almost the need of every designer to complete the construction work in least time possible. So, taking the step will not only help you in gaining a competitive edge in the market but also reduce the work of your interior design team.

Effectively carrying out the design corrections

While offering a 3D building model, you will allow your clients to act as a critique. It will not only allow them to view the size and shape of the design but will also help them to get an idea of the interiors and exteriors included in the property. So, in case if they didn't like something and wish to change it, then 3D animations can also offer them with that opportunity. Meanwhile, that can also save your time and money. Thus, it will ensure that the blueprint of the building will be precise and free from errors when it goes into hands of the contractor.

Finalizing the model setup

Using 3D animation will help you to make the best use of time and money since you do not have to work on creating the physical model as soon as you receive the requirements. Once all the modifications are made in the 3D animated model, then you can start working on it. It will save your time and enable the clients to get what they exactly desired as well as the changes they made over time. Apart from that, the same information can be also used to create a printed 3D model. You just have to provide the precise dimensions and scaling, and the 3D printer will do the rest. 3D printers are also one of the best ways to save the time spent on construction by producing a realistic representation of the building model.

Promoting the marketing initiatives

Architectural 3D walkthroughs are the most common form of animations used in architectural designs. It can encompass a lot of features for the building property, unlike the single image renders. Reputed companies often offer 3D architectural walkthrough services to help the real estate agents for marketing their building properties. So, if you also have the concept design of a property that you need to market, then using animations are a must. It will enable your prospects to identify the exact vision behind the design, and they can decide whether or not they want to invest in the project. Besides, using it will also make your listings seem customer-focused and tech-savvy.
Conclusion
Nowadays, all industries are revolutionized, and so is the architectural industry. Today we can produce outstanding results using animation and design simultaneously that can help you to stay ahead in the competition. This is why 3D animation in architecture has become a key to elevate the productivity of your business. If you want a professional touch to your project, you can choose a reliable company to outsource your needs. MAPSystems is one of the trusted providers of 3D animation services and has a track record of most lucrative results.