Top Facts That You Should Know About Poster Design Making
Posters are integral to promoting events, institutions, and launching new businesses. Well-designed posters achieve the desired effect efficiently, whereas sloppy poster designs fail to create the intended impact. Brands must possess well-crafted posters that convey the message engagingly, enticing the target audience. This blog covers all the essential aspects of creating impactful and unforgettable posters to capture the attention of potential customers.
Different types of posters that are used for different purposes are as follows:
Infomercial Poster




Use of infomercial posters is very common. These posters are normally placed on sidewalks to catch the attention of onlookers. They are primarily used to showcase advertisements to promote newly-launched products or services. This type of poster would feature a large picture of the product/ service and the purported advantages would be defined through pointers. The location of the advertiser is mentioned in the footer section.

Formative Poster




If your business targets specific audiences in a particular industry, you can create problem -related awareness with a formative poster. Through this, you are not promoting your business or its offerings directly. Instead, you are creating awareness about a problem. Make sure that you mention your brand's address in a distinct manner so that if someone from the audience wants a solution, he/she can easily contact you.

Show Poster




Show or cinematographic posters are used for promoting shows, plays or concerts that are hosted on television or in theaters. The poster would feature details such as the show's picture, name, venue and timing. This allows the audiences to learn more about the show. Using this type of posters, you can generate interest among audiences about an upcoming release or program.

Posters used as Political Advertisements




Also called propaganda posters, political advertisements are commonly used during elections by political parties to raise awareness about their candidates. The addresses of the businesses that promote a political party are also showcased in the footer section.

Fashion Poster




Fashion posters are used by major fashion brands to increase the popularity of their products among their audiences. These posters would usually have killer tag lines along with a large picture of a model donning the fashion product.

Corporate Poster




These posters are used for advertising their brands by large corporate houses. Instead of promoting a single product/ service, the brand, as a whole, is promoted along with its offerings. Such posters are uniform in appearance as a particular design is used consistently by a given brand. Information about new launches is also presented sometimes.

Campaign Poster




You can raise awareness about campaigns during special drives or functions. You can engage audiences by showcasing posters which are connected together and carrying a message through a series of info bytes.

Subject Poster

You can promote a single subject with this type of poster. You will come across such posters commonly in art galleries where different art pieces along with relevant information are presented. Musical performers use these posters to promote themselves.

Affirmative Poster

These posters often carry motivational quotes for inspiring the readers. You can put up such posters at conspicuous places and post important information about your brand in the footer section.

Digital Poster

These moving digital posters can be showcased through LED screens or projectors. The posters can be reused. You need to choose the colors diligently because during projection, the colors can get faded.
Commonly-used Poster Sizes
For poster making website, there is no predefined standard size. However, consistency in poster size is still desired. Companies have developed rules and defined dimensions for ensuring consistency in poster printing.
Different poster sizes are discussed below:
ANSI B size

This is the smallest size and it is also known as Tabloid or Ledger. It is standardized for posters used in/as flyers, bulletin boards etc. Since the size is 279 x 432 mm, the posters don't consume much space and large letters can be used.

Architectural C size

You can notice posters of this size at doctors' offices, university floors, walkways, bulletin boards etc. Standard size is 457 x 610 mm.

Architectural D Size

This size is commonly used for posters. The size is 609.6 mm x 914.4 mm. You can put messages using large-sized words for capturing the attention of the readers. Other relevant details can be included using words of smaller sizes.

Standard Size for Film Industry

Such posters are in portrait format. For movie or theatre play ads, you can use the 27" x 40" inches size. If you want the poster to be pasted near bus stops or subways, you can use a poster of 40" x 60" inches size. You can print such posters on paper stock and roll them up. In the retailing industry, posters measuring 24 x 36 inches are used.

Half-Sheet

This format is actually the landscape format. The size is 22 x 28 inches and thick stock paper is used for printing posters.
Poster Printing Considerations
You need to choose the right paper. If you want to go above the aforesaid standard sizes, you must ensure that printers are able to print the posters. Use acid-free paper; otherwise the poster will turn yellow after some time.
There are some factors that you must consider while choosing stock for posters. This will make your poster design ideas more practical.
Cost

The price of the poster would vary based on the cost of the material used i.e. cotton paper, canvas etc.

Personal Choices

Your personal preferences would also determine the cost. You can choose glossy or shiny paper, paper with a matte finish, or with warm or cool tones.

Location of Poster

If a poster is located outside, the stock needs to be sturdy enough to withstand the adverse impact of the climate. Indoor posters can be printed on cheaper stock.

Durability

The stock must be heavier compared to normal printing paper. This will make the poster durable, reduce the impact of ageing, and make poster flattening easier. The weight of the paper should be 90g/m2. To instill a luxurious feel, you can use heavier paper measuring 120g/m2 and 163g/m2.
Poster Designing Software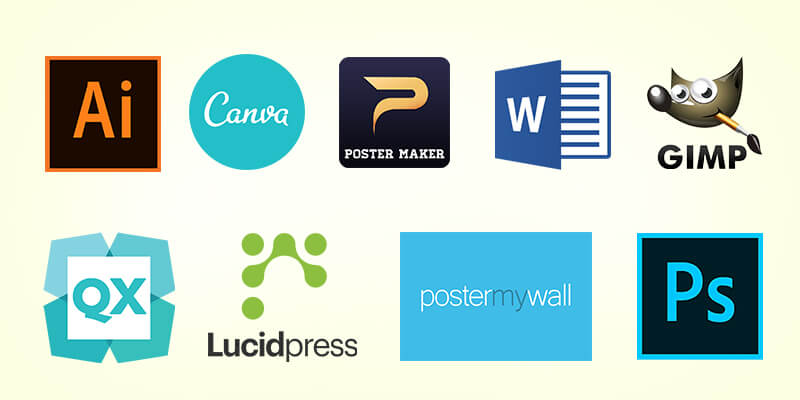 You can use various poster design software based on your budget and familiarity with tools. We have listed the most popular software programs that are popularly used to design posters:
Top 10 Facts to Consider while Designing your Poster
Designing an excellent poster is a great way to boost your brand promotion. It can create awareness, lure your audience, and effectively convey your desired messages.
On the other hand, if you make it cluttered, your audience may get confused and get distracted from your message. So, to make sure that your poster design is a success, here are some of the top facts you should consider.
Readable from a distance

Larger posters are visible and readable from a distance. Hence, it may catch the attention of your targets. So, try to use an interesting typeface, large fonts, and fine prints for your posters.

Considering location

Considering the location is also important while creating the poster design. Choosing the right location will bring your posters to the viewer's attention. Also, check the color of the wall on which you are about to paste it. Make sure it is contrasting.

Standing out

Since the competition is tough, only a poster with spectacular visuals can stand out. So, whether you are displaying it on a bulletin board and publishing it online, make sure that you use design elements that stand out.

Contrasting elements

Always remember that everyone won't come near your poster to look at it. Therefore, make sure you use contrasting elements in your design to catch the eye of viewers. Try using lighter and darker colors to create contrast.

Easily Scalable

Poster designs will be used in both offline and online programs. Therefore, create different versions of your poster so that it can be used in various places. You can employ poster templates for the same.

Huge Visuals

Huge visuals will not attract the eye but also drive more customers. Besides, it may also stay on the mind for a longer time. So, try to use close-ups of design elements, scenes, typography, or illustrations.

Unique Typography

Typography can help with adding personality to your designs. That is why it is very essential to use a unique one. Your designs can look good with typefaces and color even if you are not using images or illustrations.

Greater Spacing

Spacing is very critical in graphics design. So, try to use more spacing between the elements so that it looks clean and can be visible from a distance. Greater spacing also helps in creating a greater visual impact while making it easy to read.

Good Call-to-action

The main aim of your poster design is to compel your targets to take an action. So, with a good call-to-action, you can make it possible. Try putting the call-to-action in the middle or at the end of the poster.

Printing Techniques

Printing techniques are also essential for poster designing. So, try out the high-end printing techniques to give a creative look to your posters. There are different techniques to choose from like foiling, letterpress, screen printing, etc.
Conclusion
By now, we hope that you have become familiar with the diverse aspects of poster designing. High quality graphic design coupled with high resolution images would ensure optimum results for printed posters. You can choose the sizes depending on your requirements. You can continue experimenting with different aspects of poster designing using software for creating desired outcomes.