Top 7 Unique Wedding Video Types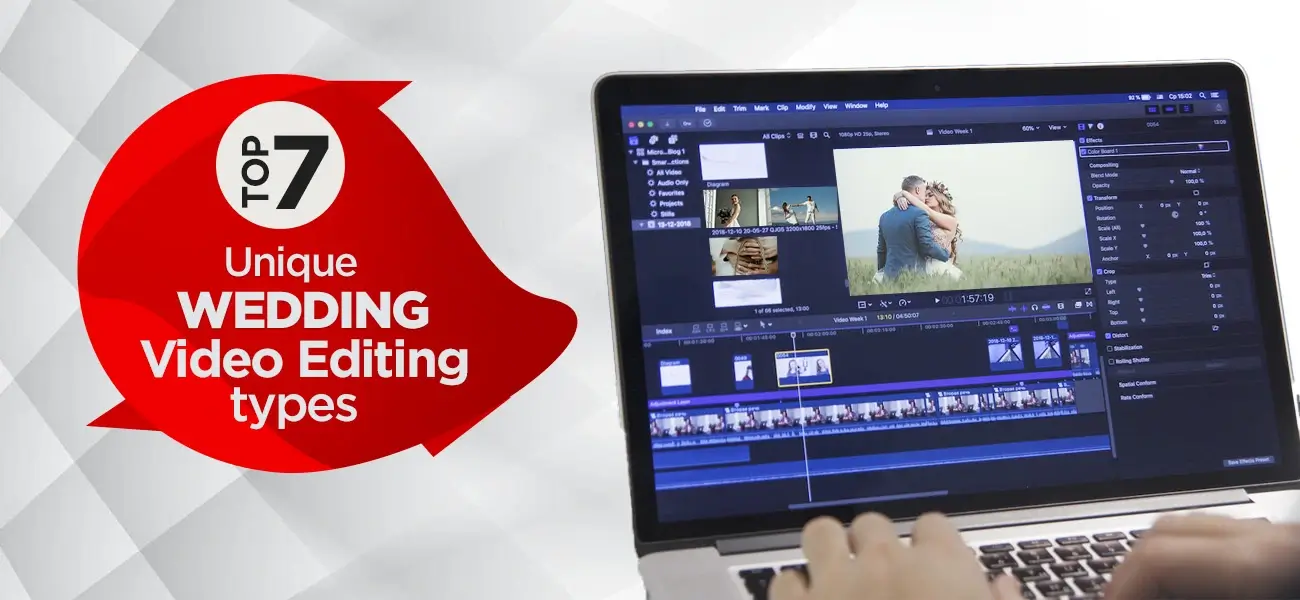 Are you trying to figure out what types of wedding videos you can deliver to your clients? Or how to explain your client's specific wedding video terms, such as teaser, highlight, documentary, etc. Couples would be pleased and precise with their requirements after reading this article (as you need to do a lot of homework before the big day).
Dive into the post to learn more about the Top 7 Special Wedding Video Types and choose the best one.
Teaser: Short and Sweet

Nowadays, every couple would like to go with the latest trend, and the wedding teaser is one of those. "How is it different from a wedding film?" you must be wondering. From beginning to end, the wedding film captures moments.

But a teaser gives viewers a peek at all the action for a maximum of 60 seconds.

Highlight: Engaging trailer

This is a "wedding or marriage trailer," which artistically presents the most memorable and significant events from that special day. As a videographer or editor, you should have a well-crafted story backed by the finest audio-visuals from the day.

This might include essential segments like the groom's and bride's preparations, speeches, venues, and celebrations within 5-10 minutes. This type of video is created from the entire day video clips using the important highlights of the event.

Feature Film Video

A "feature film" is the longer representation of a "trailer" or a "highlight"videos. These kinds of videos usually cover longer wedding sections, like wedding oaths, cutting the cake, and other essential aspects of the big day. This is a beautiful approach to incorporate speech, appropriate music, and storytelling in the way the couple desires.

A feature film will mainly focus on a couple's journey and how they have come so far. It's cinematic, like a movie, lasting between 10 and 20 minutes. The video may or may not be chronologically edited.

Full Documentary: More than just a wedding video

Usually the marriage ceremonies are celebrated with many rituals over several days, a documentary may be significantly longer (more than 20 minutes). A videographer will record your special day candidly, without planning or choreographing.

This traditional way of telling a story focuses on the bride and the groom getting ready for their "big day", entering the venue, the bride's minions, exchanging vows and more.

All these moments are showcased through a long wedding video in a fun way with apt sound effects and relevant background music. It captures random, unplanned moments as they occur, from the beginning to the end of your big day, creating a chronology of the event.

Ceremony Edit

Ceremony edit videos reflect raw emotions and honesty, which can add extra luster to the actual wedding video.

The "Ceremony Edit" allows you to sit back and take in the entirety of the ceremony; you may watch the whole ceremony using the "Ceremony Edit," including your father accompanying you down the aisle, your mom's teary eyes, or the way your partner stared at you when exchanging marital vows.

Such candid conversations add a fresh perspective with lots of cherishable memories using this type of edit.

Wedding Guest/testimonials video

This is another type of wedding video in which you can capture all of the guests from the couple's sides, as well as their loving messages for their happy married life, which were recorded before the ceremony.

Invitation video

Invitation videos are one of the new trends everyone wants to follow. A wedding invitation video is the first clue to guests about the wedding you intend to have (its shades, design, and portraits would be the main focus).

For this, you have to give a few template options, or they (the couple) can choose their photos or custom videos that reflect the theme, and finally, you need to set the tone of the message (use text to give guests the details).

And it's easy to convey the perfect story you want with a personalized wedding video invitation. You can share the video as you choose, whether by email, in a closed Facebook group for weddings, or even personally through WhatsApp. During the first communication phase, couples may ask many questions. Therefore, as a videographer or editor, you should be ready with all possible answers.
Conclusion
There you go, all of the most common wedding video types and categories, explained in detail. Hope this detailed guide will come handy to any aspiring videographer to edit the best wedding videos, in a highly professional manner using wedding video editing tools.
There is also several experienced video editing service providers comprised of skilled video editors, who offer high-end wedding video editing services. If you happen to be a videographer who is over-burdened with multiple projects, think of partnering with such agencies for professional video editing services at affordable rates. You won't regret it. Happy editing, folks!