Client
One of the leading advertisement companies in Canada contacted us. They were offering complete branding solutions for businesses and organizations globally. This 2d animation case study is another feather to our cap.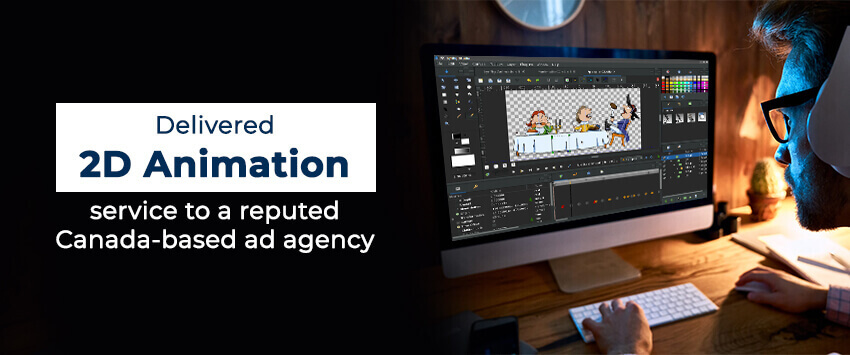 Requirement
2d animation in advertising is very crucial. They needed great quality 2D animations for some marketing campaigns and branding initiatives, that too in 3 days. We were preferred over others because of reasonable rates, well-established communication channels, the unmatched skill pool we housed and the calibre to work with perfection within quickest turnaround time.
Challenges
Some challenges were there with this project of creating animation for marketing. The very first concern was the stiffness of deadline. We had just 72 hours which in fact meant that there was no time to commit errors and rectify. Designing scribe animation and its rendering is never a walk in the park, even for the most accomplished professionals.
Another issue was the file format sent to us for assisting the design. Files were in JPG and it is a difficult format to edit. So, we had to convert the format into an easier one and this needed some considerable amount of time.
The Solution
We started off by making available a small sample and through this approach, the client evaluated our understanding, professionalism, capability, professionalism, and other aspects such as timeliness and ability to follow brand guidelines. In addition to it, the feedback from client provided us the exact idea regarding his specific requirements and expectations.
After approval from client, 5 resources were exclusively assigned on this work. Based on the script and files sent, our animators started to create 2D animation. We firstly created a storyboard illustration animation to precisely accommodate the script and sequence the story scenes. Post that, 2D animation was created by making use of after effects.
Our QA team was alert throughout to ensure that the project was in line with our own set standards of excellence.
The Results
We completed the work successfully within stipulated time and obtained an accuracy of nearly 99% which was well ahead of the client's set benchmark. Owing to the satisfaction, client immediately sent us 10 more projects. Thus, we got another loyal client and this project was the beginning of a new business relationship.
MAPSystems is a name to trust when it comes to 2d animation services.
If you too have any requirements, trust our expertise and you will never repent Don't hesitate to contact us
Contact Us